Gilda Radner is remembered in her own words in the documentary 'Love, Gilda'
With the aid of rare audio recordings, the late "Saturday Night Live" comic force Gilda Radner narrates the story of her life in the new documentary "Love, Gilda," which opens Friday in Los Angeles.
But it wasn't easy initially for director Lisa D'Apolito to acquire these tapes, as well as revealing personal journals and home movies from Michael Radner, Gilda's big brother and keeper of his sister's legacy.
"We would email back and forth," D'Apolito noted in a recent interview. "It was gaining his trust. Everyone is very protective of Gilda."
Once Radner agreed to participate, "Love, Gilda" started to come to life. "Interviewing Michael was the real step to helping create the film," D'Apolito said.
None of them knew they were going to read from Gilda's diaries. I said to Amy, 'This is Gilda's diary,' and she said, "Oh, my God, that's Gilda's."
— Lisa D'Apolito
Radner recalled that D'Apolito came to his home in Detroit to talk with him. "I said, 'I've got a bunch of tubs filled with Gilda's stuff,' and she took a look. It was a lot of journals and things like that. As Gilda's brother, I would never be able to go through or would even want to go through them. It was too personal."
Radner had made the audiotapes while writing her book "It's Always Something," which was released posthumously after her death in 1989 at age 42 of ovarian cancer.
Many of the contemporary performers inspired by Radner, including Amy Poehler, Maya Rudolph, Bill Hader and Melissa McCarthy, read from her journals in the film.
"None of them knew they were going to read from Gilda's diaries," said D'Apolito. "I said to Amy, 'This is Gilda's diary,' and she said, "Oh, my God, that's Gilda's.' They all had the same reaction."
Radner, the first person cast on NBC's "SNL" in 1975, won an Emmy for her indelible work in 1978 for creating such quintessential comic characters as the clueless Emily Litella, the brash "Weekend Update" consumer reporter Roseanne Roseannadanna, the bespectacled nerd Lisa Loopner, the Patti Smith-esque singer Candy Slice, the excitable little girl Judy Miller and the Barbara Walters-esque newscaster Baba Wawa.
Along with Radner's recordings, D'Apolito features a plethora of clips of her best scenes from her years on the series from 1975-80. Rounding out the film are excerpts from the films she made with second husband Gene Wilder and interviews with close family, friends and colleagues.
Radner had her demons, including issues with bulimia, self-doubt and often toxic relationships with men, but her incredible talent, sweetness and largesse shine through brightly in the documentary.
Her brother and her friends feel that Radner is still very much a part of their lives.
"I feel it — her spirit is very, very much alive," said Radner's good friend, writer Alan Zweibel, who worked with her on "SNL" from 1977-79 and wrote the book "Bunny Bunny: Gilda Radner, A Sort of Romantic Comedy."
The young Gilda
Gilda Radner was born funny.
"She loved to perform," said Michael Radner. "She performed for [their father] when she was a little girl, and that made him happy and her happy."
Gilda Radner's first big break was in the 1972 Toronto production of the Stephen Schwartz musical "Godspell," which also starred Martin Short. The two fell in love and lived together during the production.
I'd never seen anyone immediately draw attention, but she wasn't asking for it. She had this attractiveness to everyone.
— Martin Short
"I'd never seen anyone immediately draw attention, but she wasn't asking for it," Short said in a recent interview. "She had this attractiveness to everyone. Women wanted to have her as her best friend and men wanted to take her out. She was funny and original. She was vulnerable. No one had met anyone like Gilda."
Writer-director Janis Hirsch became fast friends with Radner in 1973 when she went to work in New York on the "National Lampoon Radio Hour."
Though she describes Radner as "so delightful and so sweet and so funny," Hirsch noted that her "eyes were always sad. She had the saddest eyes and the happiest smile. You just wanted to make her less sad. I think that's also what made people want to take care of her."
"She reached through the TV screen and drew you in," noted Alan Zweibel, who worked with Radner to create Emily Litella and Roseanne Roseannadanna.
Radner, he noted, "was very revealing about herself. She displayed her vulnerabilities. She wasn't just somebody putting on a Roseanne Roseannadanna wig. It wasn't just somebody being Candy Slice or Emily Litella. It was Gilda. You felt like they knew the person who was doing it. It was an emotional investment for her."
D'Apolito noted that, "Almost every female comedian that I could come up with was inspired by Gilda. She's always on the top of the list of the top 10 people of 'Saturday Night Live" in history."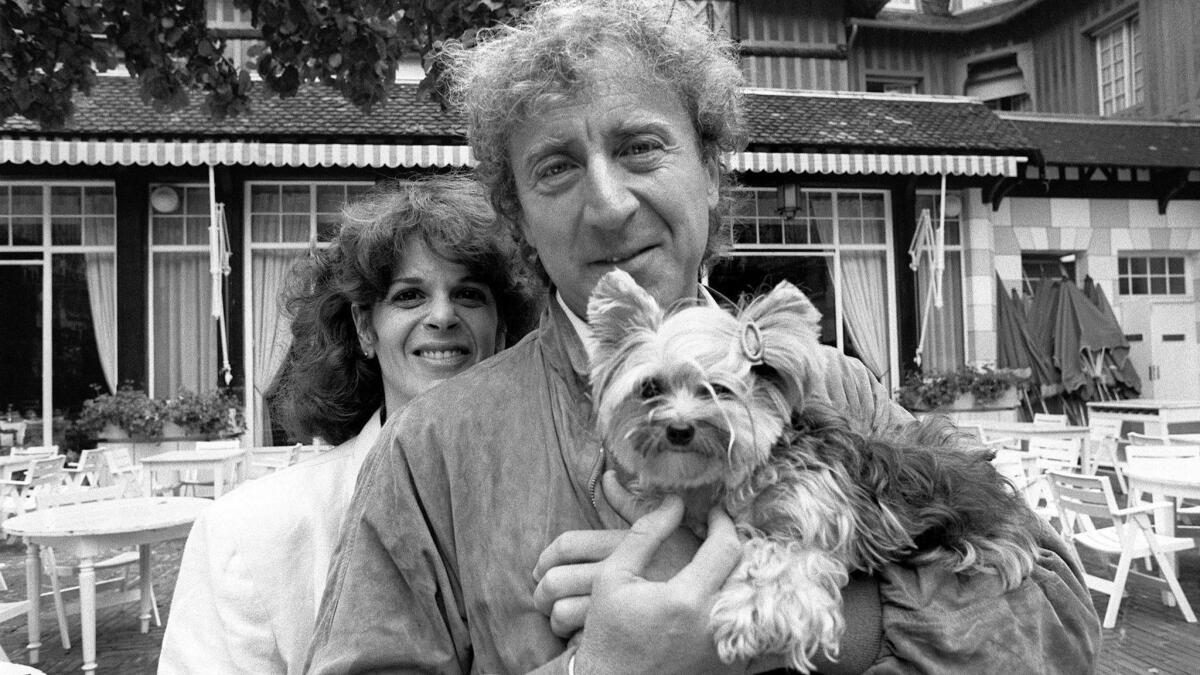 Radner fell in love with Wilder when they made the 1982 comedy "Hanky Panky," and she made it her mission to get Wilder to marry her, according to friends.
"She wanted to have a baby," said Robin Zweibel, Alan's wife and a longtime friend of Radner. (The Zweibels were executive producers of "Love, Gilda.") "I totally got it. Thank God, she had Gene, who was so good at taking care of her and mothering her. In that sense, she never really felt like anybody did that for her. She did that for other people."
"When she got sick, he was the best caregiver you can imagine," added Alan Zweibel.
(Shortly after Radner's death, Wilder co-created Gilda's Club, a community organization with chapters across the U.S. for people with cancer, their families and friends to meet and get emotional support. Wilder, who had Alzheimer's, died two years ago.)
When Radner was briefly in remission in 1988, she guest starred as herself on an episode of "It's Garry Shandling's Show.," which Zweibel co-created. She earned an Emmy nomination for her performance.
"When she did the Shandling show, there was a live audience there," he recalled. "It wasn't only the crew, there were 300 people in the studio. She had the best time in the world. She fed off [the audience]."
Zweibel and Shandling even started to develop a TV series for her at HBO, "but the disease caught up to her again and, obviously, it won out in the end. But she got a taste of TV again. She got a taste of performing in front of people and hearing immediate laughs. That was huge for her."
Radner also reconnected with many of her friends on "SNL" during her brief remission.
Robin Zweibel recalled taking Radner to a party at fellow "SNL" castmate and friend Laraine Newman's house.
"The minute we walked in the door, everybody was like 'Gilda, get up here.' She went up to one of the bedrooms and all the guys [from 'SNL'] were up there and started singing to her, picking her up and throwing her up in the air and carrying her down the steps.
"It was amazing."
Get our L.A. Goes Out newsletter, with the week's best events, to help you explore and experience our city.
You may occasionally receive promotional content from the Los Angeles Times.