Mary Elizabeth Winstead explores the soul of a Los Angeles stand-up with a showcase role in 'All About Nina'
The first time Mary Elizabeth Winstead did stand-up, she bombed.
There she was, the critically acclaimed actress of "Fargo," delivering boldly personal material at a crowded comedy club. Yet no one chased her punchlines with laughter; not even a groan or a heckle was heard. Just deafening silence.
"OK, you guys, I guess you didn't like that one," she shrugged to the audience. She began to feel ridiculous and almost desperate for a laugh, or a discernible reaction of any kind.
Finally, someone yelled "cut." Winstead was then informed that, during that take of the "All About Nina" scene, the assistant director was checking a technical issue and had asked the extras not to make any sound.
"I was already so nervous about getting up in front of people and trying to make them laugh!" said Winstead during a recent press day at Hollywood's legendary Laugh Factory. "It was kind of great because, at least in my own head, I got that experience of what it would really be like to bomb and have to try and pull things out."
"All About Nina," which the Orchard released in select theaters on Friday, casts Winstead as a New York-based comic who brings her sexually frank, expletive-heavy act to the stand-up scene in Los Angeles. Times film critic Katie Walsh called Eva Vives' directorial debut "confident, threading the needle on some emotionally complex scenes, but the film works because of Winstead's bravura performance, taking Nina to a place of raw, deep emotional honesty."
The titular thirtysomething of the coming-of-age comedy is a heroine Winstead admires. "On the surface, she's a 'difficult' woman — she's not always likable when it comes to the stereotypical ideas of what a woman should be, but that's what was exciting about playing her," Winstead said of her character.
"I loved that she's unapologetically who she is, even if she hasn't quite figured out who that is yet. The way she's flailing through life and trying to move forward in a world where a lot of things are against her, that's something that I generally seek out in characters."
Winstead — who has already shown boundless range with roles like "10 Cloverfield Lane" and "Scott Pilgrim vs. the World" — performs celebrity impressions in "All About Nina," including a Kristen Stewart imitation she's held since making Emma Roberts laugh during a 2010 photoshoot. The role has piqued her interest for live work: "I became much more comfortable with playing off the energy of the audience, and that's a skill I never had before. I've never done theater — it's really only the past couple of years that I've even had the confidence to think about it — but I'd love to try it someday."
She just finished shooting Ang Lee's sci-fi actioner "Gemini Man" with Will Smith, and has been cast in the comic-book movie "Birds of Prey" alongside Margot Robbie — two more roles in which she's not playing a limited love interest for a male protagonist. "No, I've never been very good at that," she laughed. "Every now and then, over the years, I've auditioned for those kinds of parts, but I'm always terrible at it because I just can't. I just can't get it, in my heart."
Winstead's onscreen beau in "All About Nina" is played by Common, as their characters attempt to date without any hidden agendas. "It's very rare to see a relationship that begins with raw honesty — so many times, we're told in life to not put yourself out there too quickly and be that open in first meeting someone," said Common.
Admitted Winstead, "It was difficult at first to find my footing in those scenes because it wasn't what I'm used to seeing in movies. They're connecting in a real way that's not always easy, and they have moments where they actually don't quite jell. I thought that was refreshing."
Winstead, a North Carolina native, first came to L.A. as a child actor and, at 33 years old, has satisfyingly settled into the health-conscious, spiritually open, bohemian-minded sides of the city. That lifestyle receives some affectionate pokes in "All About Nina," as the native New Yorker warms up to breakfast tacos, reiki sessions and group therapy with a herd of house cats.
"My sister visited me recently and we had an herbal palm reading!" laughed Winstead. "Sometimes I forget that people watch 'Keeping Up With the Kardashians' and think that's L.A. I don't think of it as glamorous at all or as full of stars or social climbers; I think of it as full of laid-back people who are into healing and yoga and things that, as cheesy as they may be, they're all really positive. This is our home; these are our weird little lovey-dovey hippies that we might make fun of every now and then, but I actually wouldn't want to be around anybody else."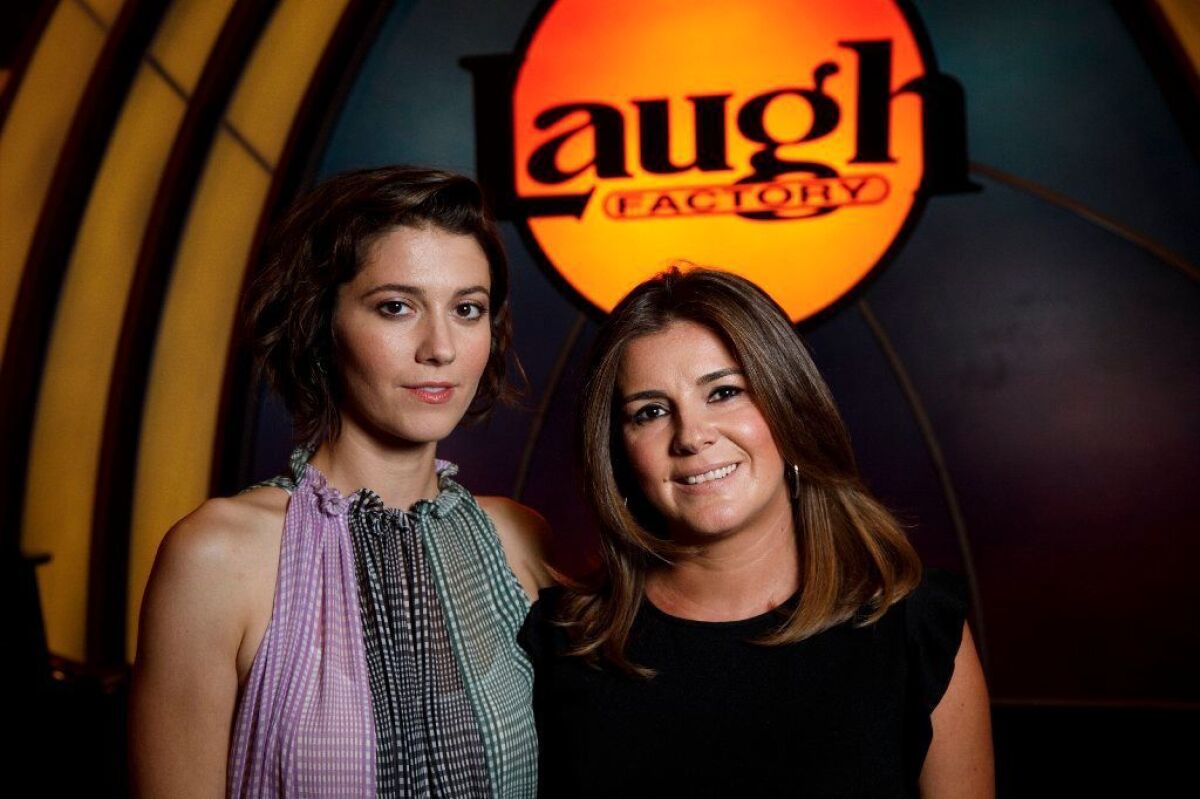 This is the type of truthfulness that both Winstead and her character aim to exercise in their personal and professional lives. For the latter, that means taking a stark look at what she's buried under her self-destructive tendencies.
"So many movies focus on the moment of trauma, but this is about the recovery afterward, and how empowering that can be," explained Vives, who cast Winstead for her consistent authenticity. "Mary is very subtle — she can play against the obvious emotion and go several layers down, which for a character like Nina was so important. She did it so effortlessly, I almost couldn't believe it. She's a beast, and I mean that in the best way."
"We're all taught how to cover and hide and mask to the point where we don't really know ourselves, and you get to a certain age where you have to learn how to get back to who you truly are, and to accept yourself and love yourself," Winstead added. "It's stories like this that I love to be a part of because hopefully it helps somebody else out there realize that it's OK to embrace what you've been through — to rid yourself of the shame or whatever it is that you carry, and to just be."
---
Get the Indie Focus newsletter, Mark Olsen's weekly guide to the world of cinema.
You may occasionally receive promotional content from the Los Angeles Times.