Film Critic
In the world of Hong Kong martial arts films, Ip Man is the gift who keeps on giving.
Man, who died in 1972, was a master of a school of fighting called Wing Chun. He became a celebrated figure after one of his pupils, Bruce Lee, transformed into a still-revered international sensation.
"Ip Man," the first film to build a fictional story around this real person, came out in 2008 and since then there've been at least six more films concerning the character, with directors as distinguished as Wong Kar-wai (2013's "The Grandmaster") finding riffing on his story hard to resist.
With die-hard fans presumably counting the days until "Ip Man 4" comes out later this year, we now have the zesty, action-filled "Master Z: Ip Man Legacy," a spinoff of "Ip Man 3" that stands quite nicely on its own for those with no previous knowledge of a world as detailed and involving as the Marvel Cinematic Universe.
Though its plot is pretty much standard issue, kind of a martial arts version of a B western, "Master Z" is raised several notches by its sparkling cast — including superstars like Michelle Yeoh and Tony Jaa in guest-starring appearances — as well as the guiding hand of director Yuen Woo-ping.
Non-martial arts fans might not know Yuen's name but they surely know his work. Considered Hong Kong's first action choreographer, he was the man in charge of the mayhem in the "Matrix" films as well as the Oscar-winning "Crouching Tiger, Hidden Dragon.'
Given Yuen's resume, it's no surprise that the action in "Master Z" is tip-top, a complete tonic to experience if you're in the mood for high-kicking, fists-flying, mirrors-cracking and windows-smashing cinematic moments.
Several sequences stand out from the rest, including a fight in a thick forest of flashy neon signs high above Bar Street, a happening location during the film's 1960s Hong Kong setting.
Even more memorable is a moment with no blows exchanged at all, just star Max Zhang and the legendary Yeoh battling over control of a full glass of whiskey on a barroom table. It's the martial arts equivalent of close-up magic and it is dazzling.
Reprising his role from "Ip Man 3," Zhang (also known as Zhang Jin) plays Cheung Tin Chi. Once a rising Wing Chun adept, Cheung had the temerity to challenge Ip Man to a one-on-one standoff. It did not end well.
Though he still does the occasional job for hire (where he runs into Jaa as a fellow adept), Cheung is so chastened by his loss he decides to put the martial arts world behind him.
Instead he puts his energy into running a small neighborhood grocery store (really) and raising his cute-as-a-button son on a bare-bones diet of breadsticks and congee.
Pure chance involves Cheung with two women, best friends, who just happen to be in desperate need of the kind of help only he can provide.
Bar girl Nana (Chrissie Chau) has a weakness for opium, which all-around bad guy Kit (Kevin Cheng) doesn't hesitate to exploit. Nana's best friend and nightclub singer Julia (Liu Yan) tries to rescue her but Kit and his gang are about to do their worst when Cheung appears on the scene.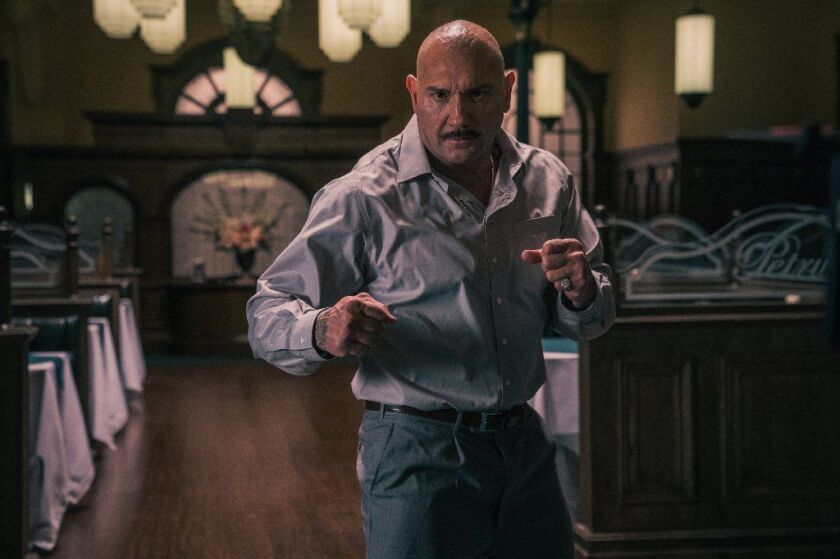 The resulting melee leads to mass arrests and also the gradual unfolding of what turns out to be one of "Master Z's" key themes: in ways both large and small all Westerners can be counted on to be rude, corrupt or both.
Cheung's decision to help the women in jeopardy connects him to Julia's brother Fu (Naason), a successful bar owner who gives Cheung a job, but it also puts him in nasty Kit's crosshairs.
Also a major player in a film where everyone seems to be related to everyone else is Kwan (Yeoh), Kit's older sister and the head of a triad criminal gang who would like her organization to go straight.
The town's business establishment, however — epitomized by larger-than-life steakhouse owner Davidson (Dave Bautista, a long way from "Guardians of the Galaxy") — will have none of it.
"Master Z: Ip Man Legacy," like any old-school popular entertainment, contains sentimental moments and broad comedy as well as all that action. If you don't already have the Ip Man habit, it's a fine place to start.
------------
Master Z: Ip Man Legacy
Not rated
Running time: 1 hour, 47 minutes
Playing: AMC Universal CityWalk 19; Cinemark 18, West L.A.; AMC Atlantic Times Square 14, Monterey Park; AMC Burbank Town Center 8; Laemmle Glendale; Laemmle Noho 7, North Hollywood; Edwards University Town Center 6, Irvine; AMC Puente Hills 20, City of Industry; Irvine Spectrum 21; AMC Orange 30
---