A mother's love and loneliness inform Lorene Scafaria's 'Meddler'
Gail Scafaria loves the Grove. The kitschy trolley, the fountain, the litter-free walkways -- it all reminds her of being on Main Street at Disneyland. She doesn't even mind the hordes of tourists, packed in at the Apple store or queuing for Sprinkles cupcakes.
"My husband worked in New York, and I was used to the streets being packed and all the energy," she said, sitting at the Whisper Lounge, one of the restaurants at the outdoor shopping mall. "That's what I liked about the Grove. I'd always come over here and just think of how great it is, even though I was really lonely."
Six years ago, Scafaria moved from New Jersey to the Palazzo, an apartment complex right across the street from the Grove. Her husband had just died of cancer, and she wanted to be close to her daughter, Lorene. But Lorene's career was just taking off: The first movie she wrote, "Nick and Norah's Infinite Playlist," was received warmly by critics, and she and her best friends -- Diablo Cody, Liz Meriwether and Dana Fox -- were deemed "The Fempire" by the New York Times.
Yet it was her relationship with her mother that would go on to inform her work. In "The Meddler," which opened earlier this month, Susan Sarandon stars as -- well, essentially Gail: A widow who relocates to L.A. following her spouse's death and subsequently starts clinging to her daughter. In the movie -- which Lorene both wrote and directed -- Gail has been renamed Marnie Minervini, but she otherwise shares most of the 67-year-old's traits. She's got a thick Jersey accent, she plays the Beyonce song "I Was Here" on repeat and obviously, she's obsessed with the Grove.
As the film's title implies, however, the movie doesn't always offer an entirely glowing portrait of its leading lady. When Gail first got to Palazzo -- which she liked, in part, because it'd once been home to Lauren Conrad on "The Hills" -- she didn't know anyone. So she called and texted Lorene constantly. Sometimes, she'd drop by her daughter's home in the Hollywood Hills unexpectedly, a bag of Sam's Bagels in hand. Gail wanted to talk about her late husband. Sharing warm memories of him made her feel better. But it just made Lorene depressed.
"The first year after he died, it was like Joan Didion says -- the year of magical thinking. And then I got really, really depressed," recalled Lorene, 37, who was seated beside her mother, picking at a flatbread. "I was living in depression and anger, and she was really focusing on the positive. We just coped in really different ways."
"For me," said Gail, "I'd be telling whoever would listen how great my husband was."
"Your partner is gone," continued Lorene. "Your child is grown. What do you do with the love you have to give?"
Gail's eyes filled with tears.
"Aw," Lorene said, rubbing her mother's shoulder. "Did I say something?"
"No," Gail said. "You told the truth of what it is."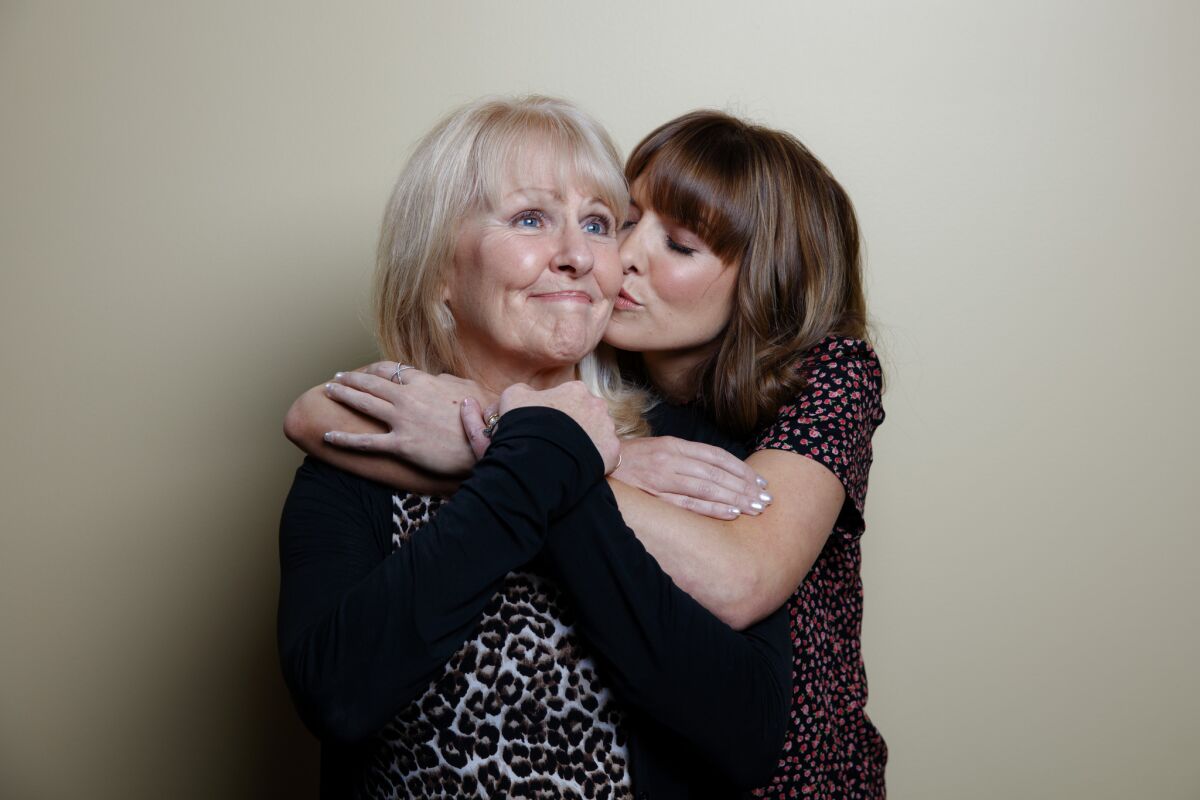 Off-screen, the dynamic between the mother and daughter is a bit softer than in "The Meddler," where Lorene is played by Rose Byrne. They're constantly defending the other's behavior and laugh easily, recalling special inside jokes. They've always been close: In high school, Gail would take Lorene and her friends to concerts, like Def Leppard, where they wore matching denim with patches. (Now, Gail wears a necklace Lorene gave her with dancing girl emojis on it.)
"Remember the summer we went to [Long Beach Island] and watched 'The Real World'?" recalled Gail, who prides herself on staying up on pop culture. (Her favorite film last year was "Sicario.")
"She'd bail me out of trouble," said Lorene. "I'd call her and say, 'I forgot my homework,' and she'd drive it to school instead of punishing me."
"I'd say, 'Lor, as a parent, I shouldn't be doing this,'" said Gail. "But then I'd think: Would I say that to a friend? No. So I'd get in my car."
When Lorene went off to Lafayette College in Pennsylvania, Gail promised she'd make the hour-and-a-half drive whenever her daughter needed her -- even if she just "needed a muffin." And it's not that Lorene didn't realize how good she had it. After all, who wouldn't want a doting mother willing to deliver baked goods at any hour?
But sometimes, it all felt like a lot. Like when Gail would call three times in a row just to relay the news that she'd found a cute pair of jeans in Lorene's size. Through therapy, they've since established a boundary: Don't call more than three times in a row unless there's an emergency.
"Because I'm never gonna get you to not call twice in a row," Lorene said with a smile. "But at least then I get a text that's, like, 'clme' instead."
"I forget she could be at work," Gail said. "I just feel like 'Oh, I have to tell her this.'"
They still see each other a lot, though it's obvious Gail would still like to spend more time with her daughter. Lorene likens their dynamic to the scene in "Annie Hall" where Woody Allen and Diane Keaton's characters are discussing how often they have sex. "He says 'Never. Once a week,' and she goes 'All the time. Once a week!'"
Gail knows Lorene is a homebody. She's busy writing. She has three dogs. And there's always texting and calling.
"I've met some nice friends through her friends, like her friend's parents who are very nice," said Gail, who is close to Cody's family. "But they're busy with their families and everything like that, so I don't see them all the time. So I do spend a lot of time by myself. I mean, whatever. But I feel better now."
"She does," said Lorene. "Part of the reason I wanted to write the story about her is that she has carried herself so well through all of this. I found it so unbelievably brave to pick up and move 3,000 miles."
"I tell my friends, if she was in Alaska, I'd say 'You know, I really love snow,'" Gail said. "Wherever she is -- even if I don't see her all the time, because she of course does have a life. But whenever she calls me and says 'Hey, ma, you feel like going shopping?' I'm there. It's true. Will I stop with the texting, though? I cannot promise anything."
Twitter: AmyKinLA
amy.kaufman@latimes.com
Get our L.A. Goes Out newsletter, with the week's best events, to help you explore and experience our city.
You may occasionally receive promotional content from the Los Angeles Times.