Q&A: As a director, Mélanie Laurent brings an emotional core to the pulpy crime story of 'Galveston'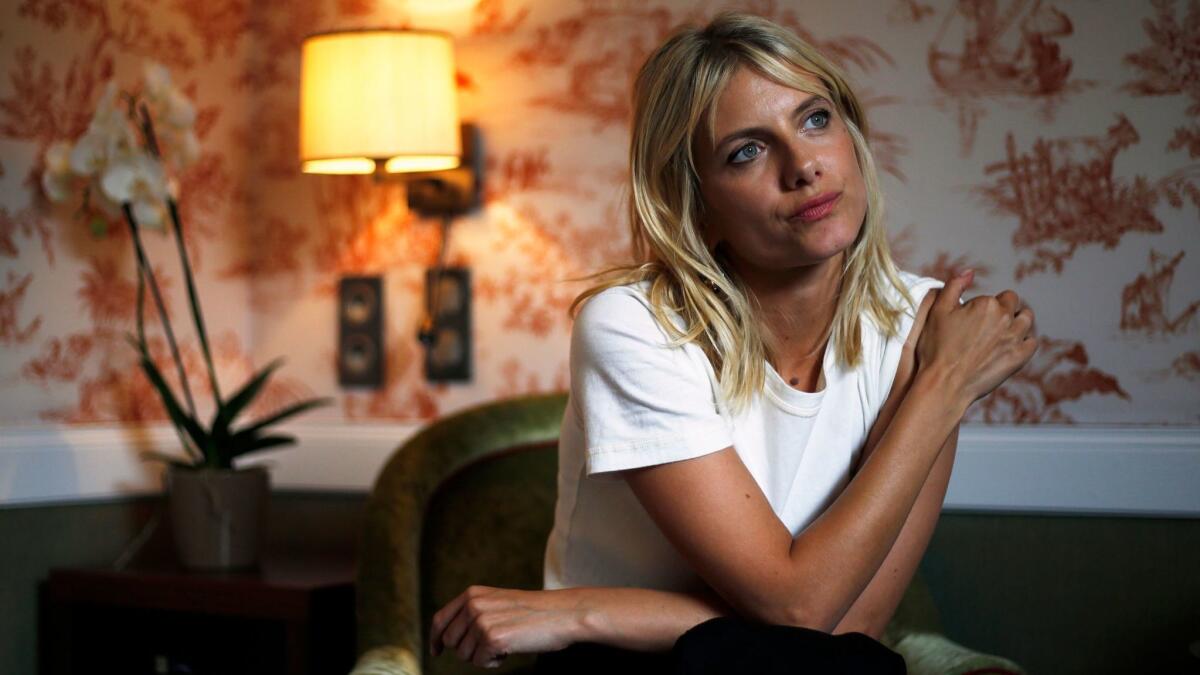 The most surprising thing about "Galveston" may be that it is surprising at all. Based on the 2010 novel of the same name by Nic Pizzolatto, the controversial, iconoclastic writer behind the "True Detective" television series, the film's story is in essence made of spare parts put to new use. A mob enforcer (Ben Foster) on the run finds himself with a young prostitute (Elle Fanning) in tow and the two realize they need each other, creating deeply felt bonds based in lives of diverted dreams, compromised positions and a desperate, yearning need for any hope at all.
Under the direction of French actress and filmmaker Mélanie Laurent, in her English-language directing debut, stars Foster and Fanning bring a powerful reservoir of emotions to what could simply be a sleazy crime story. (Lili Reinhart, Adepero Oduye and Beau Bridges all have pivotal supporting roles.)
"Galveston" is currently in limited release and on VOD, and in a sense it's the modern-day equivalent of '90s neo-noir classics like John Dahl's "Red Rock West" and "The Last Seduction," which overcame their generic constraints to become something richer than expected.
When the film premiered at the South By Southwest Film Festival earlier this year, Laurent had sole credit for the screenplay. Now that the film is being released, the screenplay is credited to Jim Hammett. According to producer Tyler Davidson, that's a pseudonym chosen by Pizzolatto, who had written the initial screenplay that Laurent modified and adapted, rather than go through an arbitration process with the Writer's Guild of America over credits. (Representatives for Pizzolatto did not respond to requests for comment.)
"I don't want to speak for Nic," said Davidson in a recent phone interview, "but in my mind, I think he believes that the final script that is realized on-screen is not reflective of something that he would be solely credited for. And that is my interpretation of it."
Laurent was reached recently on the phone in Rome, where she was acting in a movie being made for Netflix by director Michael Bay. In conversation, she conveys a mix of seriousness about her work with a sense of lightness about herself, easily laughing throughout. Of the very different scale of Bay's "6 Underground" compared to many of the films she has acted in and certainly those she has directed, Laurent said, "It's very new. I'm learning a lot and it's fun and crazy, but great."
What drew you to "Galveston"? Had you been wanting to make a film in English?
I think I wanted to make a movie somewhere else ... to work with different actors, different culture ... to travel. The dream was not an American dream, but for sure I'm a big fan of Elle Fanning and I dreamed of working with her. So when I read the script and I saw that part, it seemed perfect for her. There was something very exciting about that. As a French director, we don't really write that sort of script. So it's something new for me, but I wasn't looking for a very specific American story — it could have been a Mexican movie or a Swedish movie. My goal was just to do something different.
Do you like crime stories like this?
No. And I don't watch those movies either. I don't watch horror movies because I'm too scared. And I'm not a big fan of violence in movies. So genre movies are really not my style. I think I just fell in love with [the characters], in the script, their friendship, their platonic love, you can say passionate friendship. They're lost souls who just want to escape from something and it's hard. They are different, but at the end of the road they love each other in a very special and rare and beautiful way.
And that was very French, that was a very kind of European style. And then I knew I would have to deal with the violent scenes, but I think in the movie I'm very shy with that. Like I feel the violence from a distance. I don't want to be too close and I don't want to be too violent. I don't know how to say that in English. The word in French is pudique [modest].
Did you have a conversation with Nic Pizzolatto about the story?
No, nope. He was invited to come on set, but no.
Have you ever watched the "True Detective" series? One of the things that's so interesting about your interpretation of "Galveston" is that Pizzolatto has this very specific dark and doomed worldview and you create this tension of hopefulness and emotion within that world.
I saw some of the first season. I think the idea was to go forward from that. I think the producers wanted a female director and I think they really wanted a European female director. Everybody wanted me to just — not me especially, but in the end I did the movie — but I think everybody wanted to take that classic feeling script, and find another vision of that.
The pace of the movie, it's not French, but the script had more action. It's funny because in France the journalists said it looks like an American movie, and I don't know if Americans see it as a French movie.
Now the movie is about them and not him.
— Director Mélanie Laurent on what she brought to the storytelling of 'Galveston'
Can you quantify the differences you've made to the movie as a female filmmaker — telling what could have been this really macho story and having a woman's perspective on it? What do you think the difference is?
The movie was literally about a guy. That was the province of the movie. He would [bond] with her and have some empathy for her at some point, but he was kind of tough with her and she had to prove a lot of things. And I wanted her to be strong. I think the first thing I said and I did, was [explore] her reaction instead of always being his point of view. Now the movie is about them and not him.
In the script it was him and she was there, but she was there like having a beautiful baby doll next to you. And I wanted her to suffer, I wanted her to cry, I wanted us as an audience to feel pain and to stay with her.
And because Ben is very smart and he was such a good partner and was really on my side, as Elle was, we worked on that, we were all agreed that it should be a movie about them and not just him. But also not just giving her new scenes, or more scenes. I remember in the script when she was going back to prostitute herself, but she was just doing it. She didn't cry, that was not hard for her. And that's where we added those little scenes where she's getting ready and she's crying. It's not something you just easily do. So maybe that's the female.
At this point in your career, how do you see the balance between your acting work and your directing work? Is directing the thing that you feel is more you?
Directing is my passion for sure, but when I'm acting, I'm learning things and I'm having fun and I love that. And if I'm not working for months, I miss that. So it's a perfect balance because I need to be an actor to just feel the set and my point of view and work with different directors and never stop learning things. But also when you [make a] movie, it just takes all your time. So at some point I have to just make a choice.
What I love the most is when I'm starting to write down some ideas while I'm shooting a movie as an actress. I love that moment when you just are on set with a director, but also using the time you have — as an actor there are so many hours every day. And you can use those hours to write something and build a world and be in your bubble. So I'm happy to be able to do both.
SIGN UP for the free Indie Focus movies newsletter »
Follow on Twitter: @IndieFocus
Get our L.A. Goes Out newsletter, with the week's best events, to help you explore and experience our city.
You may occasionally receive promotional content from the Los Angeles Times.