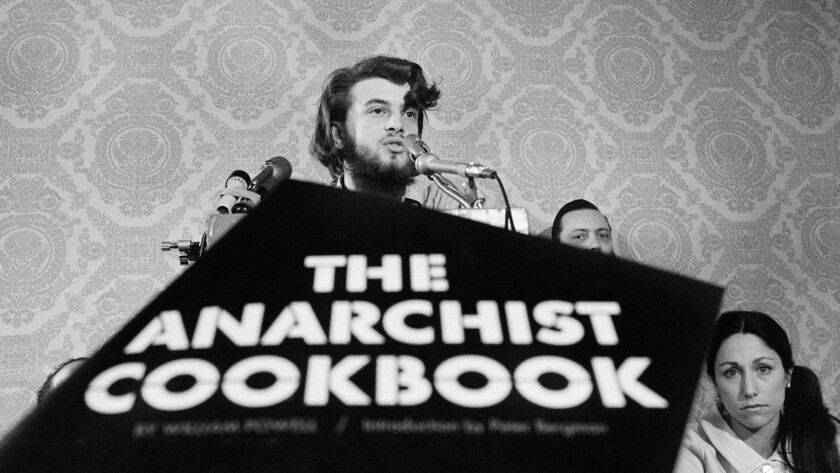 In 1969, an angry young man caught up in the social unrest of the period holed up in the New York Public Library poring through piles of military manuals and eventually emerged with "The Anarchist Cookbook."
Containing detailed instructions for making TNT and "converting a shotgun into a grenade launcher," William Powell's Yippie manifesto was the pre-Internet-era fad that wouldn't fade, a book later co-opted by terrorists and alienated outsiders who bypassed the armchair revolutionary rhetoric and went straight for the recipes.
Profiling Powell in an unflinchingly probing interview, Charlie Siskel's "American Anarchist" delivers a fascinating cautionary tale that asks, "How many mea culpas are we expected to make for our reckless youth?"
Powell, who dismisses his old written rants as "absolute rubbish," maintains he was unaware of the book's resurgence until its connection to the 1999 Columbine High School massacre, as revealed in Michael Moore's "Bowling for Columbine."
After unsuccessfully having tried to get it pulled from circulation, Powell appears genuinely shocked when confronted by Siskel with an extensive list of other tragedies — from the 1995 Oklahoma City bombing to the 2012 Aurora theater shooting — with which the "Cookbook" has been implicated.
Although it occasionally feels as if the thoughtful Powell (who unexpectedly died last summer) is being forced into a repentant corner, the film remains a penetrating case study in taking ownership of one's actions.
-------------
'American Anarchist'
Not rated
Running time: 1 hour, 20 minutes
Playing: Laemmle Monica Film Center, Santa Monica; also on VOD
See the most-read stories in Entertainment this hour »
---