Review: Seydoux enlivens jagged 'Diary of a Chambermaid'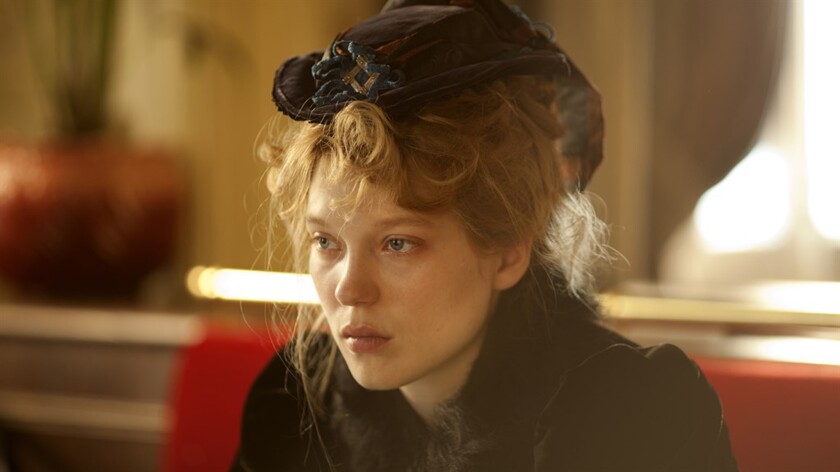 With her singular combination of flintiness and fleshliness, Léa Seydoux is among the contemporary screen's most compelling performers. She can bring whole lives into focus or wrap them in mystery with a glance or gesture, even in such pretentious trifles as "Blue Is the Warmest Color."
For "Diary of a Chambermaid," she reteams with Benoît Jacquot, director of one of her finest roles, that of a servant to Marie Antoinette in "Farewell, My Queen." Unfolding elliptically, the new film can feel abrupt and unsatisfying, but it's filled with sharp commentary on class and servitude, and the actress delivers another extraordinary performance.
"Diary" is the fourth film adaptation of Octave Mirbeau's 1900 novel, which relates the scandalous-for-their-time experiences of an observant, not entirely sympathetic housemaid. Jean Renoir emphasized the story's romantic aspect, Luis Buñuel its dark political undertow. Jacquot's version has a jagged, unsettling energy, a mood that's heightened by Bruno Coulais' sensational suspense-charged score.
In the provincial household of the unhappily married Lanlaires — played by stage actors Hervé Pierre and Clotilde Mollet, top-notch in intentionally caricatured roles — Seydoux's Celestine is drawn to the rough-hewn gardener, Joseph (Vincent Lindon, reliably persuasive). His ardent anti-Semitism leaves her cold, but his scheme for economic independence definitely turns her on.
Celestine's intelligence is evident in her voice-over musings about upper-class hypocrisy, the ripostes she mutters under her breath and her cunning glances. But as the film interweaves flashbacks to past jobs or considers the tribulations of the kitchen maid (Mélodie Valemberg, excellent), it's clear that smarts have their limits when social mobility is a pipe dream. Celestine may choose a way out, but it's no choice at all.
-------------
'Diary of a Chambermaid'
In French with English subtitles
No rating
Running time: 1 hour, 36 minutes.
Playing: Laemmle Royal, West Los Angeles
---
The complete guide to home viewing
Get Screen Gab for weekly recommendations, analysis, interviews and irreverent discussion of the TV and streaming movies everyone's talking about.
You may occasionally receive promotional content from the Los Angeles Times.