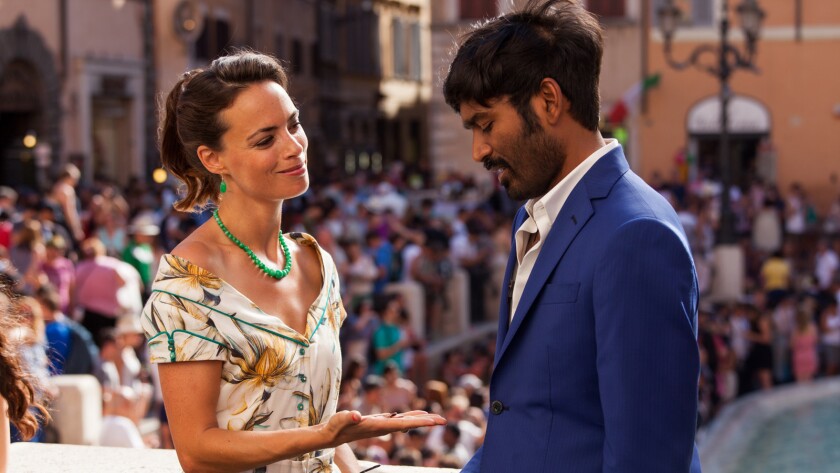 The comic-romantic adventure "The Extraordinary Journey of the Fakir" takes a winding path, but the trip is pleasant enough.
According to Merriam-Webster, "fakir" can mean Hindu ascetic or wonder-worker — or con man. The protagonist of "Fakir," appropriately, perpetrates a fake-mystic act on the streets of Mumbai while his friends pick the audience's pockets. Young Aja (Tamil film star Dhanush) grows up to seek the father he never knew in France, encounters a beautiful American (Erin Moriarty) and is thrown into a convoluted multicountry quest to get back to her.
The film, based on Romain Puértolas' novel, has clever touches and is consistently engaging, if meandering. Aja's other adventures include an acquaintance with a Somalian refugee (Barkhad Abdi of "Captain Phillips") and a glamorous actress (Bérénice Bejo of "The Artist"). Despite Aja starting as a swindler, his good heart carries him through pratfalls and perils. There's even a full-on Bollywood dance number.
The film paints a sympathetic, humanizing picture of those fleeing war and poverty only to face bureaucratic or political hurdles at their intended havens. If this seems a bit overstuffed, it is at times. Dhanush and Moriarty have chemistry, and viewers may wish the romance had a greater presence, but "Fakir" ends up being funny, entertaining and positive.
-------------
'The Extraordinary Journey of the Fakir'
In English
Rated: PG-13, for some suggestive content and brief strong language
Running time: 1 hour, 32 minutes
Playing: Starts Friday, AMC Atlantic Times Square 14, Monterey Park; AMC Ontario Mills 30; AMC Orange 30; AMC Fullerton 20
------------
---