Review: Experimental 1969 Japanese film 'Funeral Parade of Roses' provokes and entrances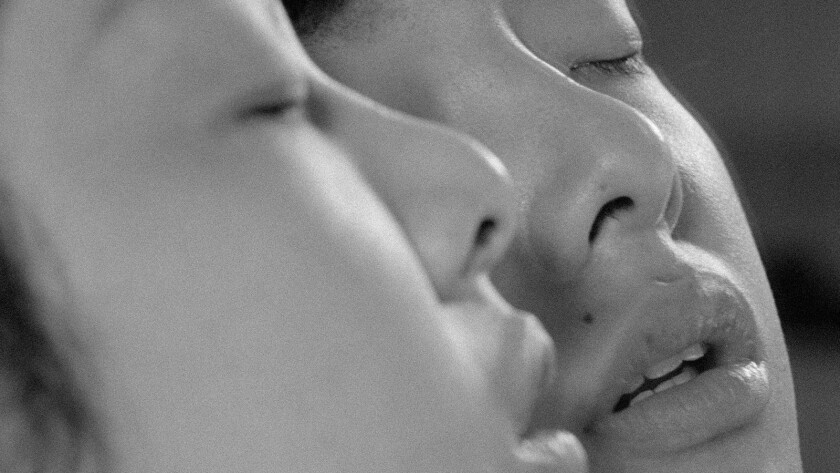 For best enjoyment — or at least basic comprehension — of the 4K restoration of writer-director Toshio Matsumoto's outré 1969 melodrama "Funeral Parade of Roses," the film must be viewed through the prism of that era's experimental wave of cinema. Compare this kicky, black-and-white piece to anything even remotely contemporary or mainstream and you might be lost — or glued to your watch.
The film's plot, such as it is, pits Eddie (Japanese entertainer Peter, then a teenager), a young Tokyo trans woman (or "gay boy" or "rose"), against an older, drag club madam (Osamu Ogasawara) for the love of the bar's drug-dealing owner (Yoshio Tsuchiya). It all somehow morphs into an "Oedipus Rex" takeoff that ends in unbearable violence.
But there's so much more here — and sometimes far less — as Matsumoto mashes a barrage of audio-visual styles, tones and gimmicks into a brash kaleidoscope of filmic possibility. For much of the movie, its grab bag of showy scenes and vivid pop images could likely be shuffled to little narrative impact.
A reported influence on Stanley Kubrick's "A Clockwork Orange," the movie echoes the work of such filmmakers as Andy Warhol, Jean-Luc Godard, Luis Buñuel and avant-garde pioneer Jonas Mekas, who is name-checked here. Ultimately, "Roses'" anarchic canvas of sex, drugs and desperate living succeeds in provoking and entrancing, if not exactly entertaining.
-------------
'Funeral Parade of Roses'
In Japanese with English subtitles
Not rated
Running time: 1 hour, 45 minutes
Playing: The Cinefamily at the Silent Movie Theatre, Los Angeles
See the most-read stories in Entertainment this hour »
---
Get the Indie Focus newsletter, Mark Olsen's weekly guide to the world of cinema.
You may occasionally receive promotional content from the Los Angeles Times.