Review: Totally '80s culture clash comedy 'Seoul Searching' makes tender connections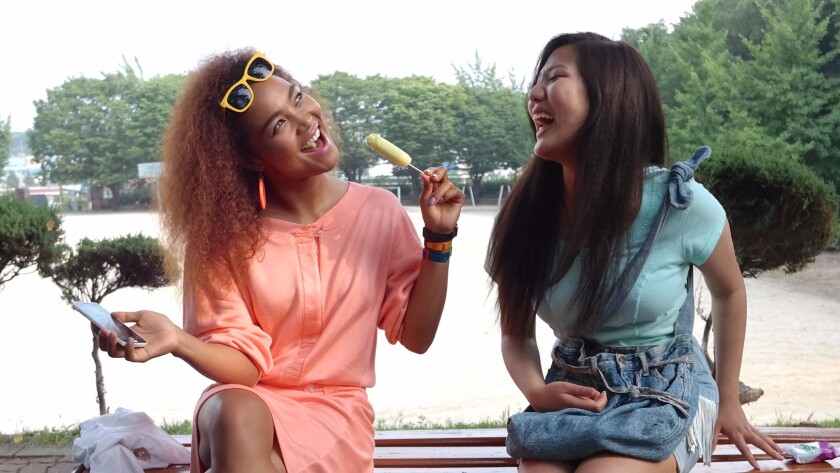 There's a fascinating true-life cross-cultural premise at the heart of writer-director Benson Lee's "Seoul Searching" — a project in the 1980s to immerse Korean teens raised in foreign countries in Korean culture by way of summer camp. These kids share an ethnic background but have vastly different cultures, and Lee milks the cognitive dissonance to be found when Koreans from all over the world, including the U.S., Mexico, Germany and England, are thrown together and required to find some common ground. Lee himself attended a camp like this, though that experience seems to inhibit his perspective on the story.
The film is a nostalgic fantasy, a pop cultural pastiche of '80s references, on-the-nose costuming and a soundtrack ripped from every John Hughes movie. Each character enters as a stereotype: from the punked-out Sid (Justin Chon), Madonna clone Grace (Jessika Van), Latin lover Sergio (Esteban Ahn) and uptight German Klaus (Teo Yoo) to the unfortunate trio of Run-DMC acolytes, who play a bit too fast and loose with racial slurs.
It's to the film's credit that characters are able to emerge from the "Breakfast Club"-inspired archetypes, but the reliance on references over real character and story development is hard to ignore. Spanish YouTube sensation Ahn as Mexican Sergio is a comic standout and one of the more endearing characters. His cultural mashup, while goofily written, feels authentic.
Despite the overwrought stylization, the heart of "Seoul Searching" does ultimately emerge: a tender story that's more about the high stakes of youthful connection than culture, proving that this universal tale transcends borders.
-------------
'Seoul Searching'
Not rated
Running time: 1 hour 45 minutes
Playing: Ahrya Fine Arts, Beverly Hills
---
Inside the business of entertainment
The Wide Shot brings you news, analysis and insights on everything from streaming wars to production — and what it all means for the future.
You may occasionally receive promotional content from the Los Angeles Times.