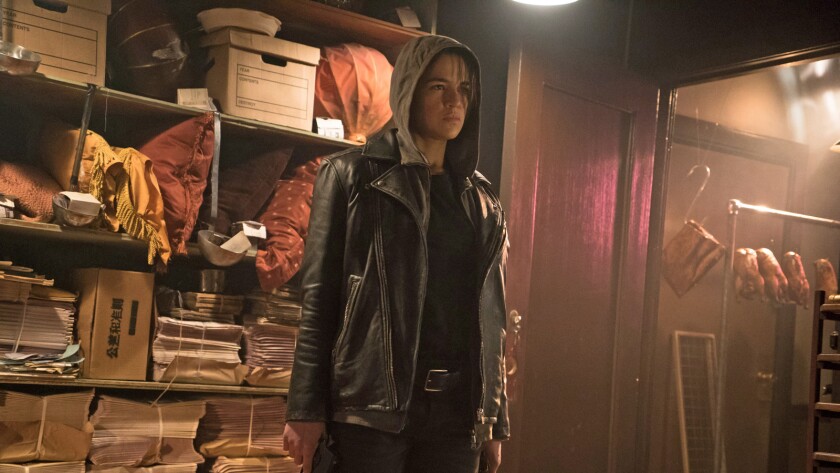 There's howlingly awful and then there's "The Assignment," a thoroughly ridiculous, numbingly slow neo-noir thriller about a low-life hit man forcibly given gender reassignment surgery by a vengeful doctor.
The red flags are raised from the start as Sigourney Weaver, suggesting a wax museum Hannibal Lecter, is introduced in a straitjacket playing a calculating, Shakespeare-quoting mental ward patient and disgraced reconstructive surgeon who exacted a decidedly unorthodox retribution on the guy responsible for taking a hit out on her brother.
That would be the snarling Frank Kitchen (Michelle Rodriguez, initially outfitted with unconvincing facial hair and prosthetics), who regains consciousness in a sleazy motel room to make the shocking discovery that he's no longer a he. Weaver proclaims, "I've liberated you from the macho prison you've been living in!"
Director-co-writer Walter Hill, who could once reliably be counted on to deliver the action-packed goods, including "48 Hrs." and "The Warriors," evidently regarded "The Assignment" as a return to the pulpy, graphic comic style of his 1984 cult favorite, "Streets of Fire," but the streets in this garish Canadian production are paved with career-burying, cheesy sludge.
As for Rodriguez and Weaver, who previously worked together in "Avatar," let's just say that they've moved on to happier assignments and politely leave their performances at that.
-------------
'The Assignment'
Rating: R for graphic nudity, violence, sexuality, language and drug use.
Running time: 1 hour, 35 minutes
Playing: Laemmle Monica Film Center, Santa Monica
See the most-read stories in Entertainment this hour »
---