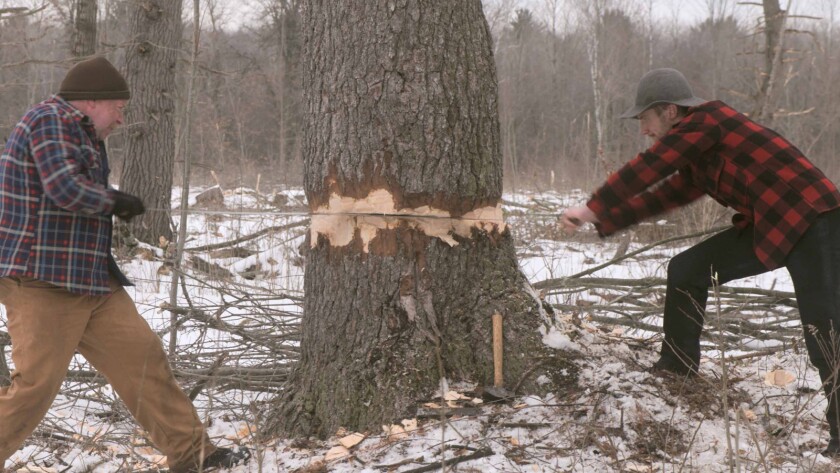 Ambition overtakes ways and means in "The Lumber Baron," a fusty and unpersuasive if well-intentioned drama about the American logging industry circa 1910 that has "Masterpiece Theatre" aims but far more pedestrian results.
When a cranky Wisconsin lumber magnate (Alex Miller) drops dead unexpectedly, his eldest son, Daniel (Joseph Bezenek), nobly exits medical school to save his family's failing company and, with it, their dwindling fortune and social position.
Forget that Daniel, like the rest of his rarified, mansion-ensconced family — mother Elizabeth (Christina Baldwin), sisters Mary Catherine (Scout Taylor-Compton) and Adeline (Anna Stranz), kid brother Colin (Henry Sollberger) — has no real idea how the business works or how a dastardly, rival lumber tycoon (a ridiculously mustachioed Charles Hubbell) is conspiring against them.
In a far-fetched scenario, Daniel goes undercover as a lumberjack to learn Dad's business from the forest floor up, uncovering mismanagement, corruption, worker exploitation, deadbeat clientele and how much it hurts to chop trees (really, how many must we watch topple?). There's also a contrived but pivotal murder scheme involving a mysterious "headache powder."
With its overly arch dialogue and characterizations, airless gentility and forced period trappings it seems that the harder writer-producer Karen R. Hurd and director Barry Andersson strive for authenticity — on what's clearly a deeply limited budget — the less convincing the film feels. The often stodgy acting doesn't help.
-------------
'The Lumber Baron'
Not rated
Running time: 1 hour, 49 minutes
Playing: Starts May 24, Arena Cinelounge, Hollywood
------------
---