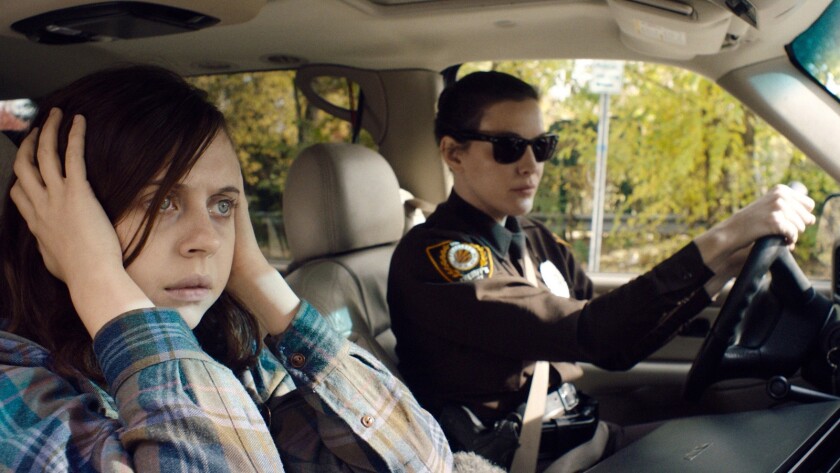 English actress Bel Powley has such an otherworldly screen presence that she's an ideal heroine for any supernatural thriller. In director Fritz Böhm's "Wildling," Powley plays Anna, a teenager who's spent her entire life imprisoned in the woods, receiving regular injections from a man claiming to be her father. When a local cop rescues her, those shots stop, and Anna begins to… well, "change."
"Wildling" offers a darker, artier take on one of the classic horror premises: the misunderstood adolescent monster. Like "I Was a Teenage Werewolf" and "Ginger Snaps," the film uses a ferocious metamorphosis as a metaphor for puberty. Freed from her jailer's chemical control, Anna gets hairier and lustier.
At its best, "Wildling" is very smart about how we humans like to compare ourselves to animals — from the names of our sports teams to the way we describe the feeling of cutting loose. Böhm and his co-writer Florian Eder find some satirical potential in the way Anna's new guardian (played by Liv Tyler) shrugs off a lot of her strange behavior as the wacky antics of a typical, hormonal teen.
Böhm doesn't do so well with "Wildling"'s scare scenes and gore, because he seems more focused on making a coming-of-age character study than an effective fright-flick. But he has one remarkable character in Anna, who's played by Powley as a feral gal with a heartbreakingly doleful soul.
-------------
'Wildling'
Rating: R, for violence including bloody images, language, some sexual content and teen drinking
Running time: 1 hour, 32 minutes
Playing: Arena CineLounge, Hollywood
See the most-read stories in Entertainment this hour »
---