Kevin Hart, Malcolm D. Lee and Will Packer on putting together a motley crew for 'Night School'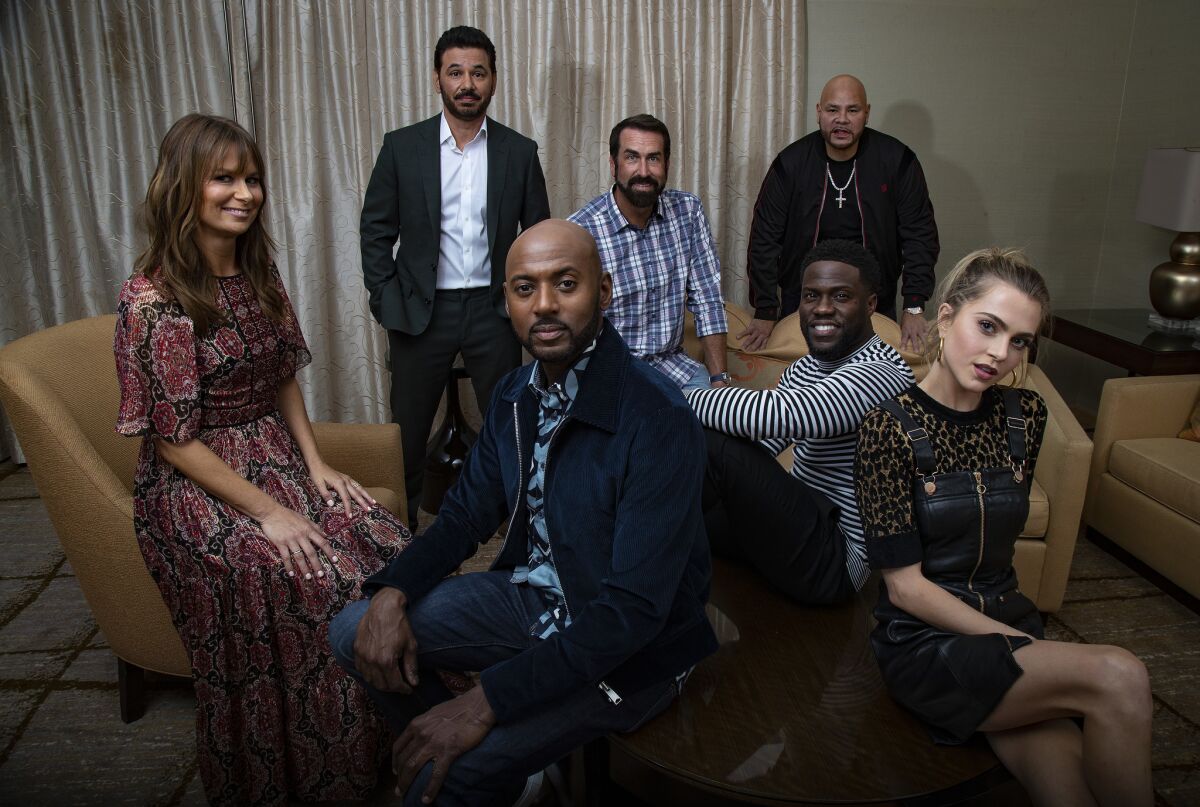 When Kevin Hart came up with the idea for "Night School," he conceived of it as an adult version of John Hughes' classic "The Breakfast Club."
"The idea came from me just thinking about how funny it would be to place adults back in a high school-like atmosphere," said Hart, who co-wrote and stars in the film, which opens nationwide Friday. "What made 'The Breakfast Club' so special was that it only focused on those five characters [so] you really got to dive into each one of their stories."
Rather than group detention, "Night School" bands together a disparate class of seven students seeking to pass the GED exam. The motley group includes Teddy (Hart), a schmoozing sweet-talker whose recent career change demands a high school diploma or equivalent; Jalen (Romany Malco), recently unemployed due to advancing technology and still touchy about it; Big Mac (Rob Riggle), a dad seeking to inspire his teenage son to finish high school; and Theresa (Mary Lynn Rajskub), a hardworking mom going back to school to gain some independence from her domineering husband.
Al Madrigal (who plays Luis, a Mexican immigrant with a personal vendetta against Teddy), Anne Winters (as Mila, who was given a choice between night school and juvie) and Fat Joe (as Bobby, an inmate who Skypes into class from prison) round out the cast.
"The movie is about a diverse group of underdogs who are looking for a second chance. None of their lives have gone the way that they thought they were going to go," said producer Will Packer. "We wanted to make sure it was a really diverse group of folks from various backgrounds and perspectives."
While finding the right ensemble could make or break the film, Packer remembers the casting process as relatively seamless.
"It wasn't an extensive audition process," he said. "We kind of knew who we wanted. These were established comedians for the most part. We wanted to go after some of the best in the business and folks that could do a variety of things."
"We wanted to go funny," agreed Hart. "And we wanted people that could improv. People that could bring the material on the page to life and add a new flavor to it."
In fact, improvisation skills were instrumental in deciding whom to hire.
"You can't have a movie like this and not [improv]," said Hart. "That's why I went after Tiffany Haddish [who plays Carrie, the night school instructor], that's why I went after Romany Malco. That's why we offered it to Rob Riggle. Some people just got offers because we knew what they could do."
And though the film's promotional push has focused on stars Hart and Haddish, the night school classmates (as well as other supporting characters) provide some of the biggest laughs.
"That's one of the things I think will be a pleasant surprise for people about the movie," said Packer. "Because a lot of the marketing is focused on Tiffany and Kevin who are amazing, but there are gems within the story that revolve around the other actors and the classroom dynamic. Some of it was on the page, but a lot of it we found on set allowing the actors to riff and ad lib and have fun with their roles."
On the other hand, it was just as important to director Malcolm D. Lee ("Girls Trip") that the actors kept their characters true to what was on the page.
"We made sure, the writers and I, to be very clear about who each character was," he said. "We wanted to give them all specificity and we discussed in rehearsal about how far we could go with certain things and how we can get deeper into back story and display that on screen."
"Malcolm is great that he allows his actors to do that," said Packer. "He keeps them on track and keeps them in the zone of the story. But he's really good about letting his actors have some freedom."
In assembling a group of performers that span the worlds of stand-up, film, television and even music, it was crucial that each member of the ensemble bring something different to the table.
"You want to make sure you've got folks that have different skill sets that can be woven together in the tapestry of the narrative," said Packer. "You want to give the actors room to play within the parameters of the story. And these guys were all really good at that."
Added Lee, "When you're doing a comedy, especially an ensemble comedy, you've got to have choices in the editing room. Because when you get to the editing room with one take, you could be painting yourself into a corner. And not a very good one."
Coming off the breakout success of "Girls Trip," Lee (and Haddish) had experienced first-hand what a difference one movie can make in an actor's career. And the director jumped at the chance to work on a project that gave even more opportunities for supporting players to make their mark.
"I would say they're all scene stealers in their own right," Lee said of his "Night School" cast. "And for me, it's always great to put great comedians, actors, improv people in the arena together. They can play with one another and go with their different styles of comedy and you get something magical when that happens."
The filmmakers credit each of the actors for finding idiosyncrasies in their characters that added texture to their back stories and simultaneously dialed up the humor.
"Some of it was in the script, and some of it we found as the actors started performing and really started to become their characters," said Packer. "Romany is a good example. We had Jalen written on the page as this character who doesn't trust technology and what Romany did was just ratchet it up a notch. He made him this cerebral conspiracy theorist which was a really, really funny way to go with that character."
"You know what Romany did that was really funny?" added Hart. "Romany brushed his hair where there wasn't any for the entire movie. Romany clearly is bald. And he chose to brush his bald spot for the entire movie and it's the funniest thing in the world. He was just very persistent and adamant, and that's how characters are made — by finding little nuances that they hold onto that you can build off of throughout the movie. That's what the pros do.
"You know, you don't miss with Romany Malco. I've been in several movies with him, you just don't miss, he's as good as it gets. Rob Riggle, as good as it gets. Mary Lynn, as good as it gets. Al Madrigal, oh my God. That was my first time working with Al but when I saw what he brought to the table and the angle that he came from, I was blown away. Between Al and Romany, I feel they both steal the movie."
The film's strong cast extends beyond the classroom as well, with Ben Schwartz as Teddy's longtime friend, Megalyn Echikunwoke as Teddy's high-powered fianceé, Yvonne Orji as her protective friend and Keith David and Bresha Webb playing Teddy's father and sister. "Saturday Night Live" veteran Taran Killam, who plays the school's strict principal and Teddy's former high school rival Stewart, also contributes some of the most memorable jokes of the film.
"The whole idea behind the principal was that he was such a fan of 'Lean On Me,'" said Hart. "I said the funniest thing in the world is to have a white guy that embraces Joe Clark. So that's where the bat came from, that's where the 'I'm going to whip this school into shape' perspective on education came from."
Having established himself as one of Hollywood's few remaining bankable comedy stars with hits including "Central Intelligence," "Ride Along" and "Jumanji: Welcome to the Jungle," there's no doubting that "Night School" is a Kevin Hart vehicle. But the star acknowledges that allowing others a turn in the spotlight only served the movie overall.
"You want people to have the confidence to be the best version of themselves," said Hart. "So we established a high level of comfort from the beginning. We wanted to give everybody moments to score, which is why I can openly say I'm not the funniest person in this movie. I'm the straight guy for the most part."
---
Get our L.A. Goes Out newsletter, with the week's best events, to help you explore and experience our city.
You may occasionally receive promotional content from the Los Angeles Times.