The popular NPR game show 'Wait ... Wait' celebrates its 20th anniversary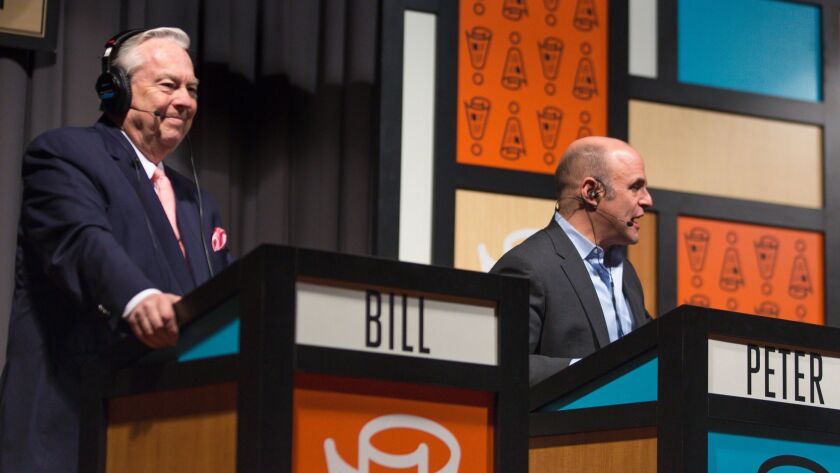 Reporting from Chicago —
Midway through a recent "Wait Wait … Don't Tell Me" production meeting in the office National Public Radio station WBEZ here, writer Peter Gwinn's phone thrummed with a news alert. It is Thursday afternoon, less than five hours before the taping of NPR's weekly comedy news quiz.
Fine-tuning the script for that night's show were host Peter Sagal, official judge and scorekeeper Bill Kurtis, executive producer Mike Danforth, show creator and current "benevolent overlord" Doug Berman participating by Skype, and a small staff of producers, production assistants and interns.
The news alert concerned Donald Trump's acknowledgement that it "certainly looks" like Saudi journalist Jamal Khashoggi, last seen entering the Saudi Consulate in Istanbul on Oct. 2, was dead. Up to this point, the president had resolutely refused to declare that Khashoggi had been murdered at the risk of jeopardizing relations (and arms sales) with the Middle East ally.
Late-breaking news is an occupational hazard for "Wait Wait," which marked its 20th anniversary at the end of last month with a Very Special Episode broadcast from the august Chicago Theatre. (It airs at 11a.m. Saturdays and Sundays on KPCC-FM (89.3). "What happens a lot these days is that by [this afternoon] some astonishing news story is taking over the front pages and we'll have to shift gears," Sagal said.
Sagal and staff wrestled with how to find a lighter touch on a horrific story. "One of the things I'm legitimately worried about is let's say we do a lighthearted thing about Donald Trump's ridiculous excuses for this obvious crime and then tomorrow the tape of Jamal being murdered is released," Sagal reflected. "This could happen because this is 2018. We need to think about that."
It's a serious balancing act for a show with a passionate fan base that considers "Wait Wait" to be comfort radio. "It's part of my regular weekend ritual," stated Jonathan Howell, a Fort Collins, Colo., resident in the audience for the sold-out live taping that night. "It makes the week a little happier and gives the sense that when you get depressed about bleak current events everything will be OK."
That approach is clearly working. "Wait Wait" is now heard on 725 stations with a weekly audience of 4.1 million.
The current administration is putting Sagal's nonpartisan approach to the program to the supreme test. Be they conservative or liberal, he said, he wants listeners to consider "Wait Wait" to be "a Christmas Eve truce" for one hour a week.
"When we make fun of Donald Trump, we're not being liberal or anti-conservative," he explained. "We're making fun of this guy who to put it mildly is giving us a lot of material to work with. But one of the things I found true about doing this for 20 years; I can't make jokes if I don't believe in them. I can't hide my feelings about our president."
"Wait Wait" premiered Jan. 3, 1998. Berman had created the immensely popular "Car Talk" and NPR asked him to develop a companion show. "People were listening to NPR for news all week; it made logical sense to build off that," Berman recalled. He took further inspiration from "You Bet Your Life," the comedy TV quiz show hosted by Groucho Marx.
Its beginnings were not auspicious. "Wait Wait" aired on 12 stations and had less than 200,000 listeners. Sagal jokes that around the offices of NPR it was known as `Wait Wait …Don't Cancel Me.' Not quite the case, maintained Berman. "Car Talk's" success earned him time for the show to find itself.
"Nobody was considering canceling it," he said. "They said it's not there, but give the guy a couple of months. We worked hard and figured out what was and was not working. And we did that on the air."
What was not working was that the show was recorded in studio with panelists weighing in from remote locations. Not until 2005 did the show switch to a live format (the 90-minute tapings are edited to fit the hour time slot). "It became obvious that the shows in front of an audience were so much better because people were laughing and it sounded like a good time," Sagal said.
Sagal, originally a panelist, was given "a battlefield promotion" and took the reins in May 1998 after the original host, Dan Coffey, a member of Duck's Breath Mystery Theater and best known as Dr. Science, did not pan out.
What the show did have in its favor was Carl Kasell as official judge and scorekeeper. "At the time, he was the voice of NPR," Sagal said. "His contribution and his participation was incalculable in terms of value and credibility. Once we began to realize that Carl was this amazing comic weapon we could use far better than we had been, it just got better than better." (Kasell died in 2018).
While "Wait Wait" is mostly improvised, there is scripted material that introduces the show's segments and provides context to news stories. For the segment "Bluff the Listener," each panelist writes a news story tied to a specific theme; only one of them is true and a listener has to guess which isn't — wait for it — fake news.
The bulk of a typical "Wait Wait" work week is spent news-gathering. The job is to find the funny in timely and often divisive news stories.
"It's a particular obsession of mine," Sagal noted. "I spend a fair amount of time interacting with our audience and they tell me, 'We can't wait to hear what you're going to say about (a news event). I feel that obligation personally."
Sagal, Kurtis and the "Wait Wait" staff take their place around a table in a four-cubicle oasis in the WBEZ offices. They read through and fine-tune the script written the previous day. As they discuss Khashoggi's disappearance, several darkly comic jokes are pitched. They are met by producers with, "Funny, but no." On a less serious note, the tease of that week's special guest, author John Grisham, evokes several inevitable lawyer jokes until it is suggested, "Are lawyer jokes tired?" Responds writer Gwinn, "If you can't make a lawyer joke with John Grisham…."
Some news stories would seem to be right in "Wait Wait's" wheelhouse. Take "Horseface" (please). That week, Trump tweeted about his legal victory over adult film star Stormy Daniels and referred to her visage as equine-like.
"Do we make jokes about Donald Trump being misogynistic and crude?" Sagal mused. "We need to work harder than that. A joke that says something out loud that the audience agrees with is cheap, easy and ultimately not doing anybody any good. We can't merely satisfy the audience. Our job is to tell them things they don't already know in a funny way."
The meeting will last about 2½ hours. In the remaining two hours before the taping, the script will be sharpened yet again. "A lot of what we painstakingly prepared will not only not get used in the final [edited] show but will not even be spoken aloud," Sagal said.
That is the case with that week's show. In teasing Grisham's appearance, a joke about whether a hero lawyer is the realm of the legal thriller or fantasy was replaced with a reference to the Bret M. Kavanaugh hearings: "We will ask him if it's a believable plot line for a judge to shout out, 'I like beer' under oath and end up on the Supreme Court."
"Wait Wait's" status as one of the jewels in the NPR crown is reflected in the high wattage of the celebrity guests for the recurring segment, "Not My Job," in which they answer questions about an occupation only tangentially related to their own. For Grisham, it was questions about briefs, as in underwear. Grisham turned out to be a winning guest, although he only answered one out of the three questions correctly.
"I love it when someone comes on the show who you would not expect to be funny and charming," Sagal said. "It gives them the chance to expose a side of themselves that they don't normally do."
One of the ways "Wait Wait" has stayed fresh and attracted new and younger listeners has been to expand the diversity of the panelists who pit their news acumen (and jokes) against one another. On the show this night was stand-up comedian Hari Kondabolu, a more recent addition to the roster.
"I assumed when I first did it they would give me the questions ahead of time," he said. "It took awhile to learn how to merge into the traffic of words. The fans are really, really, really obsessed with the show. They are absolutely rooting for you. They want to know you're paying attention and not just trying to put jokes in. They want to see camaraderie [with the other panelists]. As much as we're competing with each other, we're all working in tandem to make the funniest show possible. The scores at the end are secondary."
What next? "This is first and foremost a radio show," Berman states. "We have people who count on listening every week. We're focused on keeping our show fresh. There is always new stuff to talk about and new panelists who come on and stay for awhile. That will be the focus of the next 20 years; keeping it interesting and funny and making sure that we're smart and good companions."
---
Inside the business of entertainment
The Wide Shot brings you news, analysis and insights on everything from streaming wars to production — and what it all means for the future.
You may occasionally receive promotional content from the Los Angeles Times.