Review: In Las Vegas, Lady Gaga solves the problem of 'A Star Is Born'
Pop Music Critic
Reporting from Las Vegas —
The Las Vegas strip has seen pop spectacles as flashy as Lady Gaga's new show Enigma, in which she flies over the audience in a shiny pod shaped like an egg. And, of course, it's seen ring-a-ding renditions of the old-school standards the singer performs in her other new production, Jazz & Piano.
But in this city's long history of casino-funded entertainment, I'm not sure it has hosted an act capable of doing both those things at more or less the same time, as Lady Gaga did this past weekend when she played her first Jazz & Piano gig 24 hours after her latest run through Enigma, which opened in December.
"You know, it was just last night I was bent over in a thong…," she recalled Sunday at the top of the jazz show, which began with a warm introduction by Tony Bennett. Now dressed in a sparkly high-cut gown, surrounded by two dozen string and horn players in crisp formal wear, she looked out from the stage of the Park Theater at Park MGM and grinned.
"How wonderful. I get to sing my own music and jazz in Las Vegas." Cole Porter had a phrase to describe this kind of freedom, she added, and that was her cue to the band to strike up — what else? — "Anything Goes."
Scheduled through early November but advertised to stretch to at least two years, Lady Gaga's dual engagement at the 5,200-seat Park was clearly designed to emphasize her creative range at a moment when the singer is also making serious inroads in Hollywood. (She's all but certain to be nominated for an Academy Award for her leading role in "A Star Is Born"; nods will be announced Tuesday morning.)
In the tech-heavy Enigma, she arranges her Top 40 hits from the last decade — "Just Dance," "Bad Romance," "Born This Way" — into a carefully choreographed narrative about being trapped in a digital simulation of the future (or something along those lines). Jazz & Piano, meanwhile, looks back with fewer moving parts to the Great American Songbook that kept the Rat Pack in business here in the 1960s.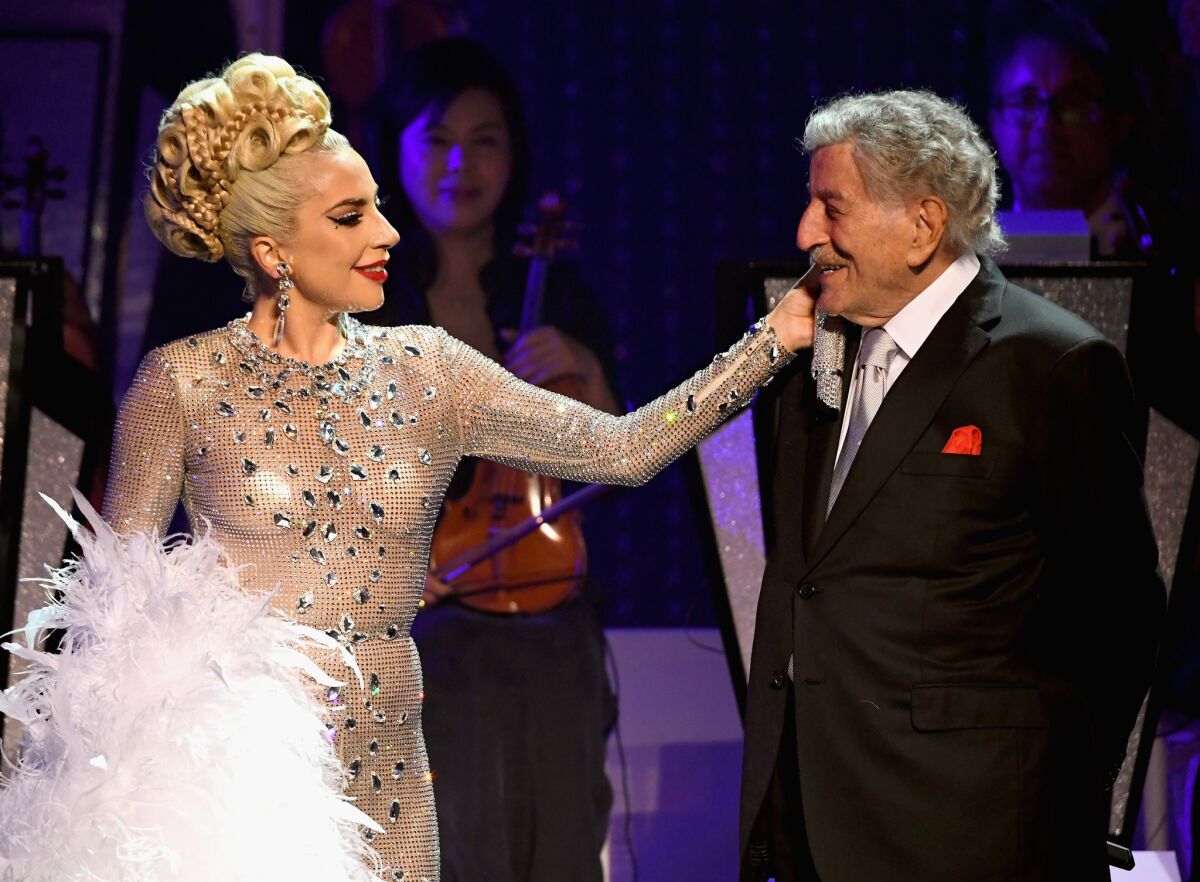 Yet for all their differences in style and repertoire, both shows feel indelibly Gaga, linked by the unifying force of her wacky personality and her raw vocal talent. On Saturday, she found the heart in an elaborate set piece that had her riding atop a giant robot crab as she sang an unprintably titled song whose chorus in German loosely translates to "Crap."
And on Sunday, she made "Fly Me to the Moon" sound as weird and funny as it ever has, less an earthly lover's rhapsody than an extraterrestrial's plea to return home.
Indeed, what's most valuable about these highly enjoyable productions, for which Gaga is reportedly being paid $100 million, is the way they toy with outmoded ideas of tradition and authenticity — ideas the singer herself seemed to buy into in "A Star Is Born."
As much as Gaga deserves that Oscar nod for her remarkable acting, Bradley Cooper's movie left me worried that the performer, despite her years spent proving the contrary, had started thinking about meaning as being available only to an artist who rejects pageantry, as Cooper's tortured roots rocker Jackson Maine does (and as he urges Gaga's Ally to do after a cartoonishly slimy manager gets his hands on her).
The film depicts a world in which dancers and costumes necessarily preclude the expression of a true self.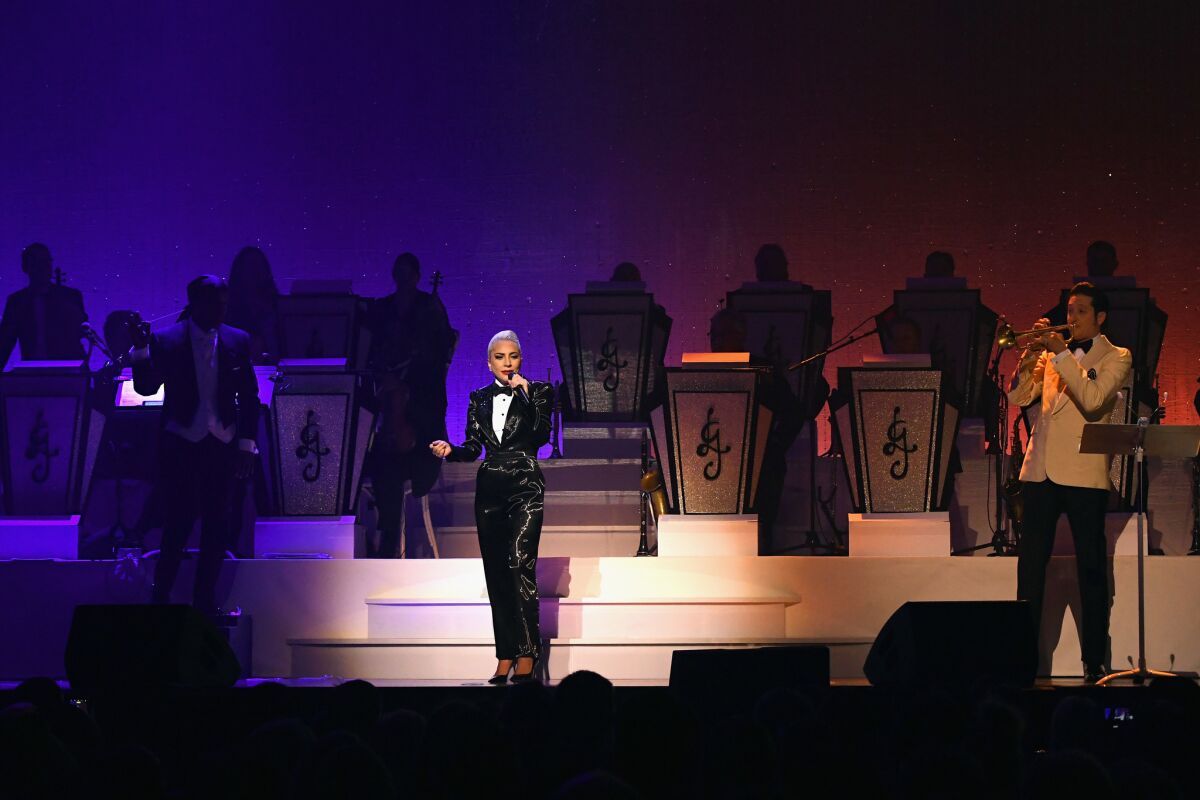 In Las Vegas, though, Gaga is demonstrating how silly that notion is, both by bringing a huge amount of emotion to complicated Enigma numbers like "Government Hooker" — a disco-goth banger about sexual power dynamics that she sang while wearing an illuminated breastplate — and by playing with identity just as eagerly in Jazz & Piano selections such as "Lush Life."
With its yearning melody and its lyric about loneliness, Billy Strayhorn's classic torch song might've inspired another singer to showily dispense with obvious theatrics: Behold my unfiltered pain, and all that.
But Lady Gaga, who by this point in the show had changed into a tuxedo and slicked back her hair, directed the ballad toward a glass of whiskey resting on a grand piano, happily embracing absurdity even as she tapped deep into the desperation Strayhorn describes.
Here you could see that, for her, the two Vegas performances aren't opposed but complementary — part of the same determination to use artifice to say something real.
You could also see how much she's improved as an interpreter of vintage material. On Sunday, her readings of "Anything Goes" and "I Can't Give You Anything but Love" — which she peppered with reworked versions of several of her own songs, including "Paparazzi" and "Poker Face" — were far more vivid than on "Cheek to Cheek," Gaga and Bennett's witless 2014 duets disc; her delivery could be raunchy or snarling, with idiosyncratic phrasing that was hard to predict.
Bennett turned up for spirited duets on the record's title track and "The Lady Is a Tramp," and Gaga reproduced her show-stopping take on "La Vie en Rose" from "A Star Is Born."
But most impressive was "Bang Bang (My Baby Shot Me Down)," the spooky mid-'60s curio made famous by Cher and Nancy Sinatra, which in Gaga's hands played like a master class in finding new feeling in a familiar oldie. Morbid and gorgeous, the song made you look past the clichés she wheeled out in several interstitial videos about why she loves singing jazz.
This is why, her performance told you (even though "Bang Bang" isn't, you know, a jazz song).
Enigma offers no revelations on that level; if you've seen one of Lady Gaga's busy arena tours, you'll recognize its signature blend of techno-dystopian rage and be-yourself uplift.
Still, the sequence in which she does "Government Hooker" along with a grinding cover of David Bowie's "I'm Afraid of Americans" has to be the closest the Strip has ever come to willfully ugly industrial music — an undeniable thrill if only for its transgression of established Las Vegas beauty standards.
Lady Gaga flexed her rebel's muscles again Saturday when she took a minute to criticize President Trump's handling of the partial government shutdown and to address Vice President Mike Pence, whose wife recently announced that she'd accepted a teaching position at a Virginia school that bars openly gay students.
"You are the worst representation of what it means to be a Christian," she said to loud cheers in the theater.
And she did it once more near the end of this performance of Enigma, when a fan greeted the opening lines of her song "Shallow," from "A Star Is Born," with a shouted comment about its Oscar worthiness.
"It's not about the award," she said, turning from her piano. "It's about the process of creating."
Pretty rich, perhaps, coming from a celebrity who's been working the awards circuit as hard as she has. But Lady Gaga seemed so engaged in these boldly ambitious concerts that you were willing to indulge her in a bit of real show-biz hokum.
Twitter: @mikaelwood
---
Get our L.A. Goes Out newsletter, with the week's best events, to help you explore and experience our city.
You may occasionally receive promotional content from the Los Angeles Times.