Oscars 2019: Mahershala Ali wins his second Academy Award for 'Green Book'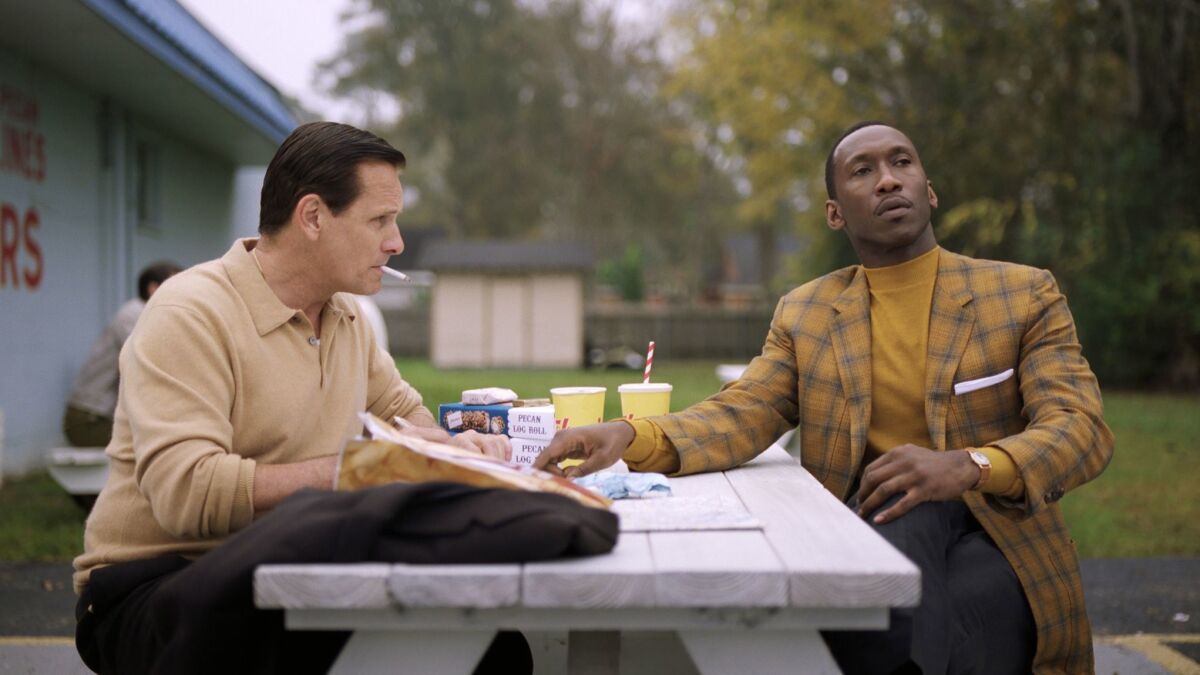 Mahershala Ali moves as quietly as a breeze through a keyhole, slipping into a scene, like his Don Shirley in "Green Book," almost unnoticed until he fills the frame. His characters are often men of subtlety and inured wisdom, kept intact by a dignity that forces the world to adjust or at least take notice.
Ali's meticulous portrayal of Shirley, a pianist whose prodigious talent transcended racism, won him his second Oscar for supporting actor in three years Sunday night. The role, played opposite Viggo Mortensen's rough-edged if loyal chauffeur, explored one aspect of the hateful and demeaning hardships African American artists endured throughout much of the nation's history.
Accepting the Academy Award, Ali first thanked the late piano virtuoso. "Trying to capture Dr. Shirley's essence pushed me to my ends, which is a reflection of the person he was and the life that he lived."
Born in Oakland, Ali, whose career has been a slow burn, first appeared in the national consciousness in 2001-02 as Dr. Trey Sanders in "Crossing Jordan." His lobbyist Remy Danton in "House of Cards" was a clever, reticent charmer who navigated the insecurities and desires of those at the center of power in Washington. Then came his rendering of gangster Cornell "Cottonmouth" Stokes in "Luke Cage," whose menace was tucked in a suaveness punctuated with lines like: "Nothing humbles a man like gravity."
His depiction of drug dealer Juan in "Moonlight" (2016) won him an Academy Award in a story about a boy nicknamed "Little" becoming aware of his homosexuality in a neighborhood of bullies. Juan is attuned to the hard rhythms of the streets, but he is tender with and protective of Little. In HBO's "True Detective," Ali's Wayne Hays, who ages from a righteous investigator to a grandfather facing dementia, is haunted by an unsolved case.
Those roles — and his latest as a villain in "Alita: Battle Angel" and the voice of 'The Prowler' in "Spider-Man: Into the Spider-Verse" — mean fewer people these days are stumbling over the name of the 45-year-old actor than they once did. He has discovered, though, that interviewer questions about his performances can be overshadowed by race in an era when Hollywood is facing demands for wider diversity.
"When I go and do these press junkets . . . I always spend a good 30% to 40% of the time talking about race," he told the Times recently. "You spend so much time as a black artist speaking about the black experience that it's almost like the writers are conditioned to speak to me on those terms. Which is cool, but they still don't necessarily reserve enough space to really get into the nuances of the work."
From Lady Gaga and Bradley Cooper singing to a 'Wayne's World' reunion, these are the highlights from the 2019 Academy Awards.
Opinion: 'Green Book' is the worst best picture winner since 'Crash' »
That was the dilemma Don Shirley often struggled with in the 1960s. In his depiction of the pianist, Ali moves through the Deep South with a regal grace that acts as armor against racist cops and concert bookers. Shirley is revealed layer by layer, sitting at a piano, striking a key, knowing that a sublime note, if only for a moment, will not call attention to the color of his skin.
"Green Book" was hit with criticism from several fronts during its generally strong awards season run. Some of the lower moments included complaints from Shirley's living relatives that the film did not accurately depict his story and the resurfacing of an anti-Muslim tweet by screenwriter Nick Vallelonga posted in the wake of 9/11. Through it all, Ali seemed to rise above the challenges.
The extraordinary range and screen presence he has as an actor is sure to make Ali one of Hollywood's most in-demand actors for years to come. And everyone knows how to pronounce his name now.
2019 Oscars: See all the winners and nominees »
Twitter: @JeffreyLAT
Get our L.A. Goes Out newsletter, with the week's best events, to help you explore and experience our city.
You may occasionally receive promotional content from the Los Angeles Times.