Oscars 2019: Spike Lee pays tribute to Prince on the red carpet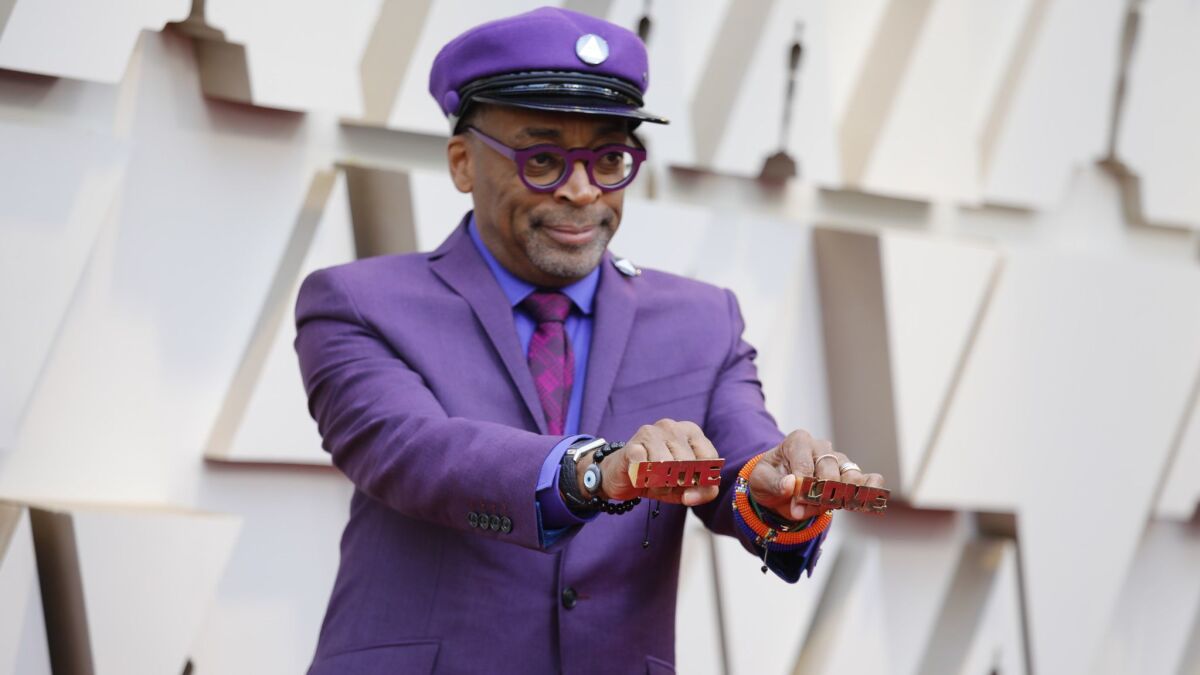 Spike Lee was awash in purple as he paid tribute to funk legend Prince on the Oscars red carpet Sunday afternoon.
The veteran filmmaker wore a purple Ozwald Boateng suit and coordinating hat and eyeglasses, as well as a chain bearing the late musician's the Artist emblem designed by Amedeo Scognamiglio.
Lee is up for three Academy Awards — directing, producing and writing — for his 1970s-set "BlacKkKlansman" starring John David Washington and Adam Driver. He seemed optimistic going into the show, despite his dubious history with the Academy of Motion Picture Arts and Sciences, which hosts the Oscars.
"I Know In My Hearts Of [hearts] My Brother Prince Is Watching Tonight,Singin' "IT'S GONNA BE A BEAUTIFUL NIGHT'" Lee wrote on Instagram.
On the red carpet, he told E!'s Ryan Seacrest that he felt like the film had already won an Oscar.
"I think this film is on the right side of history. I don't need an Oscar to validate that. I mean, it'd be nice," he said with a laugh.
The 61-year-old utilized an unreleased edition of Prince's version of the spiritual "Mary Don't You Weep" to close "BlacKkKlansman" on a political note with footage from the fatal 2017 "Unite the Right" rally in Charlottesville, Va.
The two have worked together on a couple of occasions, and Lee seemed to channel Prince's Academy Awards luck — the musician, who died unexpectedly in 2016, won an Oscar in 1985 for his musical "Purple Rain."
Lee also directed Prince's politically charged "Money Don't Matter 2 Night" music video in the early 1990s and Prince wrote music for Lee's 1996 dramedy "Girl 6."
The outspoken filmmaker, who walked the red carpet with his wife, producer Tonya Lewis Lee, also wore gold Michael Jordan-commissioned Air Jordan 3 sneakers and the "love/hate" rings from his 1989 comedy "Do the Right Thing."
Follow me: @NardineSaad
---
Get the Indie Focus newsletter, Mark Olsen's weekly guide to the world of cinema.
You may occasionally receive promotional content from the Los Angeles Times.