Hollywood brings anti-Trump dissent to pre-Oscars stage as 'La La Land' wins top Producers Guild Award
Hollywood's most powerful gathered Saturday night at the Producers Guild Awards, with one eye trained on Oscar gold and the other firmly on the actions of the country's new president.
Inside the International Ballroom at the Beverly Hilton Hotel, "La La Land" scored the top film honor, which helped seal its position as front-runner for this year's best picture Oscar. Disney's "Zootopia" won the animated motion picture award and ESPN's "OJ: Made in America" took home the documentary feature film award.

For the record:
2:08 p.m. Aug. 18, 2019An earlier version of this post said the ceremony was Sunday night. It was Saturday night.
In another possible precursor to the 89th Academy Awards, prominent Hollywood figures used the platform to voice shock and outrage against President Trump — a warm-up to the most visible televised awards show of the year.
The guild's leadership set the tone in the opening address to the ballroom filled with film producers, studio executives and stars.
"Freedom of religion was one of the founding principles of our democracy," said guild co-president Gary Lucchesi, condemning the executive order signed by Trump on Friday banning Syrian refugees and immigrants from seven predominantly Muslim countries from entering the country — a ban that likely would have applied to Oscar-nominated Iranian director Asghar Farhadi, who in response to the policy announced that he would not attend this month's Academy Awards.
Standing by Lucchesi, co-president Lori McCreary invoked the poem that has welcomed immigrants to the United States for more than a century: "Now, more than ever, we need to remember the words on the Statue of Liberty: 'Give me your tired, your poor, your huddled masses yearning to break free.'"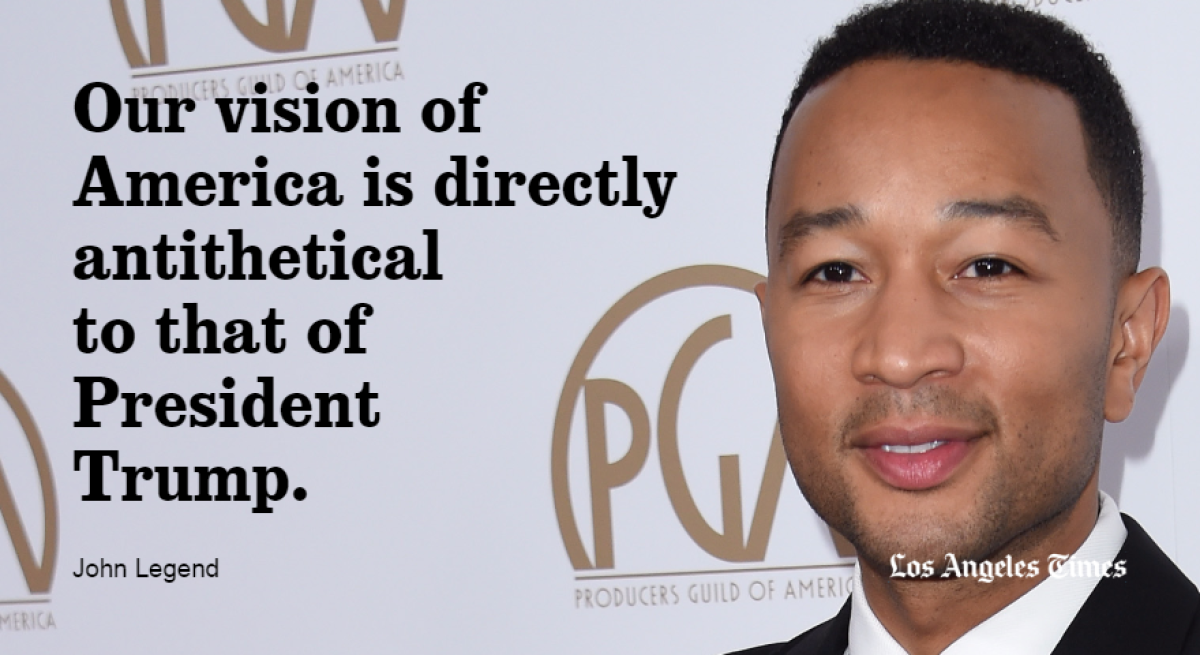 "La La Land" co-star John Legend, going off-script as a presenter, brought the protest against President Trump's travel ban most pointedly to an audience that included Martin Scorsese, Robert De Niro, Amy Pascal, Sony's Tom Rothman, Academy President Cheryl Boone Isaacs, Directors Guild President Paris Barclay, and Oscar nominees Casey Affleck, Mahershala Ali, Barry Jenkins, Nicole Kidman and Denzel Washington.
"Our vision of America is directly antithetical to that of President Trump," the Grammy- and Oscar-winning musician and actor declared at the 28th Producers Guild Awards. "I want to specifically tonight reject his vision and affirm that America has to be better than that."
The nontelevised awards dinner is one of the glitzier affairs in the lead-up to Oscars night. But although the big prize went to Damien Chazelle's "La La Land," an ode to Tinseltown's dreamers, the dreamers and power players in the room could not ignore the reality of the outside world.
If you remember Nazi Germany, we have to be very mindful of what our crazy, crazy president is doing right now.
— Oscar-nominated "Fences" producer Todd Black
"Fences" producer Todd Black was keeping up with the mass protests across town at LAX, across the country at New York's John F. Kennedy International Airport and at other airports in response to Trump's travel ban.
"We have to use every tool we can to keep our country progressive and safe and better than what our president's making it right now," he told The Times. "As filmmakers, we have a greater responsibility than ever before. We have to save our country."
History was also on Black's mind when he added, "I'm a Jew. If you remember Nazi Germany, we have to be very mindful of what our crazy, crazy president is doing right now. And you can quote me on that."
Accepting the award for "La La Land," producer Marc Platt, sharing the accolade with Fred Berger and Jordan Horowitz, offered a nod to the global artistic community affected by Trump's executive order.
"It is the power of cinema fueled by free artistic expression that cannot be denied, that has no borders and will never be banned from our hearts, our minds, and our souls," he said.
Nicole Kidman, presenting the award for long-form television to F/X's "The People vs. O.J. Simpson: American Crime Story," called for empathy at the start of the show.
There wasn't much of it in the room later in the evening for "Apprentice" reality TV producer Mark Burnett, who was greeted by a low cacophony of boos as he accepted the competition television award for NBC's "The Voice."
Earlier in the evening, the optimistic charge of last weekend's women's marches made its way onstage when Sony Chairman Tom Rothman's two daughters took to the podium in gowns and pink pussy hats, roasting their dad before he received the organization's Milestone Award.
Before the ceremony, Rothman, who serves on the board of the National Endowment of the Arts as an Obama appointee, told The Times he's intensely monitoring Trump's policy changes and is "determined" not to let NEA funding be decimated under the new administration.
"There's a lot going on in the country that requires paying attention to," he said. "I've never injected politics into the movie-making process. I believe that movies need to have a social conscience but that's up to the individual artist, that's not up to the studio head."
His role as a studio chairman in a time of national crisis, he said, "is to continue to support very individualistic voices. And if people in my position continue to back artists, truth will prevail."
Annapurna Pictures' Megan Ellison, accepting the PGA's visionary award, took the opportunity to remind the gathered movers and shakers of their shared responsibility as members of Hollywood's privileged class.
"Few if any in this room in our black ties and tuxedos may be affected, for example, by a ban on Muslim refugees," she said. "But we are some of the ones with the power to share stories of meaning. And we need to share that power with those who will be most silenced and vulnerable."
In taking home the prize for feature documentary, "O.J.: Made In America" director Ezra Edelman acknowledged his own conflicted emotions over watching his fellow citizens put their protest into action while he was attending an awards show.
"This is a tough day," he said. "Being in the room tonight, as honored as we are, it's been a strange experience… we're threatening to build walls and we're closing our borders and I'm standing here as a direct descendant of the Loving vs. Virginia decision," he said, referring to the Supreme Court decision that struck down a ban on interracial marriage and to the Jeff Nichols-directed "Loving."
"Movies like this can cause people to take a step back and think," "Zootopia" producer Clark Spencer told The Times before the Disney Oscar contender won the animation award. "People are using fear to divide us; that's wrong. We really need to be celebrating diversity and unifying through that."
"Lion" producer Iain Canning saw acute parallels between the moving true story of Saroo Brierley, an Indian orphan raised by adoptive parents in Australia, and the Syrian refugee children who will be turned away from the U.S. under Trump's orders.
"Our film is the story about a child in peril who was going to suffer in his circumstances, but found out there in the world there was support, love and kindness," he told The Times.
Like many others, he also decried the immigration ban's impact on artists like Farhadi, citing the statement of support issued by the Academy on Saturday.
"If an Iranian filmmaker can't come into the country to attend the Oscars where he is nominated, then that's a world where we're not supporting the arts and not supporting diversity."
Many guests on the night echoed the sentiment that art can evoke change — although exactly how that change will be put into immediate action remains ambiguous. Few attendees volunteered themselves for a potential Oscar boycott in solidarity with "Salesman" actress Taraneh Alidoosti, who cancelled her plans to attend the February 26 event in protest of Trump's executive order.
"Hacksaw Ridge" producer David Permut is one filmmaker who's been mixing personal activism with his busy work schedule; he hit the PGAs fresh off the plane from the Sundance Film Festival, where he joined the Chelsea Handler-led Women's March on Main Street between watching films.
"You have to hit rock bottom to rise from the ashes and become better," he told The Times. "I think we all feel threatened in terms of what's happening politically. Being proactive is the most important thing."
"But you know what? I'm an optimist," he smiled. "I'm a producer."
---
Get our L.A. Goes Out newsletter, with the week's best events, to help you explore and experience our city.
You may occasionally receive promotional content from the Los Angeles Times.