NEW YORK -- It is only 10 A.M, but already the news is everywhere: Rachel Weisz is pregnant.
When she opens the door to her office in the East Village, the story has been out for just a couple of hours but has nonetheless generated a slew of headlines online, many of which question how "acceptable" it is for a 48-year-old woman to be having a baby. (There are no such headlines about Weisz's husband, Daniel Craig, 50.)
"I haven't really looked," the actress says, brewing a cup of tea in the kitchen. She has been in this office for about five years. It looks like an apartment, basically, with a nice view of the city skyline and a fancy printer.
But it was here that she pulled together the lesbian drama "Disobedience," which opened last Friday to strong reviews and is the first film she produced. In the movie, set in London's Orthodox Jewish community, Weisz and costar Rachel McAdams play two lovers whose romance is forbidden by the faith.
In this room, she made notes on the numerous incarnations of the film's screenplay, convened with director and co-writer Sebastián Lelio and even did costume fittings. And she has no plans to give up the space anytime soon.
"I'll carry on being a working mom," says Weisz, who has an 11-year-old son with her ex, director Darren Aronofsky. She pivots, trying to turn the conversation away from herself: "Do you want kids?" she asks.
"You're very young. You don't have to decide yet," she says. "I didn't really want a child until I was, like, 35. I didn't think it was gonna be my path. It's complicated. But it's a pretty incredible thing, to be a mom. It's also completely ordinary."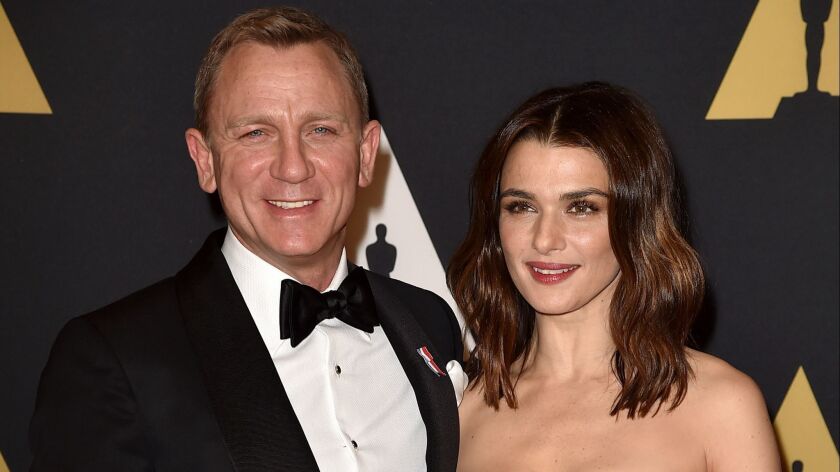 On screen, Weisz has made a career of playing complicated women: fierce, independent-minded characters who tend to have a rebellious streak. Her first notable role was in 2005's "The Constant Gardener," playing an Amnesty activist who is brutally murdered in the field in Africa; the role earned her an Academy Award for best supporting actress. Since, she has largely stuck to the world of independent film, working with celebrated auteurs like Yorgos Lanthimos ("The Lobster"), Paolo Sorrentino ("Youth") and Lelio, who is coming off an Oscar victory this year for his film "A Fantastic Woman."
In "Disobedience," Weisz plays Ronit, a photographer whose father is a prominent rabbi. But Ronit disagrees with the rigid guidelines of her family's faith and flees to New York, where she remains until she learns of her father's death years later. She decides to return to London for her dad's funeral, where she is confronted with a past lover, Esti (McAdams), who is now married to a former student of her father's ( Alessandro Nivola).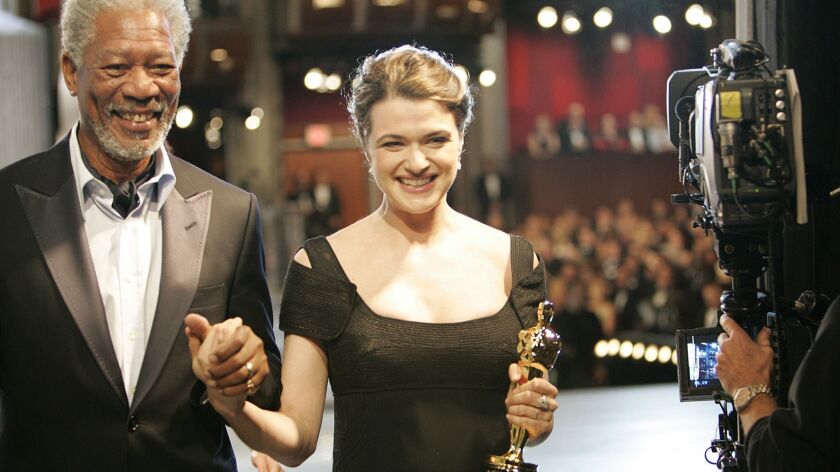 When Weisz read the script about three years ago, she was actively looking for something to produce. She'd been approached about launching a production company after her Oscar win but didn't know what stories she wanted to tell.
"Then, a few years ago, I suddenly got an instinct to want to really do it," she recalls. "I thought it would be really interesting to shepherd something from a story form to a script form to a film. It was partly wanting to use a different bit of the brain from acting."
She liked "Disobedience," though, because it was about not fitting in, which Weisz never feels she has.
"I was just born that way. It's not 'different' like better, but I never felt like I fit in anywhere," she says. "It's an internal thing — you can't tell from the outside."
Growing up three subway stops away from where her latest film is set, Weisz says she was "really disobedient." She was raised Jewish but never completely connected to the faith. Her father was very religious, she says, but her mother was not, having converted to Judaism upon marriage.
"I know technically that makes me fully Jewish," Weisz says. "But I grew up with my mom being very influenced by her Catholicism. So, yeah, I'm Jewish. Yeah, why not? I'm completely nonpracticing, and I haven't yet found God, so what does it really mean?"
As a student at Cambridge, Weisz continued to search for her identity. She studied English and acted in school plays, but she was so dissatisfied with the classic productions the school was putting on that she and a friend launched their own avant-garde, experimental theater company. It was called Talking Tongues, inspired by Complicité, a European company Weisz longed to be a part of.
"It's physical theater, mime, Commedia dell'arte" she says, swirling her hands around. "They would take classic texts and reinvent them on stage to turn them into this kind of dreamscape."
At the time, she had no aspirations of being a movie star — she just wanted to get Arts Council Funding. Her troupe did such physical work — "we weren't ingénues at all" — that it actually took her years to unlearn larger-than-life stage theater and transition to naturalistic film acting.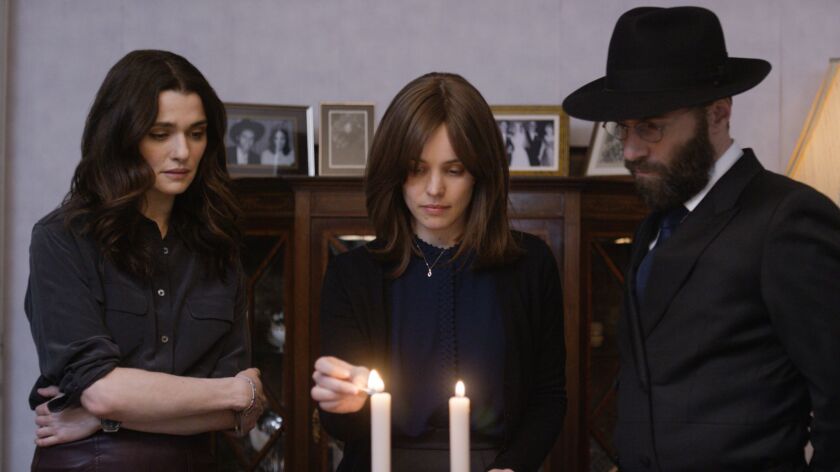 "She talked to me about how she used to do avant-garde theater," says her costar, McAdams, by phone a few days later. "I feel like she's always walked to the beat of her own drum and rejected the norm. She gets bored easily too. I think she's just got such a keen mind that she's looking for the unexpected in her characters and in life in general."
On set in England, Weisz and McAdams approached the work with completely different methods. Lelio observed that McAdams needed to "understand everything," tackling the script methodically, while Weisz was a more "instinctive, volcanic force of nature." "Everything she does feels like it is being born in front of your eyes for the first time, because it is," he says.
"She really goes into scenes with such an open mind," McAdams says. "I find her a very brave actress that way. I sometimes really feel like I have to nail things down to feel secure, whereas she's kind of the opposite. She doesn't even really get attached to stage directions. I think she even scratches them out of her script because she just wants to be very, very free to explore and turn things on their head. I think she always is kind of drifting outside the box."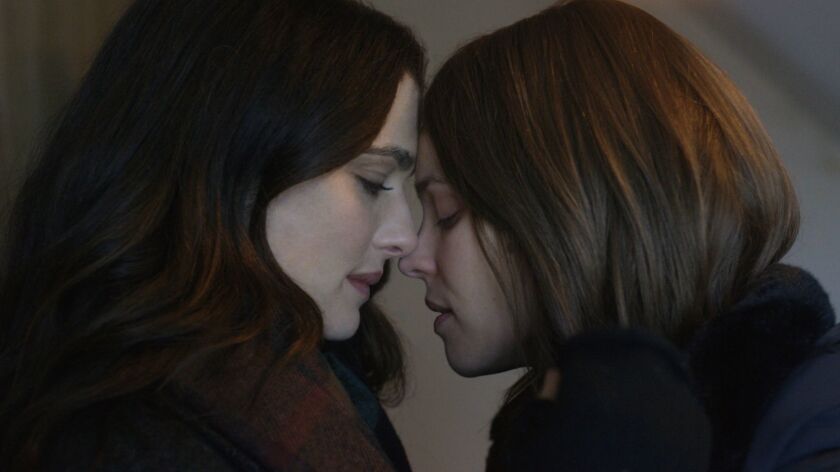 The actresses got to know each other intimately during filming, particularly while shooting a much-talked about love scene. (One of the first headlines out of the Toronto International Film Festival, where the movie premiered last September, was: "Rachel Weisz and Rachel McAdams Have Incredible Sex in Disobedience.")
The scene is a culmination of years of pent-up sexual tension between Ronit and Esti, and Lelio felt it was so important that he hand-drew storyboards frame-by-frame to map out the action — which includes Weisz actually spitting into McAdams' mouth.
"It might be one of the most vulnerable, emotional things I've had to do," says Weisz. "It's emotional, meaningful sex, but it's also erotic. You see Rachel's face, my hands going out of frame ..., but it's all framed in above our nipples. If Esti is having an orgasm, well, where are Ronit's fingers, where's her tongue? It's all outside the frame. And maybe there's something more erotic about not actually seeing everything. Our imaginations are more erotic."
"In telling fictions, the task at hand is to be really vulnerable," she continues. "A lot of actors I know are really fundamentally quite shy and actually are people watchers and would rather be on the periphery of things — not the person who will go to the party and sing in the middle of the room and do karaoke. I think acting is very freeing — you can't sometimes feel that free in your real life. I don't know if that makes any sense."
Weisz says she wants to keep telling stories about women in relation to one another and would like to further explore female friendship. Her favorite movie last year was "The Shape of Water," which she viewed as a story about "outsiders trying to figure out how to feel free to love." She's interested in playing characters who have contradictions, who are complicated and might be doing "the right thing, morally, just in the wrong way."
"I'm producing to engender roles that I'm really interested in playing, and then I'll be extra invested because I have incubated the whole journey," she says. "Unidealized, fully fleshed portraits of women. I think appetite is the word I always come back to me. Characters who have an appetite — and it doesn't have to be for good."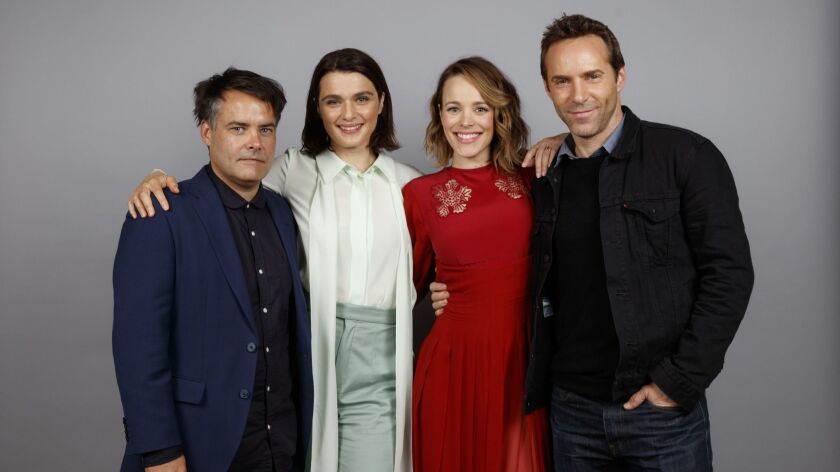 Follow me on Twitter @AmyKinLA
---