Review: 'Paul Blart: Mall Cop 2' might work if it was actually funny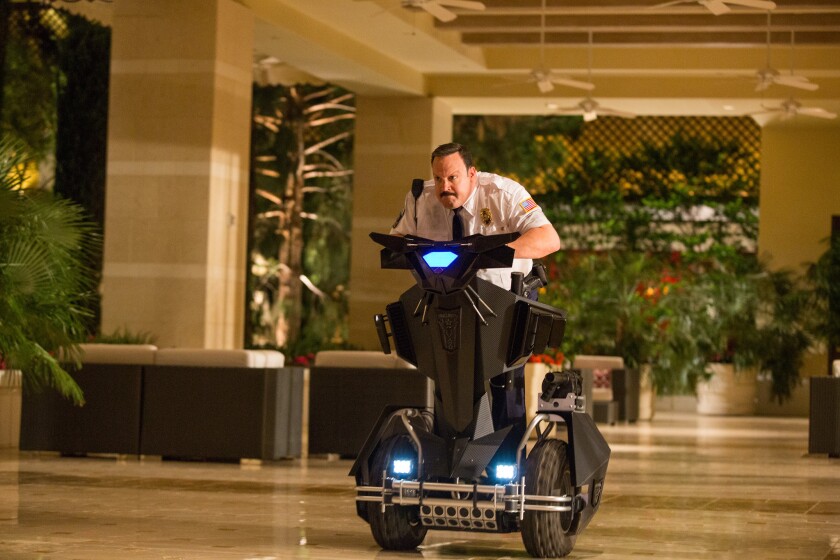 You can take the cop out of the mall, but you can't take the mall out of the cop. Or so says "Paul Blart: Mall Cop 2," the noisy, scattershot if energetic follow-up to the 2009 hit starring hefty jokester Kevin James. Although there have been worse sequels -- and worse overall movies -- make no mistake, that's hardly a recommendation.
For the uninitiated, New Jersey security maven Blart is, as one character here affectionately dubs him, "a strange, misshapen superhero." He's also such a whirling dervish of delusional dopiness that it's tough to buy into those rare moments when the big guy actually has a cogent thought.
To justify the Blart concoction (James and Nick Bakay cowrote both films) as simply an outsized vessel for maximum comic effect might fly if he was actually funny. But, at least in "Cop 2," Blart, for all his plus-size pratfalls and cartoonish reactions, proves the film's least humorous element. To wit: "Saturday Night Live" alum Ana Gasteyer elicits more laughs in her handful of scenes as another security guard's game wife than James does in the entire movie.
The film's hyper-silly but workable plot finds a now down-on-his luck Blart -- his mother (a fleeting Shirley Knight) was run over by a milk truck and his wife (Jayma Mays) left him after six days of marital blech -- attending a security officers convention at the Wynn Hotel in Las Vegas. He brings along his devoted, UCLA-bound daughter, Maya (an endearing Raini Rodriguez), who attempts some tame fun despite her wildly overprotective dad.
In trademark bull-in-a-china-shop form, Blart wreaks havoc on everyone and everything he encounters in and around the Wynn in instantly telegraphed ways. (You know the second he comes face to face with a huge, exotic bird, the results won't be pretty.) Isn't it bad enough he dresses like the world's most obnoxious tourist?
Meanwhile, an "Ocean's Eleven"-type art heist is conveniently underway at the Wynn at the very same time. The elaborate scheme, masterminded by icy ringleader Vincent (Neal McDonough), eludes the hotel's allegedly crack security chief (Eduardo Verástegui) and comely general manager (Daniella Alonso), and only gets Blart's attention when Maya becomes embroiled in the mayhem.
Still, Blart, with the help of a ragtag band of fellow conventioneers, will eventually face off against Vincent and his high-powered crew in a believe-it-or-not showdown. Suffice to say, editing and sound effects go a long way here to sell this frantic, bone-crunching battle.
To his credit, director Andy Fickman ("The Game Plan," "Parental Guidance") keeps the inanity moving apace and there are a few chuckles to be had courtesy of the supporting cast. But, as is so often the case with big, star-driven studio laffers, "Cop 2" needed several more spins in the comedy punch-up machine before cameras rolled.
-------------------------------
"Paul Blart: Mall Cop 2"
MPAA Rating: PG for some violence.
Running time: 1 hour, 34 minutes.
Playing: In general release.
---
Inside the business of entertainment
The Wide Shot brings you news, analysis and insights on everything from streaming wars to production — and what it all means for the future.
You may occasionally receive promotional content from the Los Angeles Times.