Ron Howard strikes back with 'Solo: A Star Wars Story,' and has nothing but praise for Phil Lord and Chris Miller at Cannes
Through a series of daring escapades, young Han Solo meets his future co-pilot Chewbacca and encounters the notorious gambler Lando Calrissian.
Film Critic
Reporting from Cannes, France —
The sign reads "Press Hospitality Room," but there are no journalists to be found. Instead there's crumpled napkins, unclaimed pens, forgotten umbrellas, a half-empty Coke bottle and a solitary bluebottle fly out of a Raymond Chandler novel.
The detritus, so to speak, of a tsunami of scribes drawn to the Carlton Hotel by the chance to talk to the principals of "Solo: A Star Wars Story," the one film at this year's festival that doesn't have to worry if it's going to make any money.
"More than 50," says Ron Howard in a nearby room when asked the number of journalists he talked to this day. "The other day in Los Angeles, I broke my record, I did over 67 TV interviews."
This is not Howard's first rodeo. In show business for most of his life, he's directed for more than 40 years and won the Oscar for "A Beautiful Mind."
Yet the responsibility of telling the origin story of Han Solo, called "one of the most beloved characters in cinema history" by Disney publicity, was not business as usual, even for him.
"Without a doubt there's an awareness, but it's a quality problem to have," he says in his low-key way. "At least I knew people would be curious."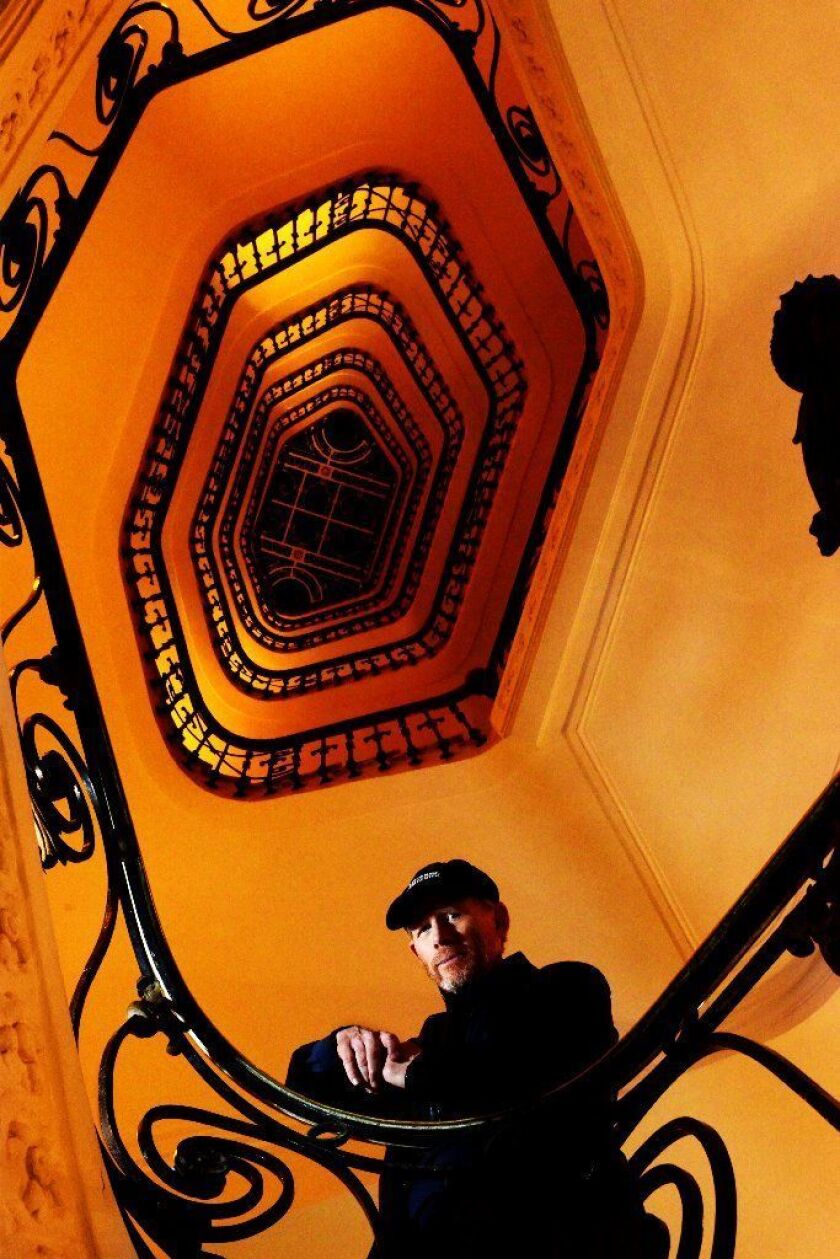 Also not business as usual in today's Hollywood was the fact that Howard was not "Solo's" original director. He came in after Lucasfilm decided to replace Phil Lord and Chris Miller midway through production for reasons that have yet to be aired publicly.
"There were grievances on both sides," Howard allows, "but at the end of the day I actually thought everyone experienced creative differences, it was a pure example of that term reflecting the truth of the situation."
Howard had been on vacation in France when he took a trip to London to take story meetings and see old friends like Lucasfilm president and "Solo" producer Kathleen Kennedy.
"I asked, 'How's it going?' and she said, confidentially, that they were going to make a change, upsetting as that was. I knew Phil and Chris, I even tried to talk her out of the idea. But she said, 'I have to put together a list. By the way, what are you doing, would you ever consider it?' "
READ MORE: At the 'Solo' world premiere, stars praise Ron Howard for stepping in to direct latest 'Star Wars' film »
Howard's schedule was clear, and he was "knocked out" when he read the Lawrence Kasdan and Jon Kasdan script. But still he hesitated. "The films I direct are developed very carefully over a long period of time, I nurture projects along, working with writers, so just jumping in was most unusual for me.
"But I talked to my wife, Cheryl, who knows me very well. When she said, 'You might have regrets if you say no to this,' I felt like she was telling the truth. I said, 'What the hell, I'm going to take a leap.' "
To talk to Ron Howard for any period of time is to understand why he could successfully navigate these potentially treacherous waters. He is knowledgeable, capable, unflappable and naturally politic enough to handle the transition gracefully and care about people's feelings.
"Please put this in," he asks. "Phil and Chris were incredibly gracious and collegial in sitting down with me, talking about the work they'd done, what they learned about the actors.
"They went above and beyond, and it was very much appreciated. If Imagine Entertainment [Howard and Brian Grazer's company] had the opportunity to hire them, we'd be dancing in the aisles."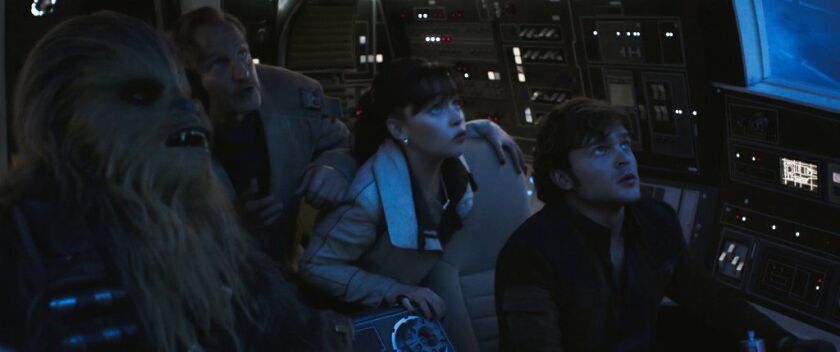 Analyzing his own approach, Howard says as a director he "applied three things, starting with my experience: the logistics of the process didn't intimidate me.
"Second was my creative objectivity. I could say with confidence I wouldn't have come in if I didn't believe in the possibilities of the story and cast. I didn't have to say I didn't need the job, but it was true.
"Third was my excitement, I felt the thrill of the challenge, and that is infectious."
Howard came to that excitement honestly. In fact, he was probably one of the first people to hear about the original "Star Wars" when he worked for George Lucas as an actor in his 1973 "American Graffiti."
"Standing around in front of Mel's Diner freezing at 3:30 in the morning, I asked what he was doing next and he said, 'I kind of want to make a science fiction film, a Flash Gordon/Buck Rogers kind of movie with cliffhangers but to apply "2001: A Space Odyssey" technology to telling the story.'
"I nodded my head but I didn't think it was a good idea, science fiction was really a B genre in those days."
Five years later, when Howard and his wife saw "Star Wars" on Hollywood Boulevard, he felt differently.
"It was a month or so after I wrapped 'Grand Theft Auto,' [Howard's first feature as a director] and I was feeling really good about what I'd accomplished, but this blew me back in my chair, just knocked me out emotionally," he remembers.
"We left the theater and there were two huge lines to buy tickets. I turned to Cheryl and said, 'Do you want to see it again?' So we got into a two-hour line, a full day of 'Star Wars.' "
Howard and Lucas have remained close, so much so that Lucas and his wife Mellody showed up on Howard's first day of shooting, a scene between Alden Ehrenreich, who plays Solo, and Emilia Clarke as the woman of his dreams.
"He leaned over at one point and said 'at this moment I don't think Han would do that, he would do this,' and he acted out a bit of body language.' I immediately said, 'Let's do it, let's try it.' I know how to grab a good idea when I see one."
Howard had such a good time making "Solo" the question arises about whether he would consider doing another "Star Wars" film, a query that gives him pause.
"I like to keep it varied, and there are other projects I'm very involved with, including the story of Lang Lang, the Chinese pianist, and an adaptation of J.D. Vance's nonfiction 'Hillbilly Elegy,' " the director says, thinking it over.
"But I had a lot of fun on this, and if the fans respond well, if my sensibilities and the galaxy are a good fit, now that I've done it on the fly, it would be very entertaining to get to design one from scratch."
ALSO:
'Solo: A Star Wars Story' duo Alden Ehrenreich and Donald Glover breathe new life into beloved characters
Following 'Star Wars': A timeline from 'Phantom Menace' to 'The Last Jedi'
At the 'Solo: A Star Wars Story' news conference, Ron Howard answers the one question on everyone's mind
Review: 'Solo: A Star Wars Story' never gets off the ground, but don't blame Alden Ehrenreich
---
The complete guide to home viewing
Get Screen Gab for weekly recommendations, analysis, interviews and irreverent discussion of the TV and streaming movies everyone's talking about.
You may occasionally receive promotional content from the Los Angeles Times.