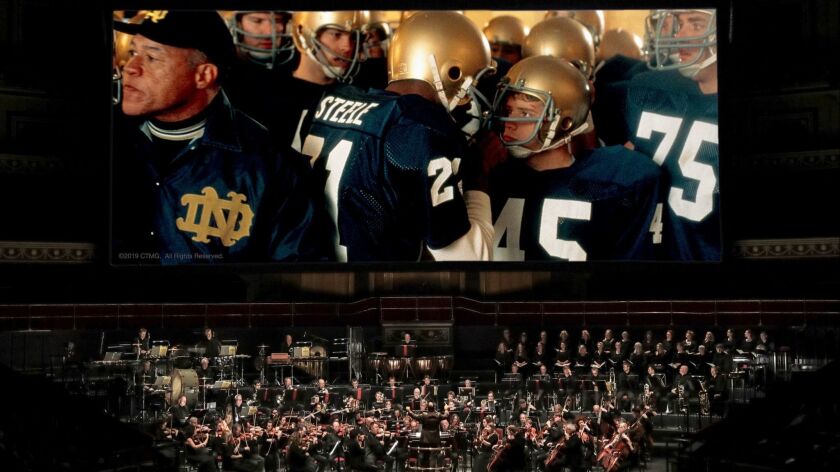 It's a scene that can make even the toughest cry.
Roland, the captain of Notre Dame's football team, walks into coach Dan Devine's office.
"I want Rudy to dress in my place, coach. He deserves it," says the tall, broad-shouldered Roland.
"Don't be ridiculous," Devine replies, dismissing the idea. He takes off his glasses and says sternly: "You're an all-American, and our captain. Act like it."
"I believe I am," Roland retorts and places his jersey on the coach's desk. As he turns around to leave, a line of Notre Dame players enter and, one by one, drop their jerseys on his desk. "This is for Rudy, coach."
Nearly 26 years later, that iconic moment from the 1993 sports drama "Rudy" still tugs at the heart. And it's a reminder of the movie's enduring legacy, which will be celebrated this weekend in Los Angeles.
The CineConcerts Foundation will host "Rudy in Concert," a 40-foot, high-definition film screening with the Hollywood Chamber Orchestra performing Jerry Goldsmith's score live at the Microsoft Theater on Saturday.
Looking back, actor Sean Astin, who played the film's titular hero, said his protagonist's fervor and drive still resonates.
"I loved playing a character who was in a fight of his own choosing. … He could've been happy doing any number of things, but he wanted something, and what he wanted was identity," the 48-year-old actor, who was 21 when he starred in "Rudy," recently told The Times. "He wanted to achieve something. He wanted his life to be meaningful."
The emotional resonance of Rudy — a hard-working underdog who defies the odds to pursue his dream of playing for Notre Dame's football team — made it one of the best sports movies of all time.
The film's success and the lasting impact of its message still astound Daniel "Rudy" Ruettiger, the real-life Rudy whose story inspired the movie.
"It's a phenomena to me," said Ruettiger, 71, who's now a motivational speaker. "It's a gift to me and my family that we could have that legacy. I'm very proud that I kept going. I'm very proud that I didn't give up. It paid off. Everything paid off."
Astin and Ruettiger will both attend Saturday's live celebration in L.A., as will director David Anspaugh, writer Angelo Pizzo and producer Cary Woods. The cast and crew will be reunited for a pre-show panel to discuss the film and its music.
Conducting the 80-piece orchestra will be Justin Freer, who co-founded CineConcerts six years ago with Brady Beaubien with the shared vision to celebrate full, orchestral symphonic film scores. Since launching with Ridley Scott's "Gladiator," the organization has hosted concerts in more than 40 countries worldwide.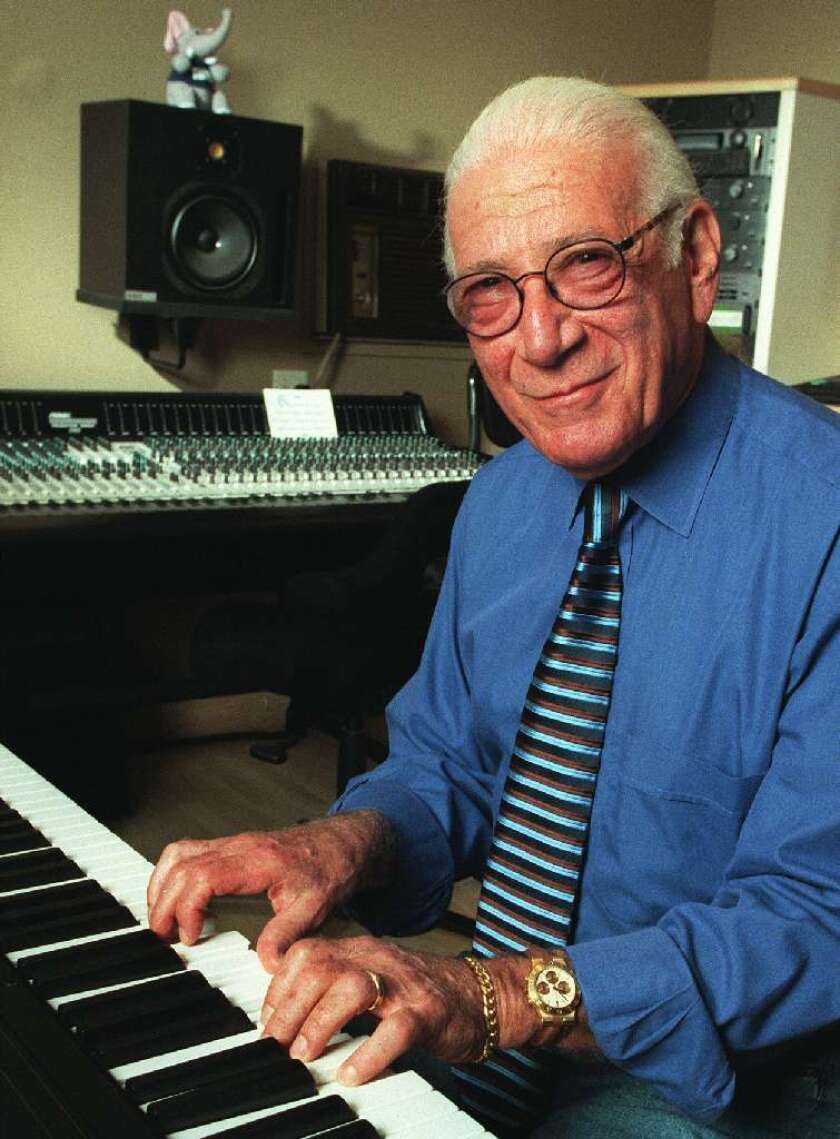 The film's music gives it its heart, said Freer.
"It's one that helps guide the viewer through a set of adventures and stories and otherwise unknown emotional centers that we don't always see with our eyes, but we can hear with our ears," he said.
Goldsmith, the late Oscar- and Emmy-winning composer who scored "Alien," "Chinatown," "Rambo" and "Planet of the Apes," is considered one of the most influential and innovative film music composers. He died in 2004 at age 75.
"When Jerry approached the challenge of writing his score for the movie 'Rudy,' he recognized that football plays are formally choreographed, just like a dance," recalled Goldsmith's wife, Carol, in an email to The Times. "Therefore, for one of his two main themes, Jerry was inspired to compose an Irish jig for the high-performance athletic scenes of the tackles, plays and training of Notre Dame's Fighting Irish."
For Ruettiger, the film's score is unlike any other.
"Oh, the music is triumphant," he said. "It's a score that people feel and connects with people. It tells a story while you listen to it, your own story. You're going through your own story as you're listening to it, through your struggles and your victories."
Among Saturday's attendees will be a thousand children, families and nonprofit staff who received free ticket donations from CineConcerts. The foundation reached out to 50 organizations across Southern California, including Create Now, Harmony Project and the L.A. Phil Assn. to attend the special night. Notre Dame alumni and attendees will be treated to a meet-and-greet with Ruettiger, who applied to the university three times before being accepted.
Ruettiger hopes the young attendees will understand the power of hard work.
"I always tell kids this: It's not where you go to school, it's what you do with the education that you get," said Ruettiger, referring to the recent college admissions bribery scandal that has ensnared dozens of parents and their children. "People look at your character and the substance that you have."
And as "Rudy" takes another victory lap for its anniversary, the film's star says its message still holds up.
"The emotional weight of the movie cuts across all kinds of boundaries," said Astin. "The emotional resonance reinforces values that everyone understands as being important: hard work, perseverance, determination, courage."
---