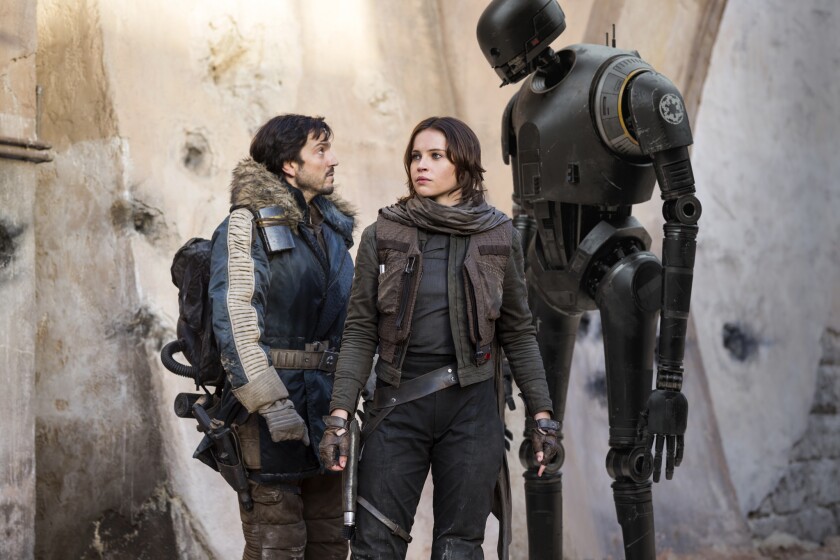 "Rogue One: A Star Wars Story" launched spectacularly at the box office Friday, bringing in an estimated $71.1 million in more than 4,100 theaters.
The film is expected to finish the weekend in the range of $140 million to $150 million, making it the second-best all-time December opening, behind last year's "Star Wars: The Force Awakens."
Directed by Gareth Edwards, "Rogue One," which stars Felicity Jones as heroine Jyn Erso, is the first in the recently revived "Star Wars" series to be billed as a standalone spinoff set in the same galaxy far, far away but outside the central saga of the Luke Skywalker family. Reports of extensive reshoots on the film apparently had no impact on audiences, which gave the film an A in CinemaScore's exit poll.
A mixture of heist picture and war film, "Rogue One" also features Riz Ahmed, Diego Luna, Forest Whitaker, Donnie Yen, Ben Mendelsohn and Mads Mikkelsen.
The weekend's other wide release, "Collateral Beauty," a grief-flavored drama starring Will Smith, got off to a disappointing start, bringing in an estimated $2.4 million Friday on more than 3,000 screens
Even a sparkling supporting cast including Helen Mirren, Keira Knightley, Edward Norton, Naomie Harris and Kate Winslet did not prevent "Collateral Beauty" from being the worst wide-release opening in Smith's career.
Despite negative reviews (as of Saturday morning, the film was at 14% on the Rotten Tomatoes aggregation site), the scant audiences who did turn up were impressed, giving the film an A- on CinemaScore.
Opening solidly in limited release in New York and Los Angeles was "Fences," the adaptation of August Wilson's play starring Denzel Washington and Viola Davis reprising their 2010 Tony Award-winning roles. The film, which was directed by Washington, posted an estimated $41,000 Friday on its way to a weekend estimate of $120,000.
The response to "Fences" was likely boosted by several nominations this week from both the Golden Globes and the Screen Actors Guild awards.
Another heavily favored film in this year's awards season, Damien Chazelle's modern update of the movie musical "La La Land," brought in an estimated $1.36 million Friday in only 200 theaters. The film is expected to take in more than an estimated $5.6 million by the end of the weekend.
SIGN UP for the free Indie Focus movies newsletter »
Follow on Twitter: @IndieFocus
ALSO
Oscar foreign-language shortlist includes 'Toni Erdmann,' 'Land of Mine' and 'The Salesman'
Palm Springs International Film Festival unveils 2017 lineup, to open with 'The Sense of an Ending'
Sundance Film Festival 2017 likely to feel more political, on purpose or not
---