How 'Shaun the Sheep' creators use woofs, oinks, bleats but no words in its woolly adventure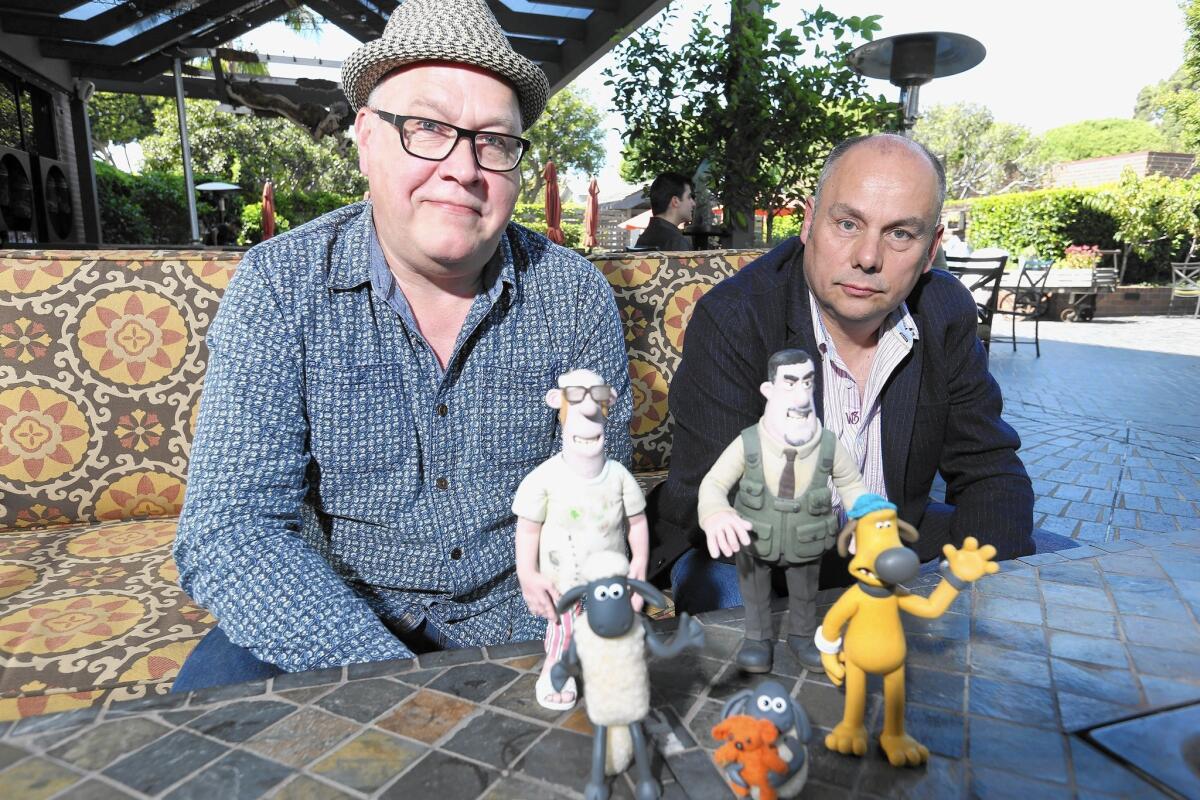 The new Aardman Animations movie "Shaun the Sheep" contains woofs, oinks and bleats aplenty. But the inventive comedy from the Bristol, England-based makers of stop-motion animated hits such as "Chicken Run" and "Wallace & Gromit: The Curse of the Were-Rabbit" surprisingly lacks one auditory element: a single spoken word of dialogue.
"The best movies are the ones you can watch without any volume on, so that was our goal," said Richard Starzak, the Aardman veteran who wrote and directed "Shaun the Sheep" with Mark Burton.
Based on a British children's TV show that is itself a spinoff of the 1995 Wallace and Gromit short film "A Close Shave," the "Shaun the Sheep" movie opens in Los Angeles on Wednesday as a kind of "Ferris Bueller's Day Off" for livestock. The film follows its ebullient, woolly protagonist and his flock as they head to the big city to find their farmer, who is suffering from amnesia. Along the way they buy disguises, dine at fine restaurants and rub elbows with celebrities, all the while attempting to elude an arrogant animal-control officer.
SIGN UP for the free Indie Focus movies newsletter >>
Like the best of Aardman's oeuvre, the movie feels both decidedly British and wholly universal. The farmer's Wellington boots and Fair Isle sweater place him squarely in the U.K., but the film's dialogue-free format has helped it to play well to a broad range of countries and ages, including 20-somethings in China and Japan, 30-somethings in Germany and children and senior citizens in Britain. The story is larded with slapstick gags that work with any age — you can get a lot of mileage out of a nearsighted farmer and his loyal dog — and sly, more adult references, including a cone-wearing cat who bears a chilling resemblance to Hannibal Lecter.
In an interview at Lionsgate, the film's Santa Monica-based U.S. distributor, Starzak and Burton discussed the roots of their unconventional storytelling approach, which was born not of artistic ambition but financial necessity.
In 2007, when Starzak started writing and directing the "Shaun the Sheep" TV show, which aired on the Disney Channel in the U.S., he needed to keep budgets down. Manipulating characters' mouths was time-consuming for animators and, therefore, expensive.
"The initial idea was labor-saving," Starzak said of the lack of dialogue. "I knew it would help us internationally a bit, but I had no idea — Shaun's gone really global now. That's been the big surprise. The lovely thing is when you go to China and everyone laughs in the same place."
Starzak, who previously went by the name Richard Goleszowski, started out fetching coffee and props at Aardman in the 1980s. He worked as an animator and director on projects as varied as the video for the Peter Gabriel song "Sledgehammer" and a British TV special about Rudolph the Red-Nosed Reindeer's overweight son, Robbie. He's the shy, self-effacing member of the filmmaking duo, while Burton, who wrote dialogue for "Chicken Run" as well as the script for DreamWorks Animation's "Madagascar," is more gregarious. Together, they have a dryly humorous rapport.
Burton teased Starzak when the latter paused before listing his film references for "Shaun the Sheep."
"You're trying to sound film-literate, but you can't. Your crib sheet's gone missing," Burton said. "Uhhhhh … 'Casablanca.' "
Actually, the list includes classic film comedians like Charlie Chaplin, Buster Keaton, Laurel and Hardy and Jacques Tati.
When Starzak pitched Aardman founders Peter Lord and David Sproxton on a feature-length treatment of the character, their first reaction was cautious, Lord said.
"We looked at each other and said, 'Really?' " Lord said by phone, adding that Starzak "was very convincing and has a very sure instinct. We thought it would be a challenge and great fun."
The filmmakers declined to disclose a budget for "Shaun" other than to say it is significantly less than Aardman's last feature, the 2012 "The Pirates! Band of Misfits," a visually ambitious stop-motion film Lord directed for $55 million. They secured financing from French-based production company StudioCanal and produced the movie in three years, a brisk pace by the standards of the medium.
The movie eschews several conventions of big-budget American animated movies, including using globally famous voice actors. Justin Fletcher, a children's television personality in the U.K., supplies Shaun's voice, which is really an expressive collection of bleats, baaaas and whimpers, while comic John Sparkes voices the flock's often befuddled farmer via some emotive Welsh mutterings. British-Iranian comic Omid Djalili plays Trumper, the villainous animal-control officer.
"What we said to the voice cast was, 'We could be making 'Battleship Potemkin.' This is the most serious thing," Burton said. "You spend a lot of time describing to them what's going on emotionally, and then they come up with some noises. You say, 'Try saying it. Now express that without the words.' "
Aardman is enjoying something of a moment culturally. This weekend, the Academy of Motion Picture Arts and Sciences is hosting three events celebrating the studio's work, including a panel on Sunday at Siggraph, the computer-graphics conference at the L.A. Convention Center. In Paris, an Aardman exhibit at the Art Ludique-Le Musée has been drawing crowds since March.
Reviewers often praise Aardman's movies for their warmth and reliance on stop-motion, a century-old technique that reveals the artist's hand in a way that feels increasingly rare in the era of computer animation. But even by the studio's high standards, "Shaun" is a success with critics, earning a 100% fresh rating on Rotten Tomatoes. The movie, which has grossed about $60 million internationally since it opened abroad in February, seems poised to be a far more modest success at the U.S. box office than films from large animation studios like Disney or DreamWorks Animation.
"We never think, let's not do what the big studios do," Lord said. "We do what we love. We believe there's a kind of magic and a kind of humanity about this technique. Maybe it's not slick, not noisy. But surely a change of diet is a good thing for audiences."
Starzak and Burton said they have begun sketching out plans for a sequel.
"There was a time when reviewers were referring to the dying art of stop-motion animation, but every time they said that, they were talking about another film that was vying for an Oscar," Starzak said. "It's a question of, it'll survive if we make the movies good enough."
Get our L.A. Goes Out newsletter, with the week's best events, to help you explore and experience our city.
You may occasionally receive promotional content from the Los Angeles Times.