Reporting from Cannes, France —
Spike Lee was relaxing on Martha's Vineyard when the now-infamous Ku Klux Klan rally in Charlottesville, Va., turned deadly last summer. He had only just finished his latest film, "BlacKkKlansman," a '70s caper based on the real-life tale of an African American cop who infiltrated the KKK with his Jewish partner on the police force.
But watching the news out of Charlottesville unfold on CNN -- and learning that 32-year-old Heather Heyer had been killed after being run over by a car during the ensuing riots -- Lee knew he had to change the end of "BlacKkKlansman." He quickly got the telephone number of Susan Bro, Heyer's mother, and asked for her permission to use the real-life footage of the incident as a "coda" to his film, which debuted to strong reviews and a standing ovation at the Cannes Film Festival on Monday night.
"Once I got the permission, I said … everybody else: That … scene is staying in the … movie," Lee told an audience of journalists at a news conference here, launching into a passionate, expletive-laden monologue. "Because that was a murder. And we have a guy in the White House -- I'm not gonna say his … name -- whose defining moment -- not just for Americans, for the world -- that … did not denounce the … Klan, the alt right, and those Nazi …."
Lee, seething with anger, spoke extemporaneously for roughly five minutes, noting how the United States "was built upon the genocide of native people and slavery." ("As my Brooklyn brother Jay-Z would say: Facts.") But racism and "this right-wing … " is a global issue, the filmmaker said -- especially when Trump has the nuclear code.
"I go to bed every night thinking about it," said Lee, adding that he saw that very "attaché case" containing that vital information when he hosted a benefit for President Obama. "So this film, to me, is a wake-up call.… And I know in my heart -- I don't care what the critics say, or anybody else -- we are on the right side of history with this film."
Lee then asked the crowd to excuse him for his profanity, explaining that the administration made him "wanna curse."
The majority of the questions at the news conference were directed toward Lee — so many that he had to plead the audience to make some inquiries of his cast, including John David Washington, Adam Driver and Topher Grace.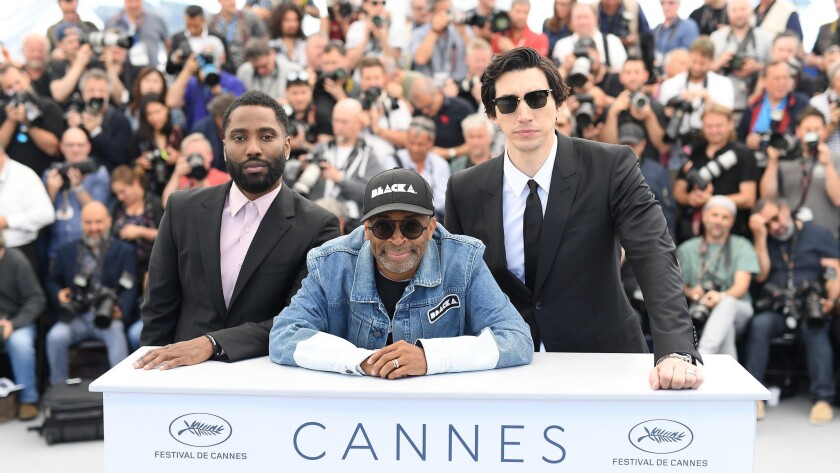 READ MORE: Lars von Trier's 'The House That Jack Built' and Spike Lee's 'BlacKkKlansman' make for a night of provocation in Cannes »
Grace, who plays former KKK Grand Wizard David Duke in the movie, said he prepared for the role by listening to the controversial leader's radio show. Still, he struggled with some of his character's behavior. One day, he said, Lee requested he perform a Nazi salute and scream "White power!" -- something that wasn't in the script.
"I rarely get affected … but I was in a really bad place," said the actor, who is in another film playing in Cannes competition, "Under the Silver Lake." "And Spike came over and spent some time with me and said: 'Don't worry. Whatever I'm asking you to do is in service of a message [your character] agrees with.' There are zero other directors other than Spike that I would play this role for."
Lee learned about the story of Ron Stallworth, the black cop on the Colorado Springs, Colo., police force, through Jordan Peele, who produced the film. At first, Lee said, he thought the entire story "sounded like that Dave Chappelle skit" and was shocked to learn it was true.
The movie is filled with hateful slurs against blacks and Jews -- a choice Lee said he made purposefully so that the hate could be "verbalized." A journalist brought up how the filmmaker criticized Quentin Tarantino for using the n-word so frequently in 1997's "Jackie Brown."
"This has nothing to do with QT -- you're bringing up ancient history," Lee said dismissively. "That is not important. This world is crazy. Who gives a … what Quentin and I had? That's inconsequential. That amounts to a hill of beans with what's happening in this world today."
"I hope this film shakes people from their slumber," he continued, explaining that the movie will be released in August on the one-year anniversary of Charlottesville. "The purpose of this film was to spark discussion....We know the difference between right and wrong, and when you see wrong staring you dead in the face and you're like, 'Mum's the word,' you're helping the other people, in my opinion."
Follow me on Twitter @AmyKinLA
---