Remember how J.J. Abrams said the lawsuit against the 'Star Trek: Axanar' fan film had been dropped? Not quite.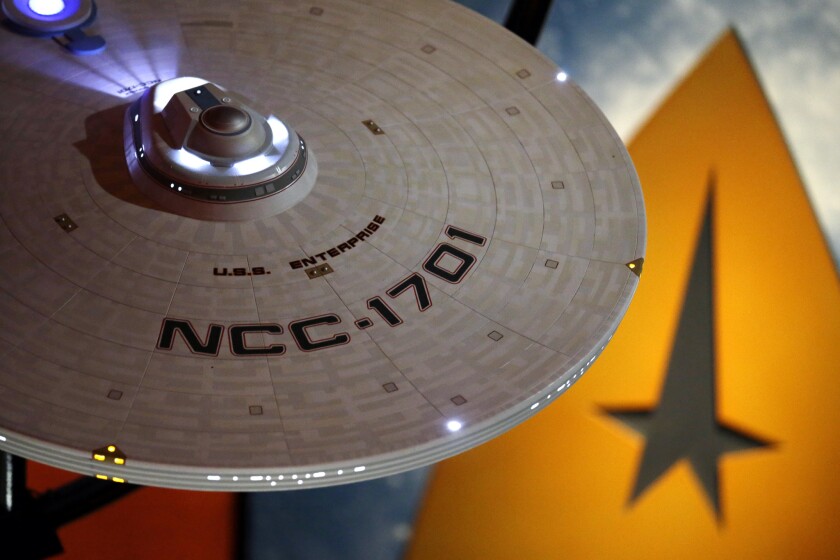 If anyone in Hollywood would have the power to beam away a lawsuit involving sci-fi fans, J.J. Abrams, as a key custodian of both the "Star Trek" and "Star Wars" franchises, would be that guy.
At least that's what you might think.
Late last year, Paramount Pictures and CBS filed a copyright infringement lawsuit against the makers of a crowdfunded fan film called "Star Trek: Axanar," news that hit diehard "Trek" fans like a photon torpedo. At a fan event in May for the upcoming movie "Star Trek Beyond," Abrams – who directed the 2009 "Star Trek" big-screen reboot and its 2013 sequel and is producing the new Justin Lin-directed film – announced that with both his and Lin's blessings, the lawsuit would soon be dropped.
See the most-read stories in Entertainment this hour >>
"[Lin and I] started talking about it and realized this was not an appropriate way to deal with the fans," Abrams told the crowd. "The fans should be celebrating this thing. Fans of 'Star Trek' are part of this world. So [Lin] went to the studio and pushed them to stop this lawsuit and now, within the next few weeks, it will be announced this is going away, and that fans would be able to continue working on their project."
Abrams' surprise announcement was welcome news to the makers of "Axanar." Yet one month later, the lawsuit shows no signs of going away anytime soon. Last week, lawyers for Paramount and CBS informed a federal judge in California that their legal action was still pending, rejecting the defendants' claims that the film was protected under fair use. For now, the fate of "Axanar" remains in limbo.
"Nothing has changed," Robert Meyer Burnett, who is set to direct "Axanar" if it ever goes into production, told The Times last week. "It has been going through the court system exactly the same way it had been before [Abrams] made that announcement…. I think, unfortunately, the outcome ultimately is not going to be favorable to us and certainly not for our fans and our donors." (A spokesperson for Paramount did not respond to a request for comment.)
Studios have long tolerated, and sometimes even supported, fan-made films as long as they don't attempt to capitalize financially on copyrighted material. While such fan movies are usually decidedly modest, homemade affairs, the team behind "Axanar" raised more than $1.2 million through a crowdfunding campaign for what they billed as "the first fully professional, independent 'Star Trek' film."
Still, despite those lofty ambitions, Burnett, who was not personally named in the suit, insists that the makers of "Axanar" have never sought to earn any money from the project. Those who donated $25 or more to the crowdfunding campaign were promised a digital download of the film, and all funds received were to go to production costs. "Ultimately, it was a movie that was paid for by donors that would be given away for free on the Internet," said Burnett, a lifelong "Trek" fan who directed the 1999 film "Free Enterprise" and has written and produced behind-the-scenes extras for home video releases of the series "Star Trek: The Next Generation" and "Star Trek: Enterprise."
Nor did they see the project competing in any way with a film like "Beyond." "No matter how good 'Axanar' could be, I don't think anyone would ever mistake it for an officially released 'Star Trek' movie that cost $150 million," Burnett said. "If anything, we were going to make the 'Sex, Lies, and Videotape' of fan films, all the while honoring the 'Star Trek' franchise. No one is ever going to compete at the level that a Hollywood production can muster, although I'm very flattered to see that they're threatened by us, because it makes me think we were doing something right."
The "Axanar" lawsuit has divided the "Star Trek" fan community, with some cheering on what they see as a scrappy David taking on a corporate Goliath and others seeing the project as an overreach that threatens the entire world of fan films.
"Everyone thinks that because of this we might bring the era of fan films down to a crashing end – we've nuked fan films forever," Burnett said. "To me, that's the worst thing in the world if people think that of us."
Still, he holds out hope that in the end, the "Axanar" team will be vindicated both in the legal system and in the court of public opinion.
"If they can point to us and say, 'These guys pursued their dream relentlessly in the face of overwhelming odds and stayed together as friends and colleagues and were able to succeed' – what is more 'Star Trek' than that?"
MORE FROM ENTERTAINMENT
Anton Yelchin's talent went far beyond 'Star Trek'
How 'Orange Is the New Black' and other shows raise awareness of criminal justice and prison issues
Trailer for HBO's 'Westworld' shows the beginning of a robot revolution
---
The complete guide to home viewing
Get Screen Gab for weekly recommendations, analysis, interviews and irreverent discussion of the TV and streaming movies everyone's talking about.
You may occasionally receive promotional content from the Los Angeles Times.