'Star Wars' fans keep fueling the Force as Disney expands the galaxy far, far away
Reporting from the ice planet hoth —
A few days ago in a galaxy not so far away, an estimated 65,000 "Star Wars" fans from across the globe quested their way to the biggest convention center in the United States. Their mission: To be one with the Force that has fueled the multibillion-dollar franchise since 1977.
They came dressed as Jedi warriors, Stormtroopers, Wookiees, bounty hunters, Kylos, Reys, Lukes and Leias, with children, families, fan clubs and friends in tow — fans of all stripes representing every known corner of the "Star Wars" universe.
Featuring star-studded panels, sneak peeks, celebrity signings and cosplay meet-ups, Star Wars Celebration is a uniquely immersive experience for fans of the now-Disney-owned space opera franchise that George Lucas created 42 years ago.
First look: 'Star Wars: Episode IX' debuts title and trailer »
In the cavernous convention ballroom, vendors sell wall-to-wall "Star Wars" merch. You can get Lando Calrissian, R2-D2 or the Rebel Alliance logo inked onto your skin by your favorite tattoo artist, and snag autographs from stars like Ahmed Best, Jar Jar Binks himself.
This year at Star Wars Celebration, held in Chicago, registered guests could sign up to look for love at one of several speed-dating sessions and a few high rollers mulled purchasing a rare Boba Fett action figure valued at $365,000, according to collectibles broker Brian Rachfal of Roseville, Calif.
Opening a direct channel to the hearts, minds and pocketbooks of their core audience, the convention for all things "Star Wars" is also one of Disney's savviest marketing undertakings as the studio eyes lucrative brand expansions and a move into Netflix-dominated streaming territory this fall.
So what's it like to attend Star Wars Celebration?
Where fandom and capitalism collide
The space opera Lucas birthed is now a full-fledged media empire that has to date yielded 10 feature films, spinoffs, animated series, television specials, comics, books, video games, and a booming market for merchandise and collectibles.
Star Wars Celebration is part fan service, part mega-corporate marketing, where each morning a DJ blasts nerd-themed club mixes and "Bohemian Rhapsody" to pump up audiences for sneak peeks of Disney's "Star Wars" product slate.
During Friday's centerpiece panel highlighting the December release of saga-ending "Star Wars: Episode IX — The Rise of Skywalker," 7,000 fans at Wintrust Arena rose to their feet in a standing ovation for actress Kelly Marie Tran, who became visibly emotional at the gesture.
It was a palpable display of support for Tran nearly a year after online harassers chased her off social media following the release of "The Last Jedi," which introduced her Resistance heroine, Rose Tico.
Then there's the commercial flip side of Star Wars Celebration, where unabashed brand synergy can test the patience of the cynically minded.
Saturday on the very same stage, cheers met the announcement that Coca-Cola had been officially written into the "Star Wars" canon, its logo "translated" into the fictional language of Aurebesh for the Galaxy's Edge attraction opening in May at Disney parks in California and Florida.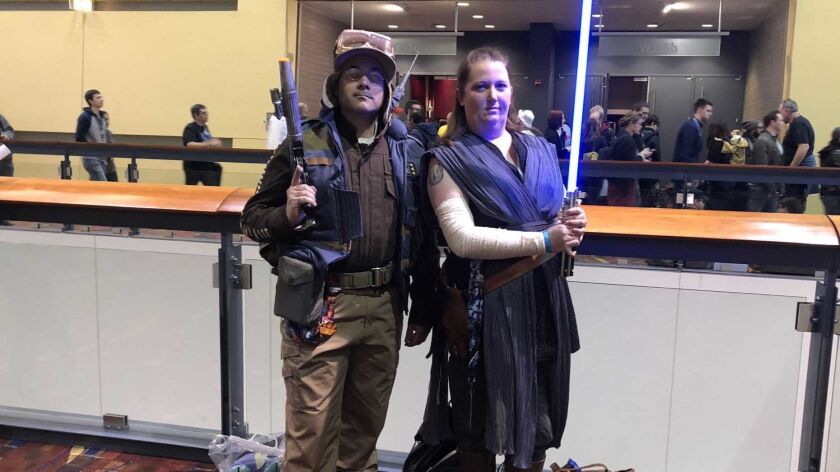 A convention to themselves
First held in 1999 in Denver ahead of the release of "Star Wars: Episode I — The Phantom Menace," Star Wars Celebration has been staged over a dozen times since in the U.S., Europe and Japan, usually built around an upcoming film release or franchise milestone.
It's more intimate and navigable than the all-encompassing geek mecca of San Diego International Comic-Con, and there's only one universe to deep-dive into. That's one draw that enticed longtime "Star Wars" fan Alexa Border, 38, of Woodland Hills, to travel to Illinois for this year's Celebration.
"It's still smaller than Comic-Con so it's not as overbearing with the amount of people. And everything here is from the same fandom, and that's really nice," she said, taking a moment in a quiet promenade hallway where dozens of attendees sat resting and charging their phones.
Dressed in Daisy Ridley's "Battle Rey" costume from "The Last Jedi," Border was heading to a "Rey" meet-up of cosplayers. Her companion, a "Rogue One" Rebel trooper named Jim Villarreal, also from the San Fernando Valley, nodded in agreement.
"I grew up on 'Star Wars,' " said Villarreal, 45, who saw "A New Hope" in theaters as a kid. Recently he took his fandom to the next level, joining a Facebook fan group and cosplaying for charity and at conventions. "I've always enjoyed it, even more so over the years."
A fandom for everyone
In his squad button-up after donning a Stormtrooper uniform earlier in the day, 501st Legion member Tom Rohlf of Des Moines said it's his love of "Star Wars" and the community he's found in the fandom that brings him to Celebration.
He came to his first in 2005, in Indianapolis, in search of exclusives. A few years later he joined the ranks of the 501st, an international fan group whose members cosplay as screen-accurate Stormtroopers and other "Star Wars" villains at costume and charity events.
"That's the cool thing," he said. "With the 501st it's got to be screen accurate, but we don't care who's in it. Kids don't see the differences like adults do. They just see, 'That's Darth Vader. That's Rey!' And we love it."
I think people need to remember that ["Star Wars"] is something that brings people joy.
Jim Villarreal, Rebel Legion
Rohlf considered the slice of "Star Wars" fandom that engenders negativity across the fan community and described being inside the Celebration arena to witness Tran's emotional moment.
"She cried, I'm pretty sure a lot of people in the audience cried," he said. "It was awesome — to make her see that we're not all that way."
If toxic fans are present at Star Wars Celebration, they're not wearing their sentiments on their sleeves. Among the many female Kylo Rens, inclusive Jedis, and mash-up cosplayers were fans in Celebration-exclusive T-shirts emblazoned with a simple, powerful message: "Star Wars is for everyone."
"I think it's very easy to be a troublemaker when no one can see your face," said Border. "I think it's all about people hiding behind their screens."
Toxic fandom "is definitely an online thing," added Villarreal. "And it's kind of gotten out of control. I think people need to remember that ["Star Wars"] is something that brings people joy."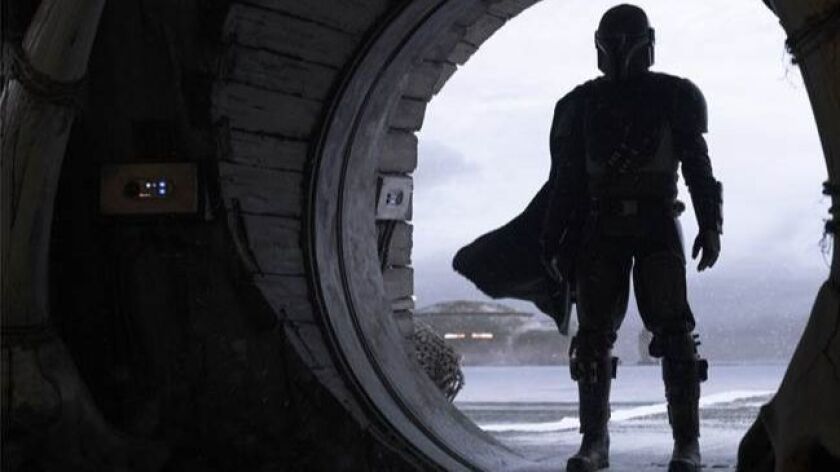 All corners of the galaxy
Disney acquired "Star Wars" along with Lucasfilm in 2012 for $4 billion and has since plotted even more ambitious franchise expansions, releasing four new films in the last three years. New film and TV spinoffs mean more in-universe story and characters to explore and with them, more merchandising and licensing opportunities.
But Disney and Lucasfilm are banking on sustained fan hunger for "Star Wars," and whether or not "Star Wars fatigue" will curb that appetite will become clearer as the franchise further swells with the November launch of spinoff series "The Mandalorian" on new streaming platform Disney+.
Committed Celebration attendees were so hyped for a peek at "The Mandalorian" Sunday morning, they waited in freezing conditions as unexpected snowstorms blanketed the city and grounded flights at O'Hare, with nary a tauntaun in sight to climb into for warmth.
The Boba Fett-loving segment of the "Star Wars" fandom filled out their own cheering section inside the arena, pumping their helmets in the air ahead of Sunday's first-look panel.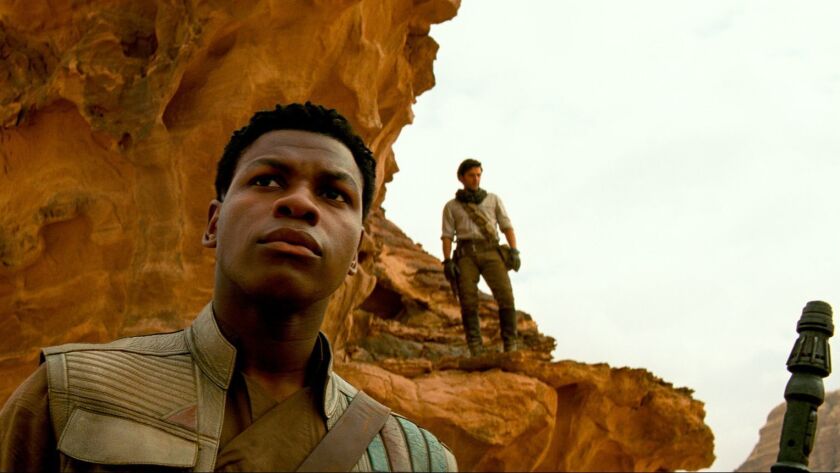 "The Mandalorian": Disney unveils live-action streaming series »
Two days earlier, "Episode IX" star Oscar Isaac reinforced the cross-cultural reach of the franchise when he taught moderator Stephen Colbert the Spanish title of "Star Wars": "It's 'La Guerra de las Galaxias,'" he said, adding a shout-out to the Spanish version of R2-D2's name: Arturito.
To date, "Star Wars" has been translated into more than 50 languages; according to Disney, this year's Celebration welcomed attendees from all 50 U.S. states and more than 54 countries.
Clad in jeans and a T-shirt and casually carrying a lightsaber as he walked into his first Celebration was 14-year-old "Star Wars" fan Carlos Rio, who traveled from Mexico with his parents and 9-year-old sister, Tania, as she sported Carrie Fisher's classic "Episode IV" dress and buns, to attend the convention.
"I'm kind of obsessed with 'Star Wars,'" he said. "It's meant a lot to me since I was a kid. I just love it. I think it's because of the story, the characters — all things 'Star Wars.' My favorite movie is 'The Revenge of the Sith,' and I really like the prequels."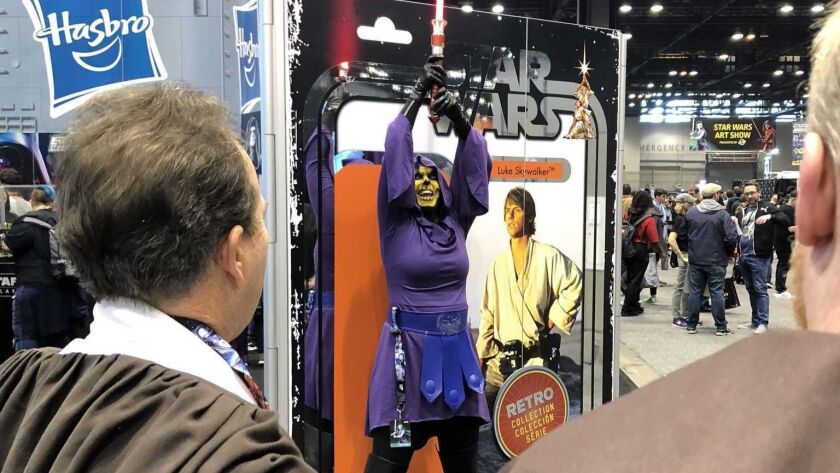 The view from the convention floor
Brand synergy galore greeted fans the moment they walk onto the exhibition floor, where Amazon.com hawked "Star Wars"-licensed merchandise and the Geico lizard peered out at fans from its own booth, as an official sponsor of the "Star Wars" stage.
A few feet away, Stormtroopers in bathrobes and hair curlers mingled, Sith browsed booths, and full-body-suited Ewoks yub-nubbed around, as they do. Near the Hasbro booth, an interloping Skeletor seized a lightsaber and held it in the air, shouting, "I have the power!"
Gormaanda, the four-armed chef from the "Star Wars Holiday Special," stirred and whipped to the delight of passersby while a purple-haired Vice Admiral Holdo stood in line for coffee. Near an Ahch-To backdrop, one of several "Last Jedi" Thala Sirens replete with udders held a glass of Luke's favorite green milk.
Among a line of Leias marching to a photo op with Jabba the Hutt was a cosplayer dressed as George Lucas in a bikini. The latter also posed for photographs chained to a Jawa with Mickey Mouse's face.
Incredible craftwork went into the costuming of Roberto Tateishi of Sao Paolo, a Brazilian "Star Wars" fan of Japanese descent whose take on blind Jedha warrior Chirrut Îmwe of "Rogue One" turned heads.
Navigating the floor wearing milky contact lenses, Tateishi struck an uncanny resemblance to actor Donnie Yen with his handcrafted wooden staff, wearing custom-made props molded from the body of a Super-8 camera.
"It's the first character who was really Asian in the "Star Wars" saga that was really important to the story, and I was born with a likeness to Donnie Yen's face," smiled Tateishi. "I prefer Han Solo, but God gave me this face," he joked.
He applauded the inclusiveness that has come to the "Star Wars" universe in films like "Rogue One," "The Force Awakens" and "The Last Jedi." "I'm so proud that people love Chirrut. … It was a dream to come to my first Celebration."
---
The complete guide to home viewing
Get Screen Gab for weekly recommendations, analysis, interviews and irreverent discussion of the TV and streaming movies everyone's talking about.
You may occasionally receive promotional content from the Los Angeles Times.