'The Last Black Man in San Francisco,' 'The Report' and the art of keeping a Sundance crowd off-balance
Film Critic
Reporting from Park City, Utah —
Times film critic Justin Chang is keeping a regular diary over the course of a week at the 2019 Sundance Film Festival. He will be writing about the movies he's seeing, the trends he's observing and what it all means for an event that officially kicks off the year in new independent cinema.
One of the pleasures and occasional frustrations of a festival like Sundance is that it forces you to recalibrate your internal rhythms.
I don't just mean the oft-frenzied logistics of navigating high altitudes and frigid temperatures in a small Utah town whose population suddenly expands 14 times over to accommodate thousands of film artists, industry players, journalists and moviegoers. Even the simple process of attending a day's worth of screenings demands a continual cycle of adjustment and readjustment, of leaping from unknown to unknown.
I can't recall a more whiplash-inducing double bill than the one I experienced Saturday, which began with "The Last Black Man in San Francisco," a soulful, unhurried highlight of the U.S. dramatic competition, and continued with "The Report," a frenzied, ripped-from-the-headlines political procedural that's screening in the festival's starrier Premieres lineup.
Both movies are a lot to take in individually, let alone in tandem, and both might well repay a second viewing — the former to savor its tonal nuances, the latter to catch factual details you might have missed.
Between the two, however, only one of those repeat viewings strikes me as essential. A forthcoming A24 release from first-time feature director Joe Talbot, "The Last Black Man in San Francisco" actually follows two black men, Jimmie (Jimmie Fails) and Montgomery (Jonathan Majors), whom we see riding a single skateboard around town in an endearing early image. From there, Talbot, a fifth-generation San Franciscan, pieces together a funny valentine to a city whose capacity for visual wonderment goes well beyond the standard iconography of the Golden Gate Bridge.
A semi-autobiographical story that Fails (effectively playing himself) wrote with Rob Richert, the movie has an offbeat, meandering rhythm and a marvelous sense of possibility. Amid the sly non sequiturs and picaresque encounters, laughs as well as tears are mined from the subject of Bay Area gentrification (a major premise of last year's Oakland-set Sundance hit "Blindspotting"). At times, the leisurely quality of the pacing and the delicacy of the gags put me in mind of Aki Kaurismäki, the great Finnish auteur known for his distinct brand of melancholy mischief and his deep empathy for the disenfranchised (see "Le Havre," "The Other Side of Hope").
At the heart of the movie is an intricately designed Victorian house that Jimmie spends a lot of time painting and working on, to the chagrin of some of the residents. They couldn't care less about Jimmie's claim that his grandfather built the house back in the 1940s, or his dream that it will one day belong to his family again. The dream may be a futile one, but that makes "The Last Black Man in San Francisco" only all the more poignant: It's a movie about how our worlds shape our identity and what it means to really love a city, even when the city doesn't necessarily love you back.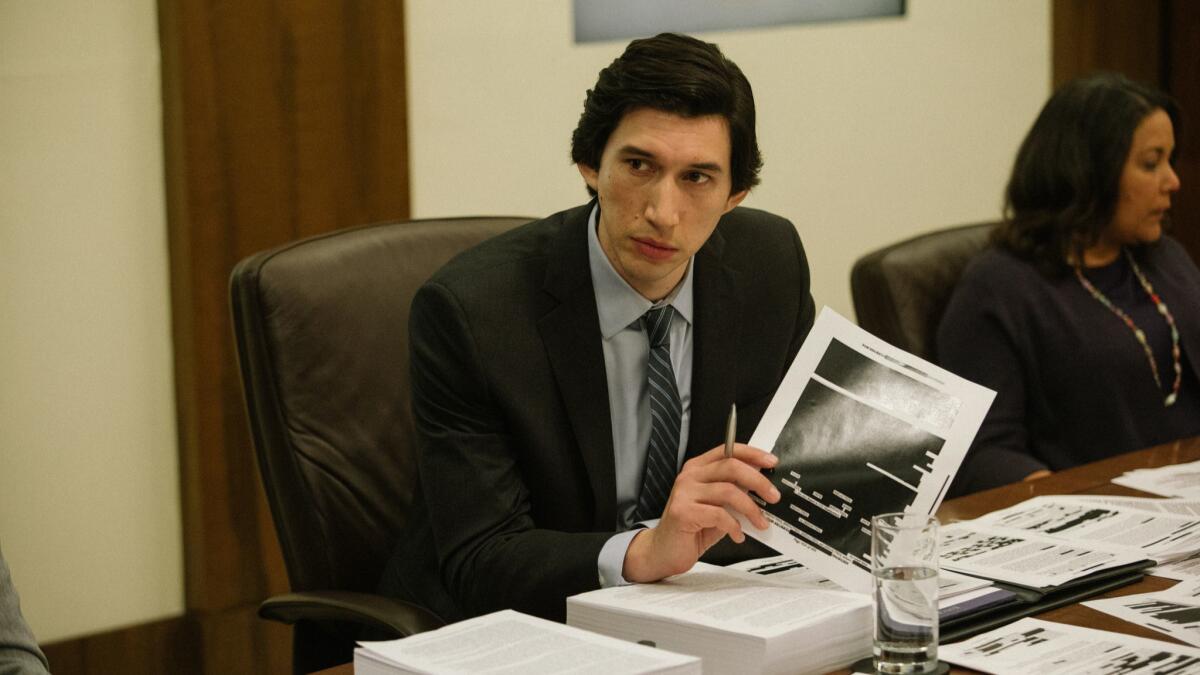 READ MORE: Justin Chang's 2019 Sundance Film Festival diary »
Washington, D.C., doesn't get nearly as much love in "The Report," an engrossingly talky data dump of a thriller that Amazon Studios acquired mid-festival for $14 million. Written and directed by Scott Z. Burns, it tracks real-life researcher Daniel J. Jones (Adam Driver), who spent years spearheading the Senate Intelligence Committee's investigation into the CIA's post-9/11 use of enhanced interrogation techniques. The result of that study was a painstaking, nearly 7,000-page report that the CIA attempted to suppress, forcing Jones and his boss, Sen. Dianne Feinstein (entertainingly played here by a bespectacled Annette Bening), to stick to their guns and hold a nation to account.
A rejoinder of sorts to Kathryn Bigelow's superior "Zero Dark Thirty," which was widely misinterpreted by some as condoning torture, "The Report" has clearly been conceived in the mold of pictures like "All the President's Men," "Zodiac" and "Spotlight," all of which made gripping cinema out of the daily drudgery of investigative work.
The story follows Jones as he and his team gather information on how and why the CIA committed to a torture program as morally reprehensible as it was ineffective (complete with discreetly hideous flashbacks to scenes of prisoners being waterboarded, anally hydrated and blasted with heavy-metal music so as to deprive them of sleep).
Burns, who has written several fine screenplays for Steven Soderbergh ("Contagion," "The Informant!"), clearly knows his way around a complicated geopolitical narrative. "The Report" parcels out its intel efficiently enough, though it creaks a bit more than it crackles; it also paints none-too-flattering portraits of men like former CIA Director John Brennan (a juicy Ted Levine) and Denis McDonough (Jon Hamm), the White House's chief of staff during Barack Obama's presidency. The movie even holds Obama's feet to the fire for trying to sweep the report under the rug in a misguided attempt at bipartisanship — a goal that seems all the more laughably naive in light of the current administration.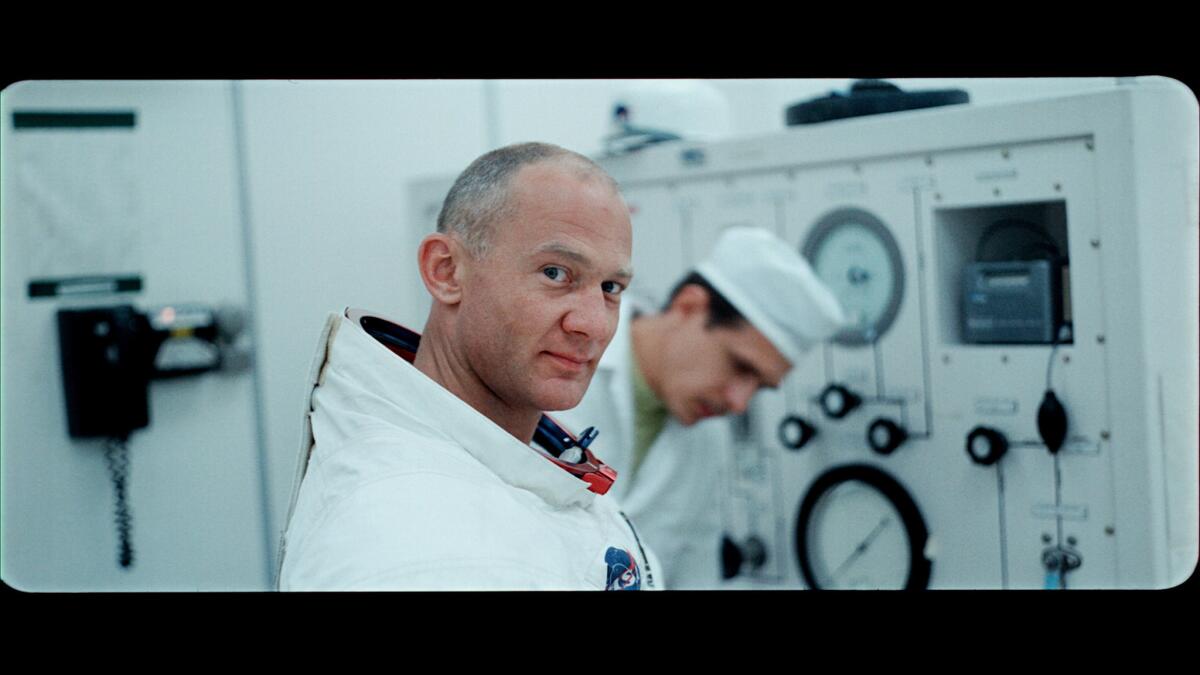 Sundance audiences emerging from "The Report" looking to wash away the taste of cynical disillusionment, at least temporarily, could do far worse than "Apollo 11," a deeply enveloping look at the moon landing that's playing in the festival's American documentary competition. Directed by Todd Douglas Miller ("Dinosaur 13"), it's a gorgeous treasure trove of never-before-seen 70-millimeter footage from July 1969: It shows us the idyllic gathering of thousands of onlookers at Cape Canaveral, and then thrusts us into the controlled chaos of mission control, where rotating teams monitor the moment-by-moment progress of a history-making feat.
After liftoff, a sequence that brings you in so close you can almost feel the rockets singe your hair, the documentary confronts the tricky challenge of how to depict the voyage of Neil Armstrong, Buzz Aldrin and Michael Collins visually without the same caliber of footage.
Some of Miller's solutions are straightforward and diagrammatic, while others take ingenious advantage of the camera's limited perspective: A countdown clock and a slowly approaching lunar surface are all it takes to turn the Eagle's landing into a nail-biter, albeit one in which the outcome is never in doubt. The result is a stirring companion piece to Damien Chazelle's recent "First Man," and one no less worth seeing on the big screen when Neon releases it in theaters worldwide.
Get the Indie Focus newsletter, Mark Olsen's weekly guide to the world of cinema.
You may occasionally receive promotional content from the Los Angeles Times.