John Krasinski and Emily Blunt bring their family thriller 'A Quiet Place' to SXSW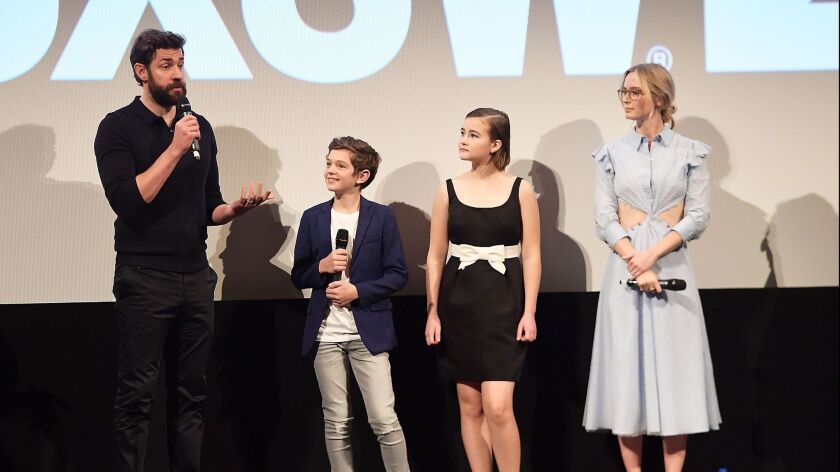 "That was insane. Who made that film and why?"
Director, co-writer and actor John Krasinski asked the question after the premiere of his own movie "A Quiet Place" on Friday night. The horror-thriller took the SXSW opening night audience at the Paramount by surprise, providing a heightened atmosphere of tense scares and unexpectedly deep emotions.
With a screenplay credited to Bryan Woods, Scott Beck and Krasinski , the film follows one family — portrayed by Krasinski, his real-life wife, Emily Blunt, and young performers Noah Jupe and Millicent Simmonds — living on a remote farm as they attempt to defend themselves against mysterious creatures that have overtaken the land and who track and attack their prey based on sound.
There is very little dialogue in the film, with long stretches playing out in the relative quiet of sound effects and sparse music that made every cough and seat shift in the theater a part of the building tension.
Krasinski's previous film was the comedy-drama "The Hollars," which premiered at the 2016 Sundance Film Festival, making his skillful turn to a movie as potently thrilling as "A Quiet Place" all the more of a revelation.
"I've never been a genre guy," he said after the screening. "I'm a scaredy-cat."
It was while shooting his upcoming series "Jack Ryan" that the producers at Platinum Dunes — Michael Bay was in the audience Friday — came to him with the project.
"They said, 'Would you ever do a genre film?' " Krasinski noted. "And I said, 'I don't think so. I mean if it was a good idea.' And they said, 'What if it was a family that can't make noise and you have to figure out why?' And I thought, 'That's a pretty damn good one-liner.'
"And believe it or not, Emily and I had just had our second daughter," he added, "so we were already in the world of pure terrified and nervous, and so I thought, why not put it into a movie? And that's really what drew me to it — this family and these people. And then the scares came from how much you care about the family rather than just trying to scare people."
The film marks the first time on-screen together for Krasinski and Blunt. Introducing the film before the screening, Krasinski said, "The one person I can't even talk about without crying, so I won't look at her, is my wife. She's the best collaborator." As the crowd burst into applause, he peered out into the audience where Blunt was sitting.
"I didn't even say your name and they clapped. That's pretty good," he said. "It was the best compliment of my career when she said that she would do the movie, and I'll never forget it."
From the stage after the screening, Blunt, who will soon appear in the title role of Disney's "Mary Poppins Returns," spoke about their collaboration.
"We were both a bit nervous going into it," she said. "You don't know how your processes are going to align themselves. And we were sort of terrified the night before my first scene, hoping to offer each other the same diplomacy we would to any other actor or director."
She added, "I can't tell you, it was so exhilarating working with him and realizing how aligned we were creatively and how much we truly valued each other, in a different sense outside of our marriage."
The positive response to the film bore out what Krasinski said while introducing the film.
"When you make a film, you really hope that it finds an audience, you always do, but it's very rare when you get the chance to find the audience," he said. "And I can't tell you enough that in this room, with these people, there is no better place to screen this movie and there is no place else in the world that I'd rather be."
SIGN UP for the free Indie Focus movies newsletter »
Follow on Twitter: @IndieFocus
---
The complete guide to home viewing
Get Screen Gab for weekly recommendations, analysis, interviews and irreverent discussion of the TV and streaming movies everyone's talking about.
You may occasionally receive promotional content from the Los Angeles Times.