There will be no red carpets. No paparazzi. At 8,750 feet above sea level, even oxygen will be in relatively short supply.
But when the 44th Telluride Film Festival kicks off Friday, scores of filmmakers, stars and movie executives will make their way to the isolated town in the mountains of Colorado, where miners once dug for silver and gold, to hunt for another precious commodity: Oscar buzz.
An increasingly important early stop on the awards season calendar — albeit a more intimate and casual affair than the bigger, flashier festivals in Venice, Toronto and New York with which it jockeys — Telluride has played host to seven of the last eight best picture winners, including "12 Years a Slave," "Argo," "Birdman" and "Moonlight."
As this year's lineup — which includes such highly anticipated features as Guillermo del Toro's dark romantic fantasy "The Shape of Water," Alexander Payne's bizarro satire "Downsizing" and actress Greta Gerwig's directorial debut, "Lady Bird" — plays out over Labor Day weekend, Oscar prognosticators will be carefully gauging audience reactions to glean a sense of which films could follow in their footsteps.
Even as Telluride's track record of launching future Oscar winners has placed a brighter spotlight on the festival, Executive Director Julie Huntsinger says she is determined to preserve its decidedly low-key vibe and its focus on catering to die-hard cinephiles.
We used to be the best-kept secret in show business. Now, largely because of social media, people talk more about what we do.
Executive Director Julie Huntsinger
"We used to be the best-kept secret in show business," said Huntsinger, who curates the program with Tom Luddy, keeping the lineup under wraps until the day before the festival begins. "Now, largely because of social media, people talk more about what we do. But we're really committed to mystique and astonishment. It has made us that much more resolute about keeping our blinders on and just choosing films that we love."
The 30 films in the festival's main program are a highly eclectic mix. Reflecting these politically turbulent times, many grapple with real-life conflicts of one kind or another, including Angelina Jolie's latest directorial effort, "First They Killed My Father," about the Cambodian genocide; Joe Wright's Winston Churchill biopic, "Darkest Hour," starring Gary Oldman; and the dramedy "Battle of the Sexes," which chronicles the 1973 tennis match between Billie Jean King (Emma Stone) and Bobby Riggs (Steve Carell) that turned King into a feminist icon.
A number of documentaries also tackle weighty matters, including Chinese artist and activist Ai Weiwei's look at the global refugee crisis, "Human Flow"; Errol Morris' upcoming Netflix true-crime docuseries, "Wormwood"; and "Eating Animals," produced by Natalie Portman and based on author Jonathan Safran Foer's book about the modern factory farming system and the ethical quandaries of consuming meat.
On the other end of the spectrum are films that fall into the realm of pure fantasy. Set in a top-secret government laboratory during the Cold War, "The Shape of Water" is a love story between a mute janitor (Sally Hawkins) and an aquatic humanoid creature. "Downsizing," which debuted to strong reviews at the Venice Film Festival this week, is a skewed sci-fi fairy tale set in a near-future in which scientists have figured out how to shrink humans down to 6 inches in size.
"There are a lot of really unusual, surreal, stylized films," Huntsinger said. "There is something about the escape that seems to be weighing more heavily on the artist's mind right now. And I'm with them all the way — let's go."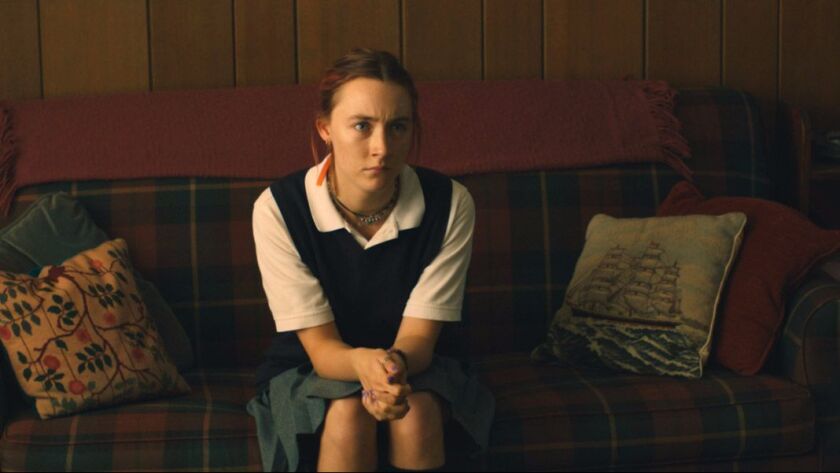 This year's festival is stocked with a number of performances by actresses who are likely to be in the mix as Oscar season unfolds. In Gerwig's coming-of-age story, "Lady Bird," Irish actress Saoirse Ronan plays an American teenager who seeks to escape her small town by attending college in New York. Annette Bening plays Oscar-winning actress Gloria Grahame in "Film Stars Don't Die in Liverpool," which depicts Grahame's affair with a much younger actor, played by Jamie Bell. And in "Battle of the Sexes," Stone, hot off her best actress win for "La La Land," shows another side as pioneering tennis star King.
"I am genuinely on my knees looking at all of these performances," Huntsinger said. "I think the conversation about which actress did the best job is going to be really tough this year."
The Telluride lineup also boasts a strong showing of films helmed by female filmmakers, with nine of the 30 films in Telluride's main program directed or co-directed by women. This year's Venice Film Festival, by contrast, features just one film directed by a woman out of 21 in competition, a fact that Bening, who is serving as jury president, reflected on in remarks on Wednesday to journalists there.
"We have a long way to go, in terms of parity — production, directors, writers, actresses, appearing in festivals and all of that," Bening said. "There is a lot of sexism — of course, it exists. … But I think the direction we're going is positive."
Alongside the main program at Telluride, this year's guest director, documentary filmmaker Joshua Oppenheimer, has curated a revival series that holds up a mirror to some of humanity's darkest impulses. It includes the 1967 Frederick Wiseman documentary "Titicut Follies," and the 1955 noir classic "The Night of the Hunter."
"I've tried to choose films that play like fever dreams and feel relevant in these frightening times," said Oppenheimer, whose Oscar-nominated films about the legacy of the 1965 Indonesian genocide, "The Act of Killing" and "The Look of Silence," were similarly gut-punching. "I think that the moment cinema flinches it has sold its soul, and in that moment where we close our eyes we invite catastrophe. In a way, Telluride as a festival is about that — it's about using cinema and empathy to grapple with the most urgent things we as human beings need to address."
Special festival tributes are planned for Christian Bale (starring in Scott Cooper's western "Hostiles") and cinematographer Ed Lachman (represented in the lineup by Todd Haynes' period drama "Wonderstruck"). Both are set to receive Silver Medallion Awards honoring a "significant contribution to the world of cinema."
As for Telluride itself, despite the growing attention it has received in recent years, Huntsinger would like things to stay pretty much exactly the way they are.
"We're in a sweet spot that we hope goes on forever," she said. "I can't even count the number of times that different entities have said, 'You guys can be bigger than this' — and we say no. We are a concentrated smack of cinema that you get over these four days, and that's what it should be. It's not going to live anywhere except in the moments of communion that we all have here."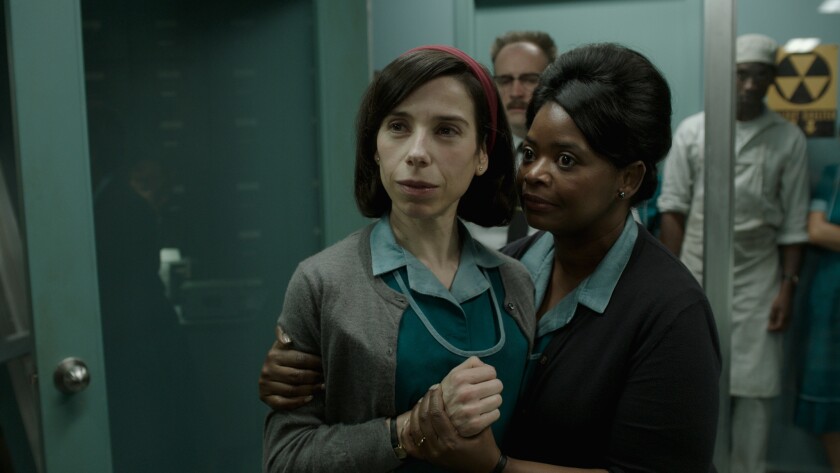 The 2017 Telluride Film Festival main program lineup:
• "Arthur Miller: Writer" (d. Rebecca Miller, U.S.)
• "Battle of the Sexes" (d. Valerie Faris, Jonathan Dayton, U.S.)
• "Darkest Hour" (d. Joe Wright, U.K.)
• "Downsizing" (d. Alexander Payne, U.S.)
• "Eating Animals" (d. Christopher Quinn, U.S.)
• "Faces Places" (d. Agnes Varda, JR, France)
• "A Fantastic Woman" (d. Sebastián Lelio, Chile-U.S.-Germany-Spain)
• "Film Stars Don't Die in Liverpool" (d. Paul McGuigan, U.K.)
• "First Reformed" (d. Paul Schrader, U.S.)
• "First They Killed My Father" (d. Angelina Jolie, U.S.-Cambodia)
• "Foxtrot" (d. Samuel Maoz, Israel)
• "Hostages" (d. Rezo Gigineishvili, Georgia-Russia-Poland)
• "Hostiles" (d. Scott Cooper, U.S.)
• "Human Flow" (d. Ai Weiwei, U.S.-Germany)
• "The Insult" (d. Ziad Doueiri, France-Lebanon)
• "Lady Bird" (d. Greta Gerwig, U.S.)
• "Land of the Free" (d. Camilla Magid, Denmark-Finland)
• "Lean on Pete" (d. Andrew Haigh, U.K.-U.S.)
• "Loveless" (d. Andrey Zvyagintsev, Russia-France-Belgium-Germany)
• "Love, Cecil" (d. Lisa Immordino Vreeland, U.S.)
• "Loving Vincent" (d. Dorota Kobiela, Hugh Welchman, U.K.-Poland)
• "A Man of Integrity" (d. Mohammad Rasoulof, Iran)
• "The Other Side of Hope" (d. Aki Kaurismäki, Finland)
• "The Rider" (d. Chloé Zhao, U.S.)
• "The Shape of Water" (d. Guillermo del Toro, U.S.)
• "Tesnota" (d. Kantemir Balagov, Russia)
• "The Venerable W." (d. Barbet Schroeder, France-Switzerland)
• "The Vietnam War" (d. Ken Burns, Lynn Novick, U.S.)
• "Wormwood" (d. Errol Morris, U.S.)
• "Wonderstruck" (d. Todd Haynes, U.S.)
Twitter: @joshrottenberg
---