From Hanks to Huppert, cinephiles find common ground at Telluride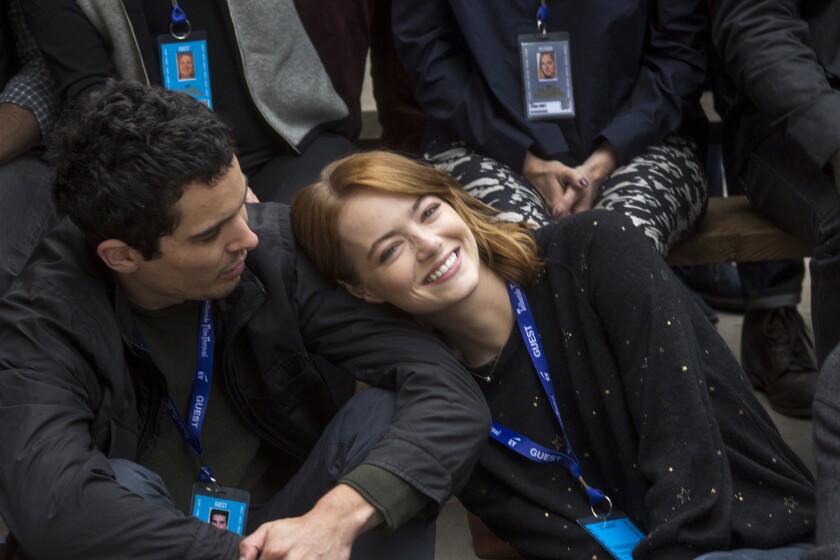 During a Q&A to promote his own movie, "Sully," at the 43rd Telluride Film Festival over Labor Day weekend, Tom Hanks made an unusual gesture — he started talking up another likely awards contender screening at the prestigious Colorado cinema event, "La La Land."
"'La La Land' is not a sequel, nobody knows who the characters are," Hanks told the Telluride audience, of the Damien Chazelle musical starring Ryan Gosling and Emma Stone. "But if the audience doesn't go and embrace something as wonderful as this, then we are all doomed."
Hanks' comments seemed to reflect the tone of the festival this year, which was buoyant yet protective of a certain type of movie that has gotten harder to finance and market. Movies lacking audience pre-awareness or built-in fan bases are Telluride's stock-in-trade, in a lineup festival co-directors Julie Huntsinger and Tom Luddy curate with hard-core cinephiles in mind.
But Telluride's organizers are also keenly aware of their festival's key role in the ecosystem of awards season. In addition to "La La Land" and "Sully," several other potential Oscar contenders got a boost from appreciative Telluride audiences on their way to larger crowds and bigger media platforms at the Toronto International Film Festival, which opens Wednesday.
The Barry Jenkins drama "Moonlight," the Miles Teller boxing tale "Bleed for This," the Amy Adams science-fiction thriller "Arrival" and the Rooney Mara psychological drama "Una" were among the movies that garnered strong positive reactions from both critics and audiences.
Along with the screenings were the kind of only-in-Telluride moments that have made the relaxed, remote festival a consistent draw — moments like Lucasfilm President Kathleen Kennedy juggling plates in the same buffet line as the teenage Mongolian star of the documentary "Eagle Huntress" dressed in her traditional garb; or a Mount Rushmore-caliber gathering of documentarians: Errol Morris, bringing his film "The B-Side: Elsa Dorfman's Portrait Photography," Werner Herzog ("Into The Inferno") and Ken Burns, a member of Telluride's board of governors, together in one room; or a crowd waiting to get into a screening of "Arrival" spontaneously bursting into applause when "Moonlight" director Barry Jenkins walked by.
"There's a certain idea of cinephilia here," French actress Isabelle Huppert said of Telluride, during her third visit to the festival, this time on behalf of Mia Hansen-Løve's "Things to Come." "It's like a little island which is very precious here in this country. A place like this preserves a certain idea of cinema."
"The atmosphere is very easy," Hansen-Løve added. "In Cannes it's crowded and stressful. Here you can really meet people. You have time — you can go for a walk and see the landscape and meet other directors."
Or even participate in the oddball meet-up with the mutually minded. Analog devotees gathered for a "type-in" of people using vintage typewriters at a local art gallery, organized by the makers of the documentary "California Typewriter."
In a tribute to Adams, before the first North American screening of Denis Villeneuve's science fiction thriller "Arrival," the actress explained why she has so often opted for distinctive, smaller parts.
"I love being a supporting actress," Adams said, in a conversation that followed a showing of clips of her work in movies like "Junebug," "Doubt" and "The Fighter." "In my experience, the lead role has the burden of plot. I'm not looking at the size of the role. I'm looking at, 'Will I get a chance to grow?' "
The festival held some surprises as well — Chilean director Pablo Larraín, in town to receive a tribute and screen his Pablo Neruda biopic, "Neruda," showed clips from his next film, the Jackie Kennedy biopic "Jackie" starring Natalie Portman, which is screening at Toronto. In one clip, Portman appears in the first lady's bloodstained pink Chanel suit still worn in the hours after her husband's assassination. In another, Portman breathily delivers some dialogue in Kennedy's patrician New England accent, demanding that she be able to walk in the funeral procession.
"Jackie Kennedy is the most unknown, known woman in history," Larraín said, before showing the footage. "I tried to understand her, to love a woman who had to deal with such amazing circumstances."
Not everyone's festival went as planned. Alan Elliott, producer of the Aretha Franklin documentary "Amazing Grace," appeared at Telluride's opening-day brunch carrying a cardboard box marked "Buttons," with a digital print of his film inside, under his arm. It was at the same event last year that Elliott learned that Franklin's attorneys had convinced a Colorado judge to block the screening of the film on the grounds that it used her name and likeness without permission. This year, Elliott was waiting for Franklin to sign papers at the last minute allowing him to screen, but was once again left at the altar.
The next stop for many of the other filmmakers leaving Telluride's protective cocoon is Toronto — or, in the case of Hanks and Clint Eastwood's "Sully," a theatrical release opening Friday.
"There's always that chance where the audience sees something that is brand-new, that they never expected, and embraces it, and celebrates it," Hanks said. "We all go to the cinema for the same thing, that is to be transported to someplace we have never been before."
See the most-read stories in Entertainment this hour »
Follow me on Twitter for more movie news: @thatrebecca
---
Inside the business of entertainment
The Wide Shot brings you news, analysis and insights on everything from streaming wars to production — and what it all means for the future.
You may occasionally receive promotional content from the Los Angeles Times.