Review: Intimate epic 'The Guardians' distills how war changes everything for a French family
Film Critic
"The Guardians" is an intimate French epic, elegantly made and quietly emotional, a family story filled with characters whose lives we sink into, feeling the hope, the sadness, the sorrow and the joy right along with those on the screen.
The rare wartime story in which women's lives take center stage, it stars the usually urbane and sophisticated Nathalie Baye as a farm matriarch. The setting is World War I, from 1915 to 1920 in an area of rural France where all able-bodied men have gone to the front, leaving their wives to hold this traditional world together.
Key players, aside from Baye, are veteran director Xavier Beauvois and, in her screen debut, a riveting actress named Iris Bry who was planning on a career in library science until a chance meeting with the film's casting director changed everything.
Beauvois, whose previous films include the Baye-starring "Le Petit Lieutenant" and the superlative Cesar-winning "Of Gods and Men," is a quiet visionary who thinks stories of subdued emotional conflict are as good as it gets.
Here, working for the first time from a novel (published in 1924 by Ernest Pérochon, a veteran of the war), Beauvois and his co-writers Frédérique Moreau and Marie-Julie Maille slowly reveal what war, the eternal "sower of chaos," did to one family and its world.
It's not just the things that change that are compelling, the way women are able to take charge and get it done on their own, but the things that don't, the way that not even tragedy can erase clannish narrow-mindedness. Yet, above all, there is still hope.
Beautifully shot by Caroline Champetier in the picturesque Limousin area — a part of France that has apparently not changed much in the last century — "The Guardians" uses the grace of the landscape as a constant.
That and the backbreaking, unceasing nature of farm work — the rituals of the rural year from planting seeds to milking cows and harvesting wheat. Capturing these agricultural rhythms is something "The Guardians" turns out to be very good at.
Beauvois, who says in the press notes that he considers "The Umbrellas of Cherbourg" to be "a genuine war film, not showing the war itself but its effects on those who participate indirectly," is not quite so oblique here.
Rather, he starts his film with its one and only military shot: a view of piles of combat casualties, a reminder of what is consuming the world's energy and attention and causing the domestic dramas that play out at home.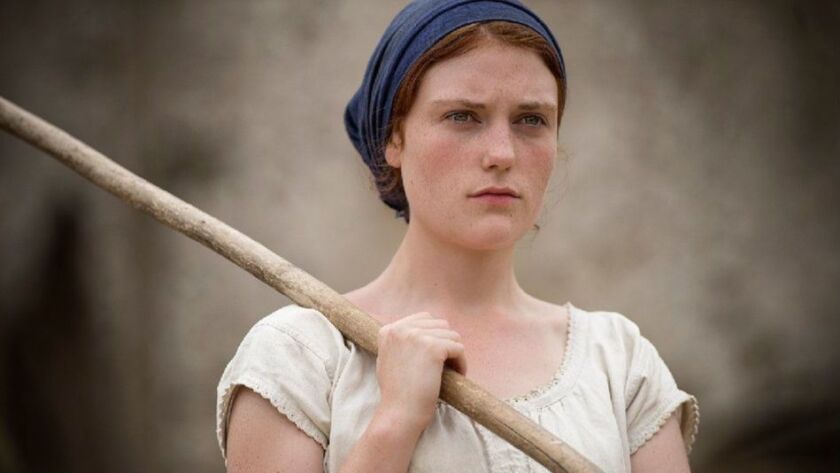 The first shot of the Paridier farm shows a grey-haired woman determinedly plowing a field, not a usual shot in prewar France. But these are new times, and Madame Hortense (Baye — all but unrecognizable, and spectacular) is going to help.
Besides the agricultural year, "The Guardians" is organized around consecutive on-leave visits from the three men who are crucial to the lives of Madame Hortense and her daughter Solange (Laura Smet, Baye's real-life daughter).
First to arrive is Hortense's oldest son Constant (Nicholas Giraud), a former schoolteacher with a gentle demeanor who talks of "two years of hell, some people went mad" and how "after the war, it will be different."
Encouraged by Constant, Hortense decides to hire another person to help around the farm, and ends up, rather reluctantly, with red-haired 20-year-old orphan Francine.
As persuasively played by Bry, who seems to have stepped right out of history into the role, Francine is shy but formidable, someone who doesn't fear hard work and wants desperately to belong.
Next to arrive is Clovis (Olivier Rabourdin), Solange's husband, disturbed enough by what he's seen to be drinking more heavily than usual.
Finally, and most disturbing to the careful equilibrium the women have constructed on their own, is Hortense's next son Georges (Cyril Descours), young and handsome and with some of the entitlement that goes with being a mother's favorite.
How all these people and others — including clueless and disruptive American troops and Marguerite (Mathilde Viseux-Ely), Clovis's daughter from his first marriage — interact with each other within a framework that is centuries old but already changing is the heart of what "The Guardians" is about. If you let it weave its spell, it won't let you go.
-------------
'The Guardians'
In French with English subtitles
Rating: R, for some violence and sexuality
Running time: 2 hours, 14 minutes
Playing: Laemmle Royal, West Los Angeles, Laemmle Playhouse, Pasadena
---
Inside the business of entertainment
The Wide Shot brings you news, analysis and insights on everything from streaming wars to production — and what it all means for the future.
You may occasionally receive promotional content from the Los Angeles Times.