Review: 'The Highwaymen' comes at the Bonnie and Clyde chase from a grimmer angle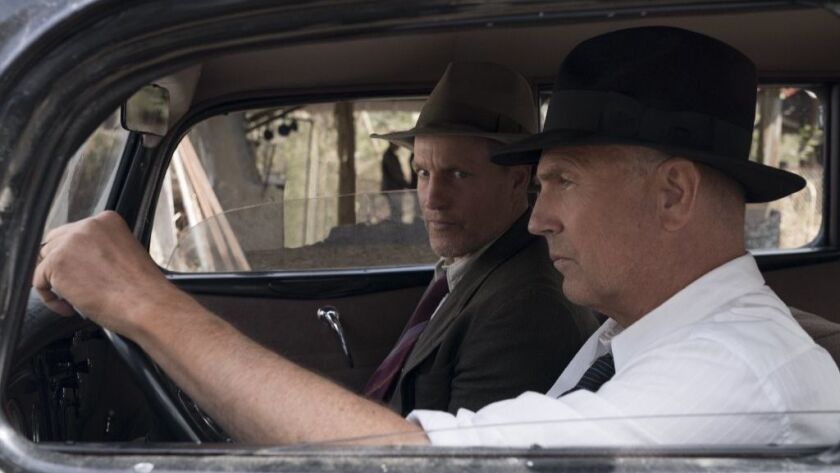 "The Highwaymen" has none of the glamour and romanticism of "Bonnie and Clyde." And that's the point.
The new Netflix film from John Lee Hancock ("The Blind Side") stars Kevin Costner as Frank Hamer and Woody Harrelson as Maney Gault, the real-life former Texas Rangers who came out of retirement in 1934 to hunt the ballyhooed outlaw couple. But while the 1967 Arthur Penn film about Bonnie Parker and Clyde Barrow was often comic and energetic, rife with the charisma that made the duo folk heroes (despite being unabashed killers — Warren Beatty and Faye Dunaway in the roles probably had something to do with that charm), "Highwaymen" is a decidedly grown-up meditation on the price of lives and the thoughtlessness of idol worship.
It's also truer to the facts in its portrayal of Hamer, who's a fool in the Penn film but here is a low-key, shoe-leather detective. And damn good at his job. The film does allow some old-age humor, as when Hamer practices his shooting for the first time in years (and it shows), or when he has to pursue a teen suspect on foot, with non-action-hero results. But the weight of the task is always present in his mind, especially as Bonnie and Clyde's killing spree continues two steps ahead of him.
The superstar criminals are a major presence in the film, but mostly through the shadow they cast. They're rarely on-screen. "Highwaymen" captures, through the eyes of common people, the perceived rebel spirit that made the couple folk heroes during the Great Depression. It establishes through wardrobe and production design how rough that era was. It's not just a setting; it's a grim and desperate worldview. The film also provides, as a counterpoint to the couple's fandom, the grim reality of their actions and Hamer and Gault's revulsion.
Screenwriter John Fusco ("Thunderheart") provides plenty of memorably folksy dialogue ("If today was a fish, I'd throw the son of a bitch back," says the exasperated governor, played by Kathy Bates). But he and Hancock also let a great deal be told through gestures, expressions and dialogue that rarely lands directly on the point. Hamer's relationship with wife Gladys (Kim Dickens) comes across mostly in this manner; it's effective and touching. There's plenty of grumpy-old-men comedy in the Hamer-Gault relationship. But the actors expertly convey a sense of shared history, a pecking order and ancient camaraderie without relying on "You remember that time …?" clichés.
In fact, the distinct lack of crime-movie macho pronouncements allows Hamer's all-business seriousness and Gault's qualms to ring true. Death is dealt with, not swept aside with a one-liner. Coming upon an unintended victim of the pursuit, Gault is genuinely shaken and Harrelson sells it.
As Hamer, Costner turns in yet another remarkable performance. Over the years, he has honed the ability to not strain to be something he isn't. From his closed but deeply caring father in "Molly's Game," to his Vito Corleone-in-a-cowboy-hat in TV's "Yellowstone," to this cautious retiree with a full understanding of the task on his hands, the actor has settled into a groove of grounded believability that's a genuine pleasure to watch. There are no false moves in his portrayal of Hamer, no portentousness, just focus and well-earned worry. When a child asks, "Was you really Frank Hamer?" — we believe he was.
"Highwaymen" confronts the cost of violence. Even an angry fistfight leads to regret. These two have blood on their hands from their storied Ranger past, and neither has washed it off. That sobriety casts the famous outlaw couple in quite a different light than what the Penn film, or the adoration of their contemporaneous fans, shined upon them. They're killers, and that's no laughing matter. Framed thus, their celebrity disturbs — despite the film's obvious sympathy with the average folks struggling to get by, rooting for these two who seem to be beating the system. The film's true feelings about this idolization are best expressed in the dialogue-less aftermath of their downfall.
'The Highwaymen'
Rated: R for some strong violence and bloody images
Running time: 2 hours, 12 minutes
Playing: at The Landmark in West Los Angeles and the iPic in Pasadena starting March 15; streams on Netflix starting March 29
See the most-read stories in Entertainment this hour »
---
The complete guide to home viewing
Get Screen Gab for weekly recommendations, analysis, interviews and irreverent discussion of the TV and streaming movies everyone's talking about.
You may occasionally receive promotional content from the Los Angeles Times.