Review: Lebanon's Oscar contender 'The Insult' wages an absorbing but overblown war of words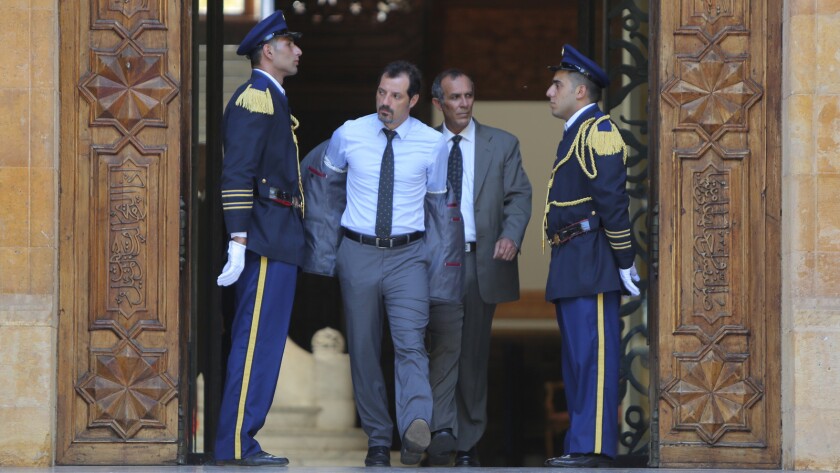 Film Critic
The spat that kicks off "The Insult," an engrossingly blunt instrument of a movie from the Lebanese writer-director Ziad Doueiri, concerns an illegal drainpipe on an apartment balcony. Some gutter language, so to speak, ensues.
Yasser Salameh (Kamel El Basha), a foreman tasked with building repairs in the neighborhood, attempts to fix the pipe. But the resident, Tony Hanna (Adel Karam), takes one look at him and slams the door in his face. Before long, expletives and physical blows have been thrown, setting in motion a fierce war of words, ethnicities and bristling male egos.
Unfolding in the streets, apartments and courthouses of present-day Beirut, "The Insult," one of nine features contending for the Academy Award for foreign-language film, tells an angry story for angry times. The forces that make Tony and Yasser immediate enemies, binding them in a protracted legal battle that soon triggers a media firestorm, may well remind you of other ethnic and religious conflicts closer to home. Doueiri's script, which he wrote with Joelle Touma, could be transplanted smoothly to any country in the world where the wounds of war fester unhealed and the bearers of those wounds are forced to reside in close quarters.
But the achievement of the picture, which proceeds through a skillful if mechanical gantlet of temper tantrums and courtroom histrionics, is the light it sheds on an under-examined historical trauma. Doueiri's 1998 debut feature, "West Beirut," was a semi-autobiographical account of life during the early days of his country's civil war in 1975; here he illuminates a different angle of that 15-year sectarian conflict, which exacerbated tensions between Lebanese citizens and the Palestinian refugees in their midst.
Tony is a gruff 46-year-old Lebanese mechanic with a wife, Shirine (Rita Hayek), and a baby on the way; as we learn in the movie's earliest moments, he has also been an active member of his country's Christian political party. The somewhat older Yasser is a Palestinian Muslim who lives with his wife (Christine Choueiri) in a nearby refugee camp. Viewers not up to speed on inter-Arab tensions in the region will get a crash course from the vicious anti-Palestinian speeches constantly streaming from a radio in Tony's garage, most of them from the mouth of the late Lebanese Christian leader Bachir Gemayel, who was assassinated in 1982 before he could take office as the country's president.
In a moment of anger, which is to say a moment like any other, Tony blasts Yasser with his own exceedingly hateful version of Gemayal's rhetoric. Yasser responds — justifiably, some audience members will surely conclude — by punching Tony hard in the stomach, fracturing a few ribs. Whether the mechanic's verbal assault carries the same moral weight as the foreman's physical one is among the questions raised in court by their respective attorneys, Wajdi (a gleefully showboating Camille Salameh) and Nadine (Diamand Bou Abboud), who add a spirited level of argument to the already bickersome proceedings.
Which of their clients was the first to give offense? What does self-defense mean when language itself becomes weaponized?
The achievement of the picture ... is the light it sheds on an under-examined historical trauma.
Whatever Doueiri may think of the destructive power of words, he is nothing if not enamored of them. The characters' endless back-and-forth is meant to give "The Insult" both dramatic tension and political even-handedness, and its near-constant exposition (plus some late-breaking flashbacks) is certainly useful in steering the viewer through a crowded minefield of race, politics and history. But the unintended effect of all this caustic debate is that the movie at times seems to buckle under the weight of its own verbiage.
Tony, in particular, is a figure of scowling, hyper-eloquent rage, openly decrying a culture that he claims enables Palestinian victimhood while unapologetically nursing his own grievances. Karam, a charismatic presence, is given little room for nuance, and his performance lends the movie the feel of a long, unmodulated shouting match, an impression scarcely mitigated by Tommaso Fiorilli's active handheld camerawork and Éric Neveux's amped-up score. Yasser, the ostensible instigator in this scenario, is outwardly the more restrained and dignified of the two, and in portraying him, El Basha sympathetically suggests a man typically accustomed to suffering in silence.
As in "The Attack," his 2012 drama about a Palestinian widower investigating his wife's suspicious death in a suicide bombing, Doueiri filters a complicated historical tragedy through the prism of a detective story, channeling the riddles of contemporary Arab identity into a more literal kind of mystery. As the tensions escalate, the movie itself seems to shift genres, lurching from a cynical satire of the justice system and the ensuing media circus to a tense panorama of civil unrest.
The story beats that Doueiri strikes are more recognizable than credible, and it's hard not to feel that a crucial dimension of dramatic integrity has been sacrificed on the altar of accessibility. At a certain point, we are no longer watching a naturally escalating conflict so much as a rigged allegory of masculine aggression, contrived not only for our entertainment but also for our edification.
"The Insult" means to leave us pondering the possibility of reconciliation and forgiveness, of a society in which men (and women, or what little we see of them) do a better job of acknowledging each other's humanity.
It's a noble and truthful sentiment, to be sure, though it's hard to shake the feeling that a more interesting movie might have treated it as not an end but a beginning.
------------
'The Insult' (L'insulte)
In Arabic with English subtitles
Rating: R, for language and some violent images
Running time: 1 hour, 52 minutes
Playing: Laemmle's Royal Theatre, West Los Angeles
See the most-read stories in Entertainment this hour »
ALSO
Unanimous love for 'Lady Bird' unites the Golden Globes and the National Society of Film Critics as awards season takes shape
Ridley Scott's 'All the Money in the World' and Steven Spielberg's 'The Post' offer a revealing study in directorial contrasts
Matt Damon gets small in Alexander Payne's fascinatingly muddled sci-fi satire 'Downsizing'
---
Get the Indie Focus newsletter, Mark Olsen's weekly guide to the world of cinema.
You may occasionally receive promotional content from the Los Angeles Times.