Review: In 'The Price of Free,' Kailash Satyarthi's white-knuckle rescues of child laborers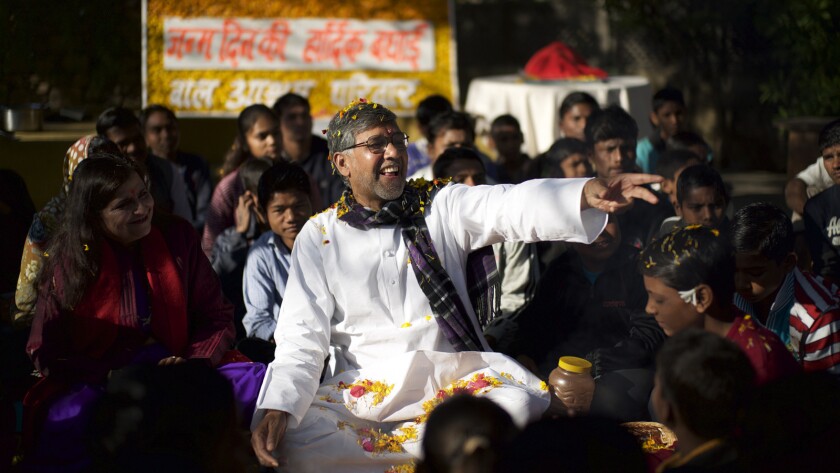 If Paul Greengrass hasn't thought about crafting a white-knuckle thriller about crusading Nobel Peace laureate Kailash Satyarthi, the opening of Derek Doneen's documentary "The Price of Free" — a tense raid on a New Delhi factory keeping children as work slaves — should alert social-issue directors and moviegoers everywhere how urgent and dangerous Satyarthi's mission can be.
But also how rewarding and cathartic it is, even if the pained looks on freed children suggest lives that have known mostly need, abuse, servitude and fear. After the successful raid, in the safety of an ashram affiliated with his rescue efforts, the bespectacled, salt-and-pepper-bearded Satyarthi zeroes in on one terrified freed boy, Karim, and gets him to smile. It feels like light overwhelming darkness.
You quickly sense the optimism that fuels Satyarthi's risk-taking and that sends him around the world to speak for children.
Probably the Earth's foremost advocate against forced child labor, Satyarthi has been at this for nearly 40 years, frequently putting his life on the line — whether from death threats, mob violence or hunger strikes — to combat what he sees as our globalized economy's most wretched consequence: poor children stripped of their rights to, as he lists it, "bread, play, education and love."
The numbers we hear speak to the odds he's up against: More than $100 billion in profits annually from human trafficking. But just as staggering is what Satyarthi's movement has done, freeing more than 85,000 children, reforming India's carpet-making industry and effecting a groundbreaking U.N. resolution on the rights of children, one of the most ratified of world treaties. (The U.S., though, has yet to sign it.)
Doneen's movie, produced by issue-doc stalwart Davis Guggenheim, aims for a mixture of heart-racing, heartbreaking and heartwarming. The search for a distraught father's missing son, Sonu, provides one tense narrative: We see the clandestine efforts of Satyarthi's organization Bachpan Bachao Andolan to infiltrate a notorious trafficker's operation with an undercover employee posing as a buyer. Secretly captured video inside these padlocked hovels reveals heartbreaking scenes of kids making cheap toys, accessories and trinkets to be sold wherever deals are too good to be true.
Simultaneously, we see how the effort to reunite freed children with parents can pose hazards if suspicious characters pose as trusted guardians. One such attempt to collect rescued kids — a smiling village leader ascertained to have ties to a trafficker — is called out in person by Satyarthi.
There are sensitively handled animated sequences too, which dramatize turning-point moments in Satyarthi's life, as well as touching scenes of rescued children getting a taste of the kind of education that could change their lives.
That the movie ultimately succumbs to proselytizing is understandable; shaming us into awareness with a theme song, liberated faces and messaging — "think before you shop," in this case — is "An Inconvenient Truth" impresario Guggenheim's house style. But even without the PSA-infused vibe, "The Price of Free" benefits from a potent mix of compassionate heroism and hard-won hopefulness.
------------
'The Price of Free'
In Hindi and English with English subtitles
Not rated
Running time: 1 hour, 30 minutes
Playing: Starts Nov. 9, Laemmle Noho 7, North Hollywood
See the most-read stories in Entertainment this hour »
---
Inside the business of entertainment
The Wide Shot brings you news, analysis and insights on everything from streaming wars to production — and what it all means for the future.
You may occasionally receive promotional content from the Los Angeles Times.