'Tramps' steals a little romance at the Toronto Film Festival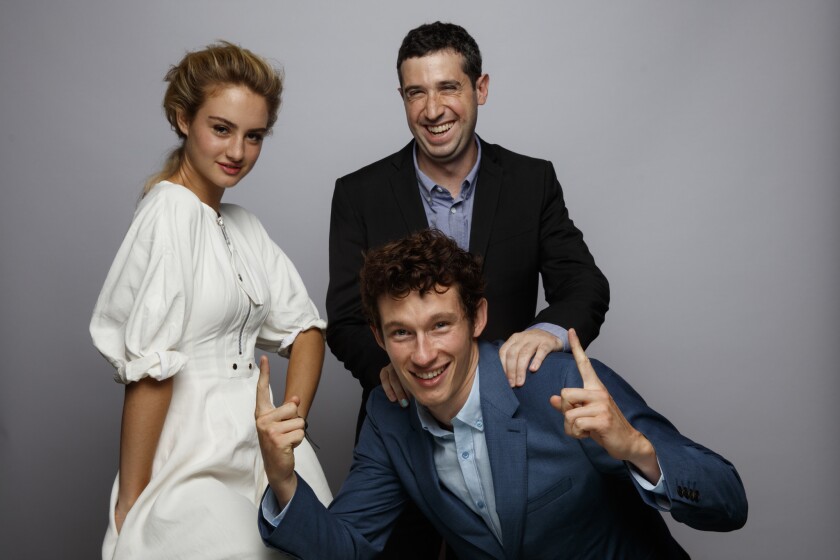 Reporting from Toronto —
Saturday afternoon saw the world premiere of "Tramps" at the Toronto International Film Festival. The movie is the latest from writer-director Adam Leon, whose 2012 debut "Gimme The Loot" won the grand jury prize at the South by Southwest film festival in Austin, Texas, and earned Leon an Independent Spirit award and a Gotham Award.
The new film feels like both an extension and a maturation from "Gimme The Loot," as it has the same rambunctious, roustabout energy and sharp eye for atmosphere and character, but also feels slightly more ruminative and sensitive.
"Tramps" scampers in and around New York City as Danny (Callum Turner) steps in as bagman on some shady exchange of a briefcase when his hustler older brother lands in jail. This puts him in contact with the driver Ellie (Grace Van Patten), but when the hand-off goes awry, the two of them have to get the case back. The movie also features a supporting role by comedian and filmmaker Mike Birbiglia as the sad-sack heavy who sets the deal in motion.
See more coverage from the Toronto Film Festival »
The film playfully flirts with whether or not it wants to be a romance, as Ellie and Danny both seem wary of the idea that someone else may like them for anything other than their immediate use value.
After the film, Leon, Turner, Van Patten and Birbiglia all came out for a Q&A. Leon said that as he and co-writer Jamund Washington were working on the story, "we wanted to make a movie that captures the feeling of falling in love at the movies. So whatever the best of that is for you, it could be 'When Harry Met Sally,' it could be 'His Girl Friday,' whatever that feeling is, but to do it in a way that maybe you hadn't seen it before."
Turner, Van Patten and Birbiglia all said it was a combination of the script, meeting Leon and watching "Gimme The Loot" that made them want to participate. "If you haven't seen it," Birbiglia said of "Loot," "it's on Netflix. I'll give you my password."
We wanted to make a movie that captures the feeling of falling in love at the movies.
— Adam Leon, director and co-writer of 'Tramps'
The British-born Turner learned Polish for the role, in part by working in a hardware store in New York's Greenpoint neighborhood.
"He is actually British, he's not just in character for something else," Leon said after Turner answered a question revealing his true accent.
"People say, 'Oh, you're Polish?' and I'm not. And to me it's like, why would I do what I am?" said Leon. "My first movie is about these graffiti writers and people would say, 'Oh, you write graffiti?,' but for me, it's so interesting to explore a world or to explore something that you don't know anything about and try to get that right. That seems like a fun form of research dress-up."
Just as people in the audience may have been surprised by Turner's accent, Van Patten was asked about appearing before the crowd with a glamorous look of long blond hair that was much different from her dark, shorter hair in the film.
"So, I had super long blond hair for the audition, and Adam asked if I was OK cutting it off to here and dying it black," she said. "That was his vision, and I was so in. And once I did that, it honestly, it put me in the essence of her and really got me into her whole thing quickly."
"It wasn't just that I thought we needed to find a short-haired brunette," added Leon. "I think there was something about the fun of transformation, the fun of making a movie, and I think there is something that I just felt like it would be a good way to find that character, to get outside of yourself. And I thought it could be a cool look.
"And she'd never done that either, which I thought, it just felt right. It's a very, very nerve-wracking day, when you have your beautiful lovely actress with her hair down to here and she's never done anything like that and I'm like, 'black and short. Yes.'"
SIGN UP for the free Indie Focus movies newsletter »
Follow on Twitter: @IndieFocus
ALSO
Q&A: Christopher Guest on 'Mascots,' shoelaces and the high stakes of the lower echelons
Toronto 2016: Ben Wheatley's 'Free Fire' has a fittingly raucous premiere
Toronto 2016: The hypnotic urgency of Betrand Bonello's 'Nocturama'
---
The complete guide to home viewing
Get Screen Gab for weekly recommendations, analysis, interviews and irreverent discussion of the TV and streaming movies everyone's talking about.
You may occasionally receive promotional content from the Los Angeles Times.