Andrew Garfield and David Robert Mitchell crack the code of 'Under the Silver Lake'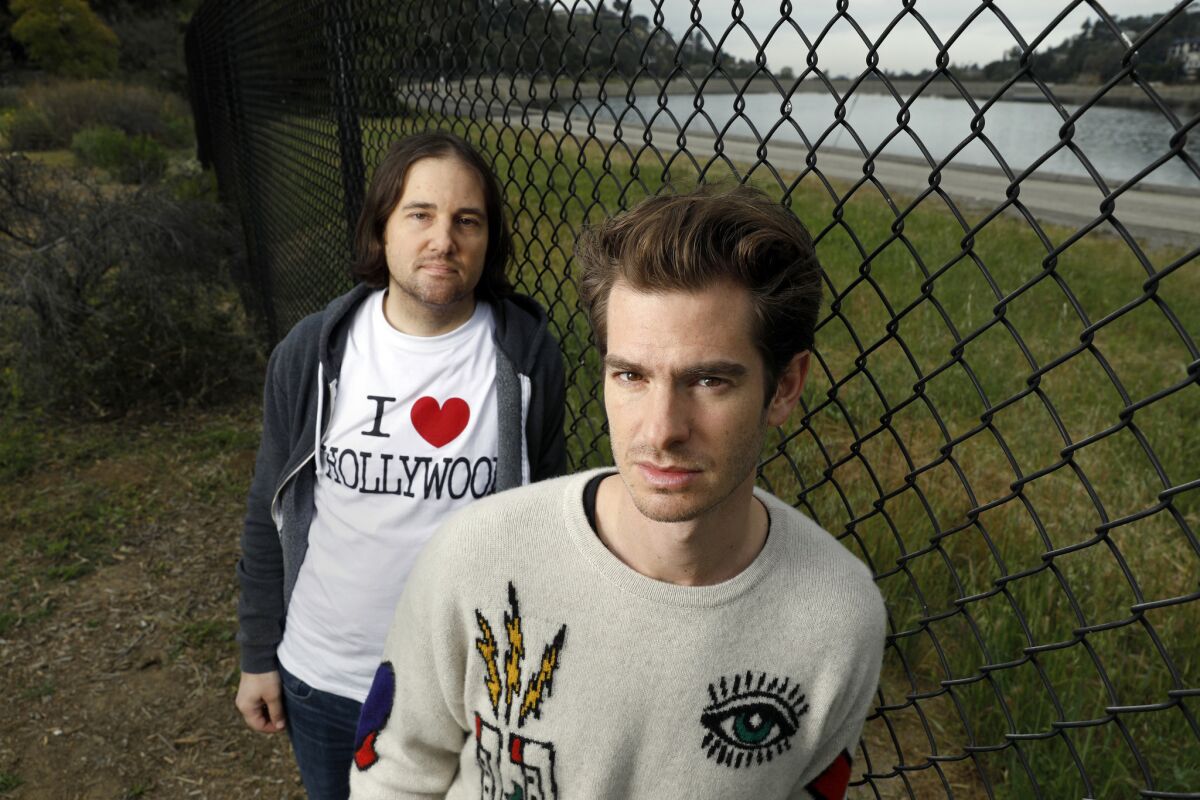 There was a gloom hanging over Los Angeles on a recent morning, a shroud of gray that made everything feel a little less sharply defined. Which made it the ideal time to discuss the hazy, anxious uncertainties of "Under the Silver Lake" with its writer-director David Robert Mitchell and star Andrew Garfield.
In the film, which is now playing in limited release and arrives on digital and VOD platforms on Tuesday, Garfield plays Sam, a young man in Los Angeles who is just drifting through his own life. No sooner has he met Sarah (Riley Keough), a young woman in his apartment complex, than she has abruptly moved out, sending him on a search that comes to include a series of murdered dogs, a disappeared billionaire, a cult-tinged rock group and a web of overlapping conspiracies.
Everything is connected, so nothing is certain.
With its exploration of the underside of Los Angeles and the dreamscape notion of Hollywood — Mitchell said he was inspired by a "feeling of love for the city and also a little bit of contempt" — "Under the Silver Lake" falls in line with other oddball detective yarns set in the City of Angels.
Garfield's Sam can be placed alongside such characters as Elliott Gould's Philip Marlowe in "The Long Goodbye," Jeff Bridges' Jeffrey "The Dude" Lebowski in "The Big Lebowski" and Joaquin Phoenix's Larry "Doc" Sportello in "Inherent Vice" — but it was Robert De Niro's role from the very New York "Taxi Driver" that also provided a key touchstone.
"I liked it because it felt like this kind of West Coast slacker Travis Bickle," said Garfield, "responding to a really unjust, [messed] up world and thinking that he was going to be the one to clean up the streets even though he was totally impotent and powerless. But inside there is that longing. There was that desire to be important, to valued, to be seen and to do something important."
As soon as I land in Los Angeles, the collective unconscious of the city changes my perception of myself, changes my perception of reality.
— actor Andrew Garfield
Like Bickle, the character of Sam is often far from noble and heroic. He seems thoughtless and self-centered, particularly regarding his treatment of women. At one point he brutally assaults some young boys who vandalized his car.
"I think Sam — for all of his darkness — has a good heart and a good soul. And I think he does see how particularly women are treated in Hollywood. I think he wants to remedy that even though he doesn't know how," Garfield said. "Even though he kind of perpetuates the same kind of internalized misogyny, inadvertently and unconsciously. He doesn't realize that he's doing it. I loved that [the role] had all that mess."
One point of contention surrounding "Silver Lake" ever since its premiere at the Cannes Film Festival nearly a year ago has been whether it is critiquing the consuming, lecherous gaze of Sam and its other Hollywood-adjacent male denizens or perpetuating it.
"The entire film is built around his perspective," said Mitchell. "I don't want to suggest something is less real than something else. I wouldn't want to break it down that way. It does an injustice to the movie to some degree. I'll let people decide that for themselves. But overall the entire movie, it's Sam's film ... everything is through his eyes, this is the way he is experiencing it, the way he feels about it. From the first frame to the end. If that helps."
Mitchell added, "The film is poking at some of these questions, these feelings. It's absolutely what the movie is about. He is objectifying women. There may be some feelings of misogyny, and that's a real part of it ... It's not like Sam is just the hero. And I don't mean he is just the villain, either. It's a very layered thing."
REVIEW: Andrew Garfield gets lost in the L.A. noir puzzles of 'Under the Silver Lake' »
Mitchell's previous film, the psycho-sexual horror story "It Follows," premiered to significant acclaim in the Cannes Film Festival's Critics' Week section in 2014 before going on to become a solid commercial success and cultural conversation piece. When "Under the Silver Lake" premiered in Cannes' prestigious main competition last year — as one of only two American titles in a lineup that included the Oscar-nominated "BlacKkKlansman," "Capernaum," "Cold War" and "Shoplifters" — response was more divisive.
Alternately declared "catastrophically boring, callow and indulgent" and "hypnotic, spiraling and deliriously high," the film immediately joined a tradition of maverick entries from younger American filmmakers, such as Sofia Coppola's "Marie Antoinette" and Richard Kelly's "Southland Tales," that seemingly sank in the South of France.
Originally scheduled to open last summer, the movie's release date subsequently changed multiple times post-Cannes (and the near-simultaneous digital release is a relatively recent development). Though a representative of the film's distributor A24 declined to comment on the matter, the company did make a joke in a recent tweet that included the various date changes with a message to "Crack the code."
"My personal preference — to be very honest with you — I would've rather the film came out last summer," said Mitchell with a shrug. "But I have to defer to the distributor. They feel like this is the right time to do it. So I'm excited that it's coming out."
As to whether any changes have been made since Cannes, Mitchell said, "Absolutely not. This is the movie."
With a running time just short of two hours and 20 minutes, "Under the Silver Lake" takes in many locations in Los Angeles, from the youth enclave of Hillhurst Avenue to the Hollywood Forever Cemetery, Griffith Observatory, Echo Park Lake, Sunset Junction, the Last Bookstore, Silver Lake Reservoir and the poolside nightclub atop the Standard Hotel downtown.
You can't pass up making a film about hidden messages and codes and not build a movie with hidden messages and codes. I wouldn't be doing my job.
— writer-director David Robert Mitchell
Garfield, who resides in London, was born in Los Angeles and lived here until he was 3 years old. He recalled how his father, who ran a shipping and moving company, harbored a secret unfulfilled dream of becoming a screenwriter.
"I came up with a very romanticized idea of what it would be, and it lived up to that to a large degree, but then it didn't live up to it to as much of a degree," Garfield said of the city. "As soon as I land in Los Angeles, the collective unconscious of the city changes my perception of myself, changes my perception of reality."
The actor — who has been Academy Award-, Golden Globe- and BAFTA-nominated for his film work and won a Tony for his performance in the stage revival of "Angels in America" — sees his work in "Under the Silver Lake" as distinct.
"My process on this film as an actor was different to anything else I've ever done," Garfield said. "I felt this kind of unconscious connection to Sam whether I liked it or not ... Ultimately my main job was presence — to be on the ride every moment, respond as spontaneously and honestly as possible.
"And I loved it — it was very liberating because of the layer on top of the layer on top of the layer of what is reality and whose perspective are we in and are these things really happening? Who is the dog killer? Am I the dog killer? Does the dog killer exist?
"Take to take I was making a different choice, and then David would choose the one that he felt had all the right flavors — and that was really, really enjoyable. Very liberating and playful and fun. I just had a good time, weirdly, which is odd for me."
And yet, for all of its conspiracies inside of conspiracies and secret clubs inside of secret clubs, perhaps the film also includes unnerving connections to the real world. Online fans have even noticed connections to the cryptic ciphers of California's infamous Zodiac Killer, adding another web of connections to the film's matrix of movies, video games, old magazines, new music and more.
Just don't ask Mitchell to confirm every theory. That would defeat the purpose.
"You can't pass up making a film about hidden messages and codes and not build a movie with hidden messages and codes," said Mitchell. "I wouldn't be doing my job."
SIGN UP for the free Indie Focus movies newsletter »
Follow on Twitter: @IndieFocus
---
Get our L.A. Goes Out newsletter, with the week's best events, to help you explore and experience our city.
You may occasionally receive promotional content from the Los Angeles Times.