Universal rules CinemaCon with 'Jurassic World,' 'Halloween,' Ryan Gosling and Cher
Reporting from Las Vegas —
Each year at CinemaCon, there's an unspoken competition between every movie studio: Who can put on the best show for the movie theater owners? All of the studios handle this question differently. Some bring out dozens of huge celebrities to impress exhibitors. Other companies announce major new projects or release dates. And if all else fails, there's always swag — free promotional T-shirts, tote bags or doughnuts to excite the crowd.
On the third day of the conference, however — with five movie distributors still yet to put on their presentations — Universal Pictures set the bar pretty high: Cher sang "Fernando."
Top that.
While the reigning queen of Las Vegas, and the star of the upcoming Abba musical sequel "Mamma Mia! Here We Go Again," may have been the highlight of Universal's Wednesday display, the studio showed footage from a dozen of its upcoming films. Here are the five you need to know about.
1.) "First Man"
OK, I know what you're thinking — a Ryan Gosling movie, Amy? Obvious choice. Valid point. But the trailer for this December release from Oscar winner Damien Chazelle impressed most everyone inside the Caesar's Palace Colosseum. The film stars Gosling as Neil Armstrong, following the astronaut's journey during the sixties to become the first man to land on the moon. The film appears to be a comprehensive historical portrait and had a far different visual style than Chazelle's previous two films: the drumming drama "Whiplash" and the musical "La La Land."
"I really wanted to get to know the people who embarked on this unimaginable journey," Chazelle told the crowd. Indeed, it appears the film will take an intimate look at Armstrong's personal life, as the footage began with a scene in which he sings a lullaby to his daughter. Before he departs on his space mission, we see Armstrong sitting at his table — alongside his wife, played by Claire Foy — as his son nervously inquires about the odds his dad will return home following the trip.
"We have real confidence in this mission," Armstrong tells his kid, as if he's sitting at a press conference. "We have every intention of coming back."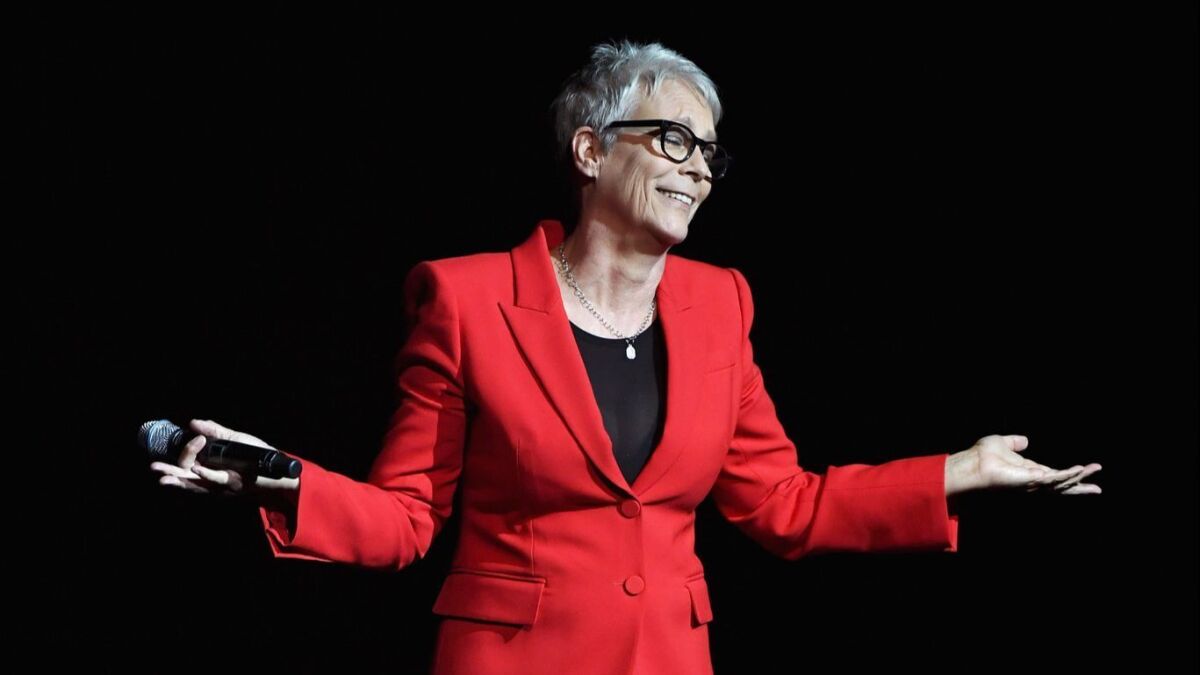 2.) "Halloween"
It's been forty years since Jamie Lee Curtis starred as Laurie Strode in the original "Halloween" — and don't you forget it.
"Except for 'Star Wars,' I can't think of another movie where the same actor is playing the same part 40 years later," said Curtis, now 59. (Perhaps she never saw "Creed." Or "Indiana Jones." But anyway.)
Curtis said she immediately signed up for David Gordon Green's sequel after she heard the conceit — villain Michael Myers has escaped from prison and Laurie, who has been training for years in the event of that very scenario, sets out to kill him.
"This movie is hella scary," she said, noting that the original film gave her her "entire creative life." "I just used a young person word, and I'm almost 60. ...It's gonna scare the living [hell] out of all of you."
Based on the footage, she's definitely right. Expect the mask to return in full force and to show up when you're least expecting it.
3.) "Jurassic World: Fallen Kingdom"
"It's gonna be a good summer for all of us," Chris Pratt joked as he walked on stage to greet movie theater owners.
He wasn't kidding: This weekend, Pratt reprises his role as Star-Lord in "Avengers: Infinity War," which is expected to ultimately rake in over a billion dollars at the box office. And then in June, he'll lead the sequel to 2015's "Jurassic World," a film that grossed $1.6 billion.
The sequel finds Pratt's character, Owen, tasked with taming the last remaining raptor on earth, Blue, with whom he shares a special connection. But when he and his partner (Bryce Dallas Howard) realize they've delivered the raptor to agents with evil intentions, their mission shifts.
Pratt promised the film would be "as epic, as intense as any 'Jurassic,'" while Howard said there would be lots of "the good stuff: dinosaurs eating people."
The preview footage certainly included plenty of that, with creatures bounding on land and emerging from the sea to trap humans in their jaws.
In other words: Pratt will no doubt be having a lucrative — er, "good" — summer.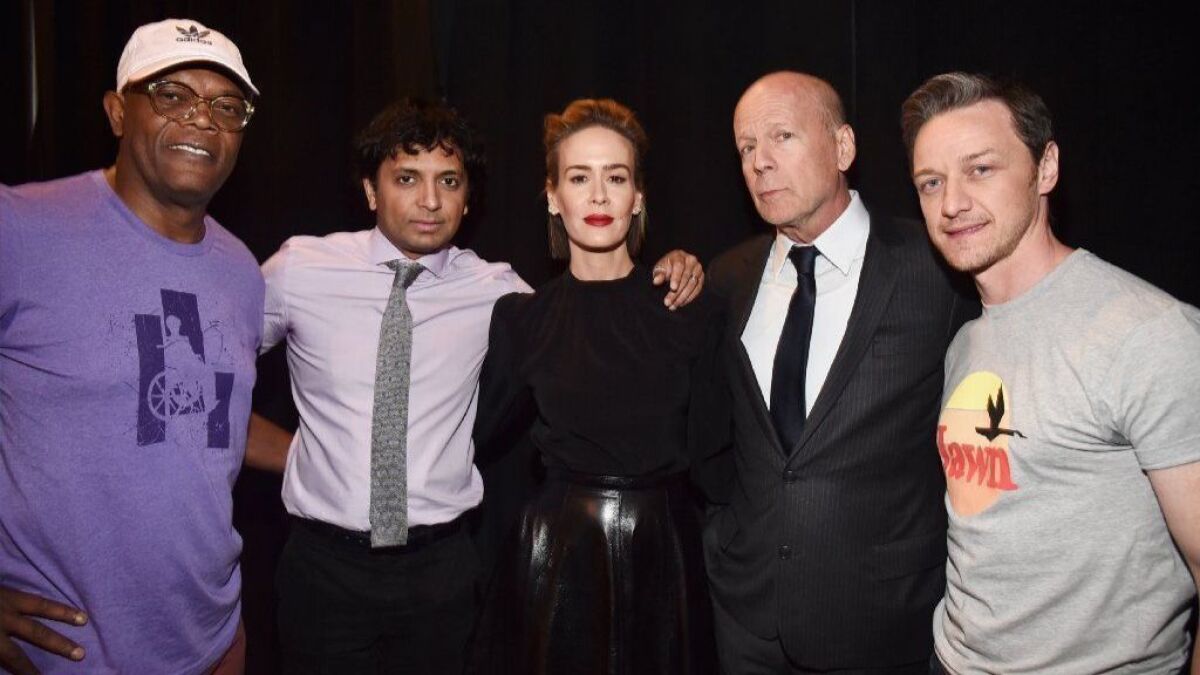 4.) "Glass"
M. Night Shyamalan has long been revered as one most innovative filmmakers working in the horror genre. But Wednesday, the director revealed that his new film, "Glass," will mix the "thriller genre and comic book genre" together to create the "first truly grounded comic book movie."
The movie brings together iconic characters from two of Shyamalan's films: 2000's "Unbreakable" and 2016's "Split." The union starts off as Bruce Willis' David Dunn, Samuel L. Jackson's Mr. Glass and James McAvoy's multi-personality-disordered villain meet in prison. There, a therapist (Sarah Paulson), who says she specializes in "individuals who believe they are superheroes," interviews the trio.
"Even if you've never seen either of these movies, the premise is pretty thrilling," Paulson told the audience. "What if these superheroes and supervillians are locked up together? I mean, what could go wrong?"
Um, a lot, apparently, as the three leads escape prison and attempt to find their place in the world.
5.) "Mamma Mia! Here We Go Again"
Cue Cher. The diva is a new addition to the "Mamma Mia" universe, which launched ten years ago and became a massive financial success. The sequel finds Sophie (Amanda Seyfried) pregnant and seeking advice from maternal figures. But with her mom (Meryl Streep) gone, she must rely on her mother's friends — and her grandma, played by Cher — to guide her through the challenging time in her life.
"We all hoped that one day they would figure out a way to do a sequel, and they did in a way that I think has all the magic and all the fun of the first one," Seyfried said on stage.
Then, wondering whether the crowd was "freaking out as much as" she was, the actress introduced Cher. A cadre of dancers wandered through the aisles and made their way up to the stage, where mechanical palm fronds retracted to reveal the singer herself. Dressed in gold lamé — and bell-bottoms, obv — she performed "Fernando" on her platform of leaves while the dancers twirled at her feet.
When she was finished, balloons dropped from the ceiling, and without saying a word, she stood and accepted the room's standing ovation.
Follow me on Twitter @AmyKinLA
---
Get the Indie Focus newsletter, Mark Olsen's weekly guide to the world of cinema.
You may occasionally receive promotional content from the Los Angeles Times.