With Claire Foy and an iPhone, post-retirement Steven Soderbergh blazes another trail with 'Unsane'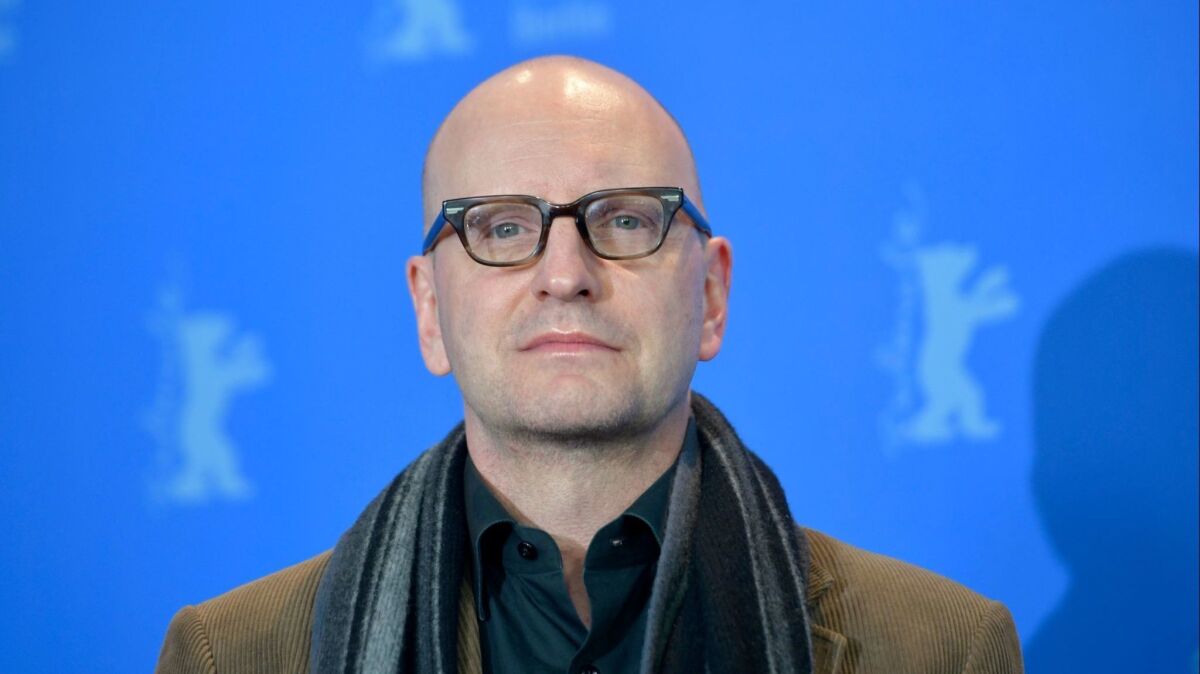 It may not be intentional, but Steven Soderbergh can really make other people feel lazy.
In 2013, he announced his retirement from filmmaking, and promptly began work on "The Knick" for Cinemax; he directed all 20 episodes of the show's critically acclaimed two-season run.
Last year he returned to features with the heist comedy "Logan Lucky." He also recently made "Mosaic," a murder mystery available as a series on HBO and also as a branching narrative via an app.
With retirement now firmly in the rearview mirror, his latest film, "Unsane," opens Friday following a world premiere last month at the Berlin International Film Festival, and finds him changing things up yet again. Shot mostly with an iPhone for a budget of about $1.2 million — Soderbergh noted it's the same amount as his 1989 debut, "Sex, Lies, and Videotape" — the film features "The Crown" star Claire Foy as Sawyer Valentini, a woman who has recently relocated to escape a long-term stalker. After seeing a new therapist she is committed to a mental institution for issues that may or may not be real. The film also stars Joshua Leonard, Juno Temple, Jay Pharaoh and Amy Irving.
Soderbergh recently got on the phone from his office in New York City to talk about "Unsane." The day before, he posted to Twitter that he had already finished shooting his next feature, "High Flying Bird," starring André Holland and Zazie Beetz and written by Tarell Alvin McCraney, as well as completing a first edit of the film. To a reporter's somewhat incredulous response to his prodigious productivity, Soderbergh laughed lightly and asked, "Why not?"
I wanted to ... think differently about all the choices you make when you're directing a movie. I ended up just having to do a Jedi mind trick on myself.
— Steven Soderbergh
You stepped away from filmmaking for a time and after coming back with "The Knick," you've been as productive as ever. What was reignited within you?
Soderbergh: I think I'd made a mistake in associating my frustration over the way the movie business was working with the job of directing. And when I read "The Knick," I realized I wanted to do that and actually went back to work. I was sitting there thinking, "Oh, I actually like this job a lot, it was just the business part of the movie business that was making me crazy." So I became reactivated in a way by doing that show. And I guess that was just a lesson I needed to learn, which was not to conflate the environment with the job.
With regard to "Unsane," did you want to make a movie with a camera phone and found a story to fit or did this story present itself to be told in this way?
Soderbergh: It would be hard to parse all of those elements, because a couple of things happened around the same time that if either of them had happened on their own might not have resulted in "Unsane." But it turned out they did all happen in very close proximity and it began to feel to me like some planets were lining up.
One was the sort of slow burn of me playing around with this camera phone technology for a couple of years — seeing "Tangerine," which I thought was terrific. My wife heard me talking about, "Oh, they're making these sort of Steadicams for phones." So she got me one of those for Christmas and I started monkeying around with that.
And then Jim Greer, who I knew from some other projects that we'd worked on, rang me up and asked if there was anything I had that he could work on. I said, "No, but if you write me a low-budget thriller I'll shoot it this summer." All of these things happened within a week or two. And when the script came in, I thought, "This is a movie that will benefit from this approach. It'll be the opposite of a compromise, it'll actually enhance how I want to do this."
The visual style of the movie is very disorienting, there are certain distortions in the image and also some very unusual camera placement. It's all pretty unnerving.
Soderbergh: I was very anxious to make decisions that I wouldn't normally make. You may have read in the production notes, I had a very brief series of conversations with the DGA [Directors Guild of America] about employing a pseudonym as a director, because I really wanted to annihilate everything that had come before and think differently about all the choices that you make when you're directing a movie. I obviously ended up just having to do a Jedi mind trick on myself. I felt like on this project there is no place for subtlety, there is no place for being dignified, there is no place for being polite. The aesthetic of the movie really needed to be a reaction against the approach I would typically take. To be that 15-year-old filmmaker who isn't bound by any idea of himself.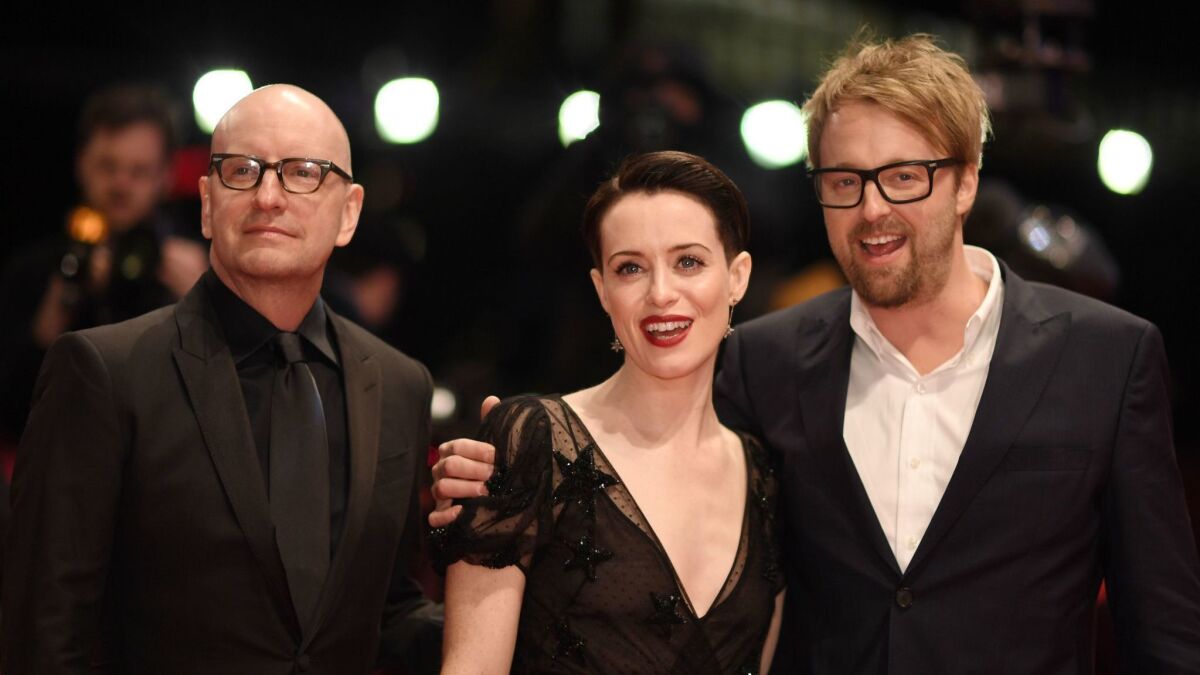 You cast Claire Foy largely after seeing her Golden Globes acceptance speech for "The Crown." What about that moment struck you?
Soderbergh: Well, that's her. That was my first exposure to her, literally. I hadn't even seen her show at that point. And I just thought, "Wow, I like her, whoever that is. She seems really cool." And then I watched the show and thought, "Wow, that is not her at all." This role she is playing in the show is so not her. When I went to meet her in London, that was confirmed — Queen Elizabeth couldn't be further from Claire. Claire is a very sort of gregarious, open, friendly, tactile person. And so it was really fun — like the last time I had to look at "Unsane" for technical reasons, I'll catch myself forgetting that it's her. Her sort of deep dive into that character was so complete, that even when I watch the movie now I forget it's Claire Foy. She just seems like Sawyer.
You seem incredibly open to change, from being an early adopter of digital filmmaking to your recent shifts in storytelling along with experiments in financing and distribution. Why is that?
Soderbergh: Well it seems evolution is inevitable. It's actually unnatural to stay in one place and not evolve. So the question I think for everyone in every context is, "What are the things that should change or are changing and what are the things that shouldn't?" There are some things in the world that are perfect and should remain that way. The London black cab is perfect. And the people that drive them. That doesn't need to be anything other than what it is — it's the perfect version of what it is.
But in creative terms, both regarding material and process, I'm constantly asking myself or the people around me, what should change and what can be retained? What has attained a sort of perfection and should be respected and carried forward? Everything that I've been doing, just on the business side, is an exploration of just that question. What should we keep doing the way we've been doing it and what should we change? And what can we change?
Whether it was being the son of an academic and growing up in an environment in which it was understood that there is always new knowledge to be acquired — and having the people I was sort of mentored by, or started my creative career with, feel similarly — [I believe] there's always something new to learn. And that process matters. Optimization never stops, it's never going to end. You answer one question and that answer poses another question. And that's normal. Whenever I confront a situation in which somebody's response is "because that's the way we've always done it," that activates me.
SIGN UP for the free Indie Focus movies newsletter »
Follow on Twitter: @IndieFocus
Get our L.A. Goes Out newsletter, with the week's best events, to help you explore and experience our city.
You may occasionally receive promotional content from the Los Angeles Times.