Luc Besson was feeling a little discombobulated.
On a recent afternoon, the French director of such films as "La Femme Nikita," "The Fifth Element" and "Lucy" sat in a Los Angeles multiplex, where he had just introduced a preview screening of his latest movie, the gonzo space opera "Valerian and the City of a Thousand Planets." Besson himself was in the midst of hopping around the cities of this planet to promote the film, which opens Friday. Hours earlier, he'd flown in from Paris. The day before, he had been in Shanghai.
"When you're in the rush of finishing a movie, there are so many things to do," he said, picking at a plate of cheese and crackers for sustenance. "It's going to open in 100 territories in the next three weeks, so you have all these things coming from everywhere — in India, the censorship [board] wants to take out one word — and you have to deal constantly."
Besson has never been one to rest in the same place for very long, anyway. In a career stretching more than 30 years, he has kept one foot in Europe and another in Hollywood, zig-zagging unpredictably among genres, from action to sci-fi to comedy to drama to fantasy — often within the same movie. At age 58, he has racked up his share of both hits and duds. But he has never taken a swing quite as big as the one he's taking with "Valerian."
Set in the 28th century, the film centers on a pair of interstellar secret agents named Valerian (Dane DeHaan) and Laureline (Cara Delevingne), who are swept up in a dangerous mission to save a vast space station called Alpha that's home to some 8,000 alien species. As Besson has described it, the film is a kind of cross between "Mr. & Mrs. Smith" and "Raiders of the Lost Ark" in space, but that doesn't capture the eye-popping, often indescribable spectacle he conjures on-screen.
"Valerian" features bizarre aliens of every imaginable form, and even more unimaginable ones, from the ethereal Pearls to the squat, aardvark-like Doghan Daguis, from a fearsome, six-legged monster called Megaptor to a shape-shifting exotic dancer named Bubble, played by pop star Rihanna. It's all nearly psychedelic in its surrealistic strangeness, but for the record, Besson says his creativity is in no way chemically enhanced. ("I think the biggest thing I've ever tried is an aspirin.")
"Valerian" is based on an influential French comic series by Pierre Christin and Jean-Claude Mézières that Besson fell in love with as a boy, and the film essentially represents his effort to use the most advanced tools that 21st-century cinema can offer to blow the mind of his inner kid. "If I was 14 or 18 or 25, 'Valerian' is exactly the film I would want to see," he said. "I would go three times."
You could tell [Besson] was having the time of his life. This was his vision, and he knew exactly what he wanted.
Dane DeHaan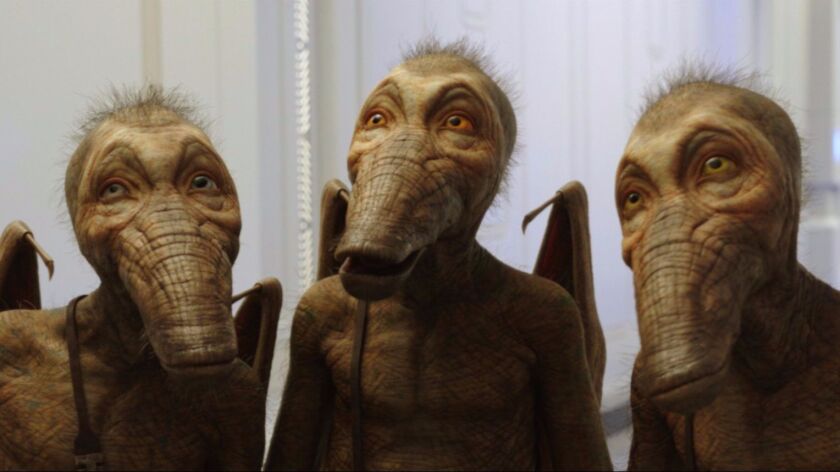 But while Besson's similarly out-there "The Fifth Element" proved a worldwide hit 20 years ago, grossing $264 million, the decades since have at times proved treacherous for big-budget original sci-fi films. Besson is hopeful that "Valerian" can steer clear of the fate that has befallen films like "Jupiter Ascending" and "Tomorrowland" and chart a path closer to that of James Cameron's 2009 juggernaut "Avatar." But with a budget in the neighborhood of $180 million, no major box office stars and virtually no awareness of the source material outside Europe, he's well aware of what he's up against.
"It's not safe," he said. "The audience would rather see 'Blah-Blah-Man 12' because at least they know where they're going. You go to see 'Valerian' and it's a little risky because it's new. But that's also how you get pleasure. It's like food: If you always get the same thing at the restaurant, OK, it's safe, but sometimes you have to say, 'I've never tasted that — let's try it.'"
For the cast of "Valerian," working on the film — with its well over 2,000 visual-effects shots (compared to less than 200 on "The Fifth Element") and extensive use of performance-capture technology — often involved taking a blind leap into Besson's imagination.
One scene, a long action set piece in an immense, inter-dimensional market, particularly confounded DeHaan. "On paper, the sequence is so incredibly complicated — we're jumping through dimensions and all this crazy stuff," the actor said. "Every time Luc explained it to me, I was like, 'Hold on, can you explain that again?' But it was really easy to trust him. You could tell he was having the time of his life. This was his vision, and he knew exactly what he wanted."
Along with its kinetic, sometimes bizarro visual style — what French film critics have called "cinéma du look" — "Valerian" showcases another hallmark of Besson's work in its flinty, deadpan heroine, Laureline, who is as quick with a karate kick as she is with a quip. Actress Scarlett Johansson, who starred in the director's 2014 sci-fi-action hit "Lucy" as a drug mule who develops cognitive superpowers, says that Besson has a special knack for writing these sorts of strong female characters.
"I think it comes from his deep respect for women as givers of life," she said. "Luc often says, 'If we all listened to women' or 'If women were in power.' I'm generalizing, but you don't expect that out of a French auteur — you expect a machismo attitude. But he is not like that at all."
For years, Besson considered "Valerian" all but un-filmable, its intergalactic environments and otherworldly aliens simply too difficult to render on-screen. Finally, about a decade ago, he decided CGI technology had begun to make the challenge feasible and he dived into writing a script and developing the look of Alpha and its inhabitants.
In 2009, with a finished screenplay in hand, he felt ready to go. Then he saw "Avatar" and was stopped dead in his tracks. "After I saw 'Avatar,' I literally threw my script in the garbage," Besson said. "It wasn't good enough."
I had two critics ... One basically saying I'm a piece of … and the other saying I'm a genius. It's very confusing, because I know I'm not one or the other.
Luc Besson
After reworking the script from the ground up, Besson took it to two major studios with which he had relationships. One told him it wouldn't spend more than $136 million on a film that wasn't based on a well-known property, which was a nonstarter for Besson. The other said it already had a big-budget sci-fi film in the works and couldn't take on another one. Besson realized he would have to look elsewhere for backing for his ambitious project.
"It's interesting: When I was a rookie, people from Hollywood were very sweet and always welcomed me — 'Oh, he's this cute guy, this is nice,'" Besson said. "Now, I come with this big thing and you can feel that the weapons are out… The last five or six years, there is less and less creative people in the studios and more and more bankers and financing people and lawyers. It's difficult."
In the end, Besson would pull roughly 90% of the financing for "Valerian" from international partners, with the rest coming from his own film company, EuropaCorp, which he co-founded in 2000. The film is being released theatrically by STX Entertainment, with which EuropaCorp signed a multiyear distribution and marketing agreement this year.
Reviews for "Valerian" have been all over the map, with some critics hailing its dazzling eye candy and fizzy sense of fun and others deeming it an overcooked mess. But Besson is used to such polarized reactions to his work and generally avoids reading reviews altogether.
"About 15 years ago, I had these two critics who were so opposite, one basically saying I'm a piece of … and the other saying I'm a genius," he said. "Honestly, it's very confusing, because I know I'm not one or the other."
He has gotten one piece of feedback for "Valerian" that has meant a great deal to him, though. It came from Cameron — and it was apparently so enthusiastic and supportive that it left Besson at a loss for words. "He wrote me a letter that..." the director said, trailing off. "I can have 1,000 bad critics for one letter like this."
Having already written two potential sequels to "Valerian," Besson would love nothing more than to spend more time in its sumptuous and hopeful universe. But that, of course, will ultimately depend on how the movie performs. Still, despite the pressures, having weathered plenty of ups and downs over the years, navigating all the while by his gut and his creative restlessness, Besson projects a surprising degree of zen.
"I love all of my 17 films," he said. "Some worked more than others, but that's life. It doesn't matter. Even films that didn't work so well — it's funny how people always know how to find them."
He shrugged. "I'm wrong often. But when you love what you're doing, at least you sleep better at night."
Times staff writer Amy Kaufman contributed to this report.
Twitter: @joshrottenberg
ALSO
How Matt Reeves built a better franchise with 'War for the Planet of the Apes'
Disney brings Mary Poppins, Luke Skywalker, the Avengers and Oprah to D23 in display of big-screen might
Christopher Nolan girds for box office battle with his World War II action thriller 'Dunkirk'
---