Jordan Peele, James Ivory win top prizes at Writers Guild of America Awards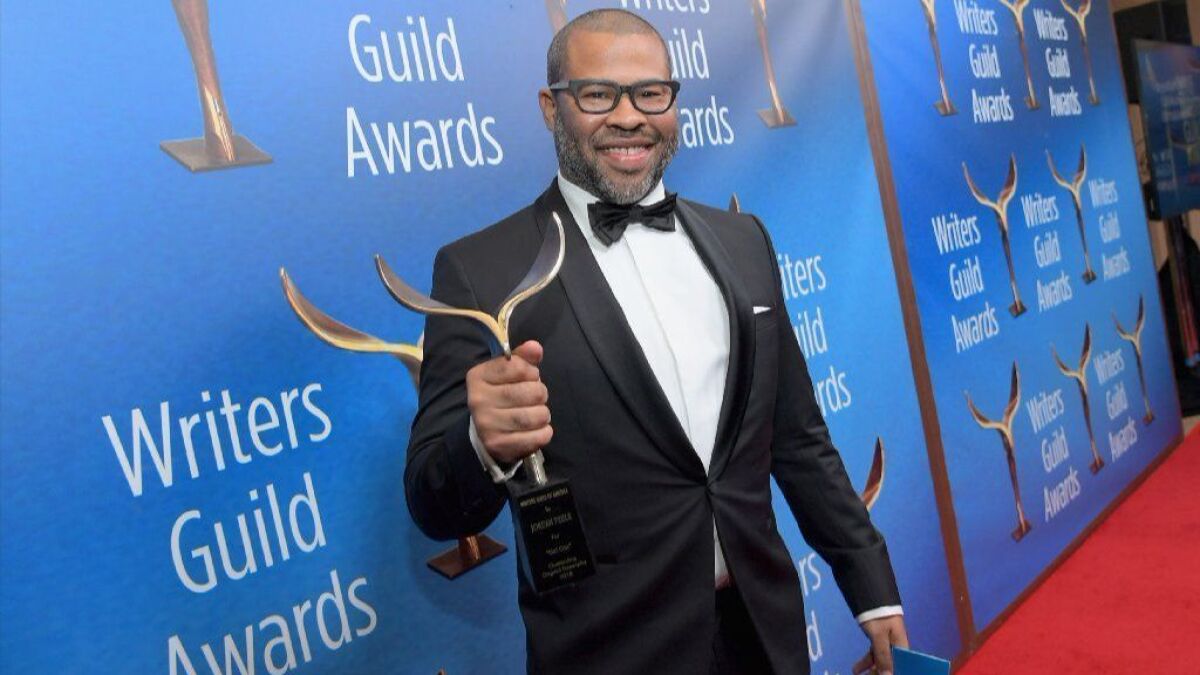 Jordan Peele took home the top prize Sunday evening at the Writers Guild Awards for his racially conscious film "Get Out." He is the second consecutive black writer to win the prize for original screenplay.
The win marks Peele's latest award in a string of prizes, further cementing his place as a strong contender for next month's Academy Awards.
Peele, who said he began writing "Get Out" in 2008, dedicated part of his acceptance speech to other writers.
"This was a passion project. It was something that I put my love into, I put my soul into, so getting this from you means so much," Peele said of the film, a horror-satire exploring an interracial relationship gone wrong. "Keep taking chances, take big risks, put your love into it. It does pay off."
The writer and first-time director beat out other strong contenders "The Shape of Water," "The Big Sick," "Lady Bird" and "I, Tonya." (All but "Tonya" are also up for an Academy Award in the same category, where they are joined by "Three Billboards Outside Ebbing, Missouri," which was not eligible for WGA honors.)
James Ivory, at 89 years old, picked up the adapted screenplay award for "Call Me by Your Name." The venerable filmmaker has not yet won an Oscar despite three prior nominations in the directing category. He and documentary director Agnes Varda, also 89, are the oldest Oscar nominees on record.
Ivory had picked up the USC Libraries Scripter Award the previous evening, a prize for adapted material that honors both the screenwriter and the original source material — in this case, the 2007 novel by André Aciman.
Last year's WGA Award-winning screenplays — "Moonlight" and "Arrival" — wound up competing against each other at the Oscars when "Moonlight" was placed in the adapted category, after qualifying as original for WGA. The film's writer-director Barry Jenkins went on to win the Academy Award, while "Manchester by the Sea" won the Oscar for original screenplay.
In light of the current moment of reckoning for Hollywood men accused of sexual assault, it was unsurprising that the topic of female representation was front and center at the ceremony.
Although the top film prizes went to films with male leads, Brett Morgen won the WGA's documentary screenplay prize for his film "Jane," about the chimpanzee researcher Jane Goodall.
Host and comedian Patton Oswalt opened the show with a not-so-subtle mention of the #MeToo and Times Up movements.
"So nice to be among the least-worst people in Hollywood," he quipped. "Given the current atmosphere, get a female host next year."
WGA West President David Goodman addressed what he called the "long open secret of sexual harassment and abuse" in Hollywood and made a promise that the guild would aggressively enforce harassment laws.
"There have to be real consequences to make men think twice to get into impulses that they know are wrong," Goodman said. "There has to be due process [and] legal ramifications."
Goodman also took a mirror to the guild itself, pointing out the lack of female representation.
"I'm tired of the president of the writer's guild being a white, Jewish man," he said to laughter and applause. "Our board is 50% women, but it's not enough."
In television, Hulu's freshman breakout "The Handmaid's Tale" won a pair of WGA honors, for drama and new series.
"Mostly this goes to Margaret Atwood for her novel. She is the mother of us all," showrunner Bruce Miller said. (The series and Atwood's novel were also winners at the Scripter Awards on Saturday.)
Fittingly, the awards were presented by "trophy maids," two women dressed in costume from the dystopian thriller.
Other TV winners included HBO's "Veep" for comedy series. Showrunner David Mandel addressed Julia Louis-Dreyfus' recent cancer diagnosis, joking, "I think the Golden Globes gave her cancer by not nominating her."
HBO's awards season heavyweight "Big Little Lies" took home the prize for adapted long form, while Lifetime's "Flint" won original long form. In the comedy/variety series categories, HBO's "Last Week Tonight with John Oliver" snagged the prize for talk series, and NBC's "Saturday Night Live" took sketch series.
AMC's "Better Call Saul" and NBC's "Will & Grace" earned episodic honors in the drama and comedy categories, respectively. Netflix's "BoJack Horseman" won for animation.
Following the lead of other politically charged awards shows this season, several speeches centered on the power of the pen to advocate diversity and inclusion.
"We have to combat bigotry, sexism and racism," said Liz Hannah, while accepting the Paul Selvin Award for "The Post" with co-writer Josh Singer. "We have a responsibility not only as artists but as citizens to speak up … it starts with writers."
Screenwriter Alison Cross was presented the Paddy Chayefsky Laurel Award for television writing achievement. One of her scripts, "Serving in Silence: The Margarethe Cammermeyer Story," helped shift opinions on LGBTQ soldiers serving openly in the military.
Cross spoke about the importance of writing in making a difference.
"Now more than ever, we need to keep fighting for the truth," she said. "Word by word, scene by scene, day by day."
Twitter: @makedaeaster
ALSO
Jordan Peele on his Oscar dreams: 'I didn't really believe there was a place for very many black directors'
James Ivory is a three-time Oscar nominee. 'Call Me by Your Name' might bring his fourth
'The Handmaid's Tale' showrunner promises 'real hope and victory' from surprising places in Season 2
---
Get our L.A. Goes Out newsletter, with the week's best events, to help you explore and experience our city.
You may occasionally receive promotional content from the Los Angeles Times.