Zoe Kravitz loves her 'Fantastic Beasts' role but is fed up with Hollywood tokenism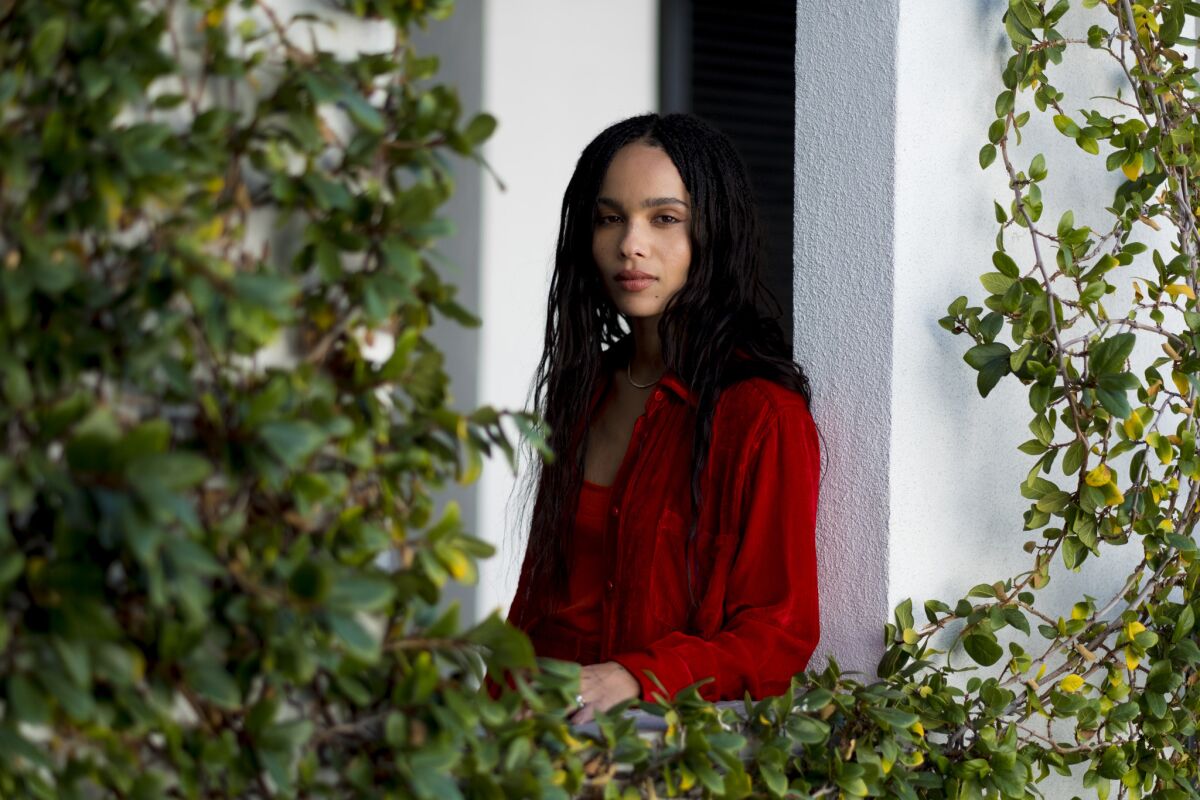 When J.K. Rowling set out to cast the latest installment in the "Harry Potter" film franchise, she instructed the producers to make the project racially diverse. Since its inception in 2001, the big-screen adaptations of the author's bestselling books have been filled with mostly white actors. So for "Fantastic Beasts: The Crimes of Grindelwald" — which hits theaters Nov. 16 — the author-turned-screenwriter decided to give one of the film's biggest roles to a person of color.
Zoe Kravitz, 29, was cast as Leta Lestrange, a pure-blood witch who found solace at Hogwarts alongside a fellow outsider, the creature-loving Newt Scamander (Eddie Redmayne).
The actress, daughter of "The Cosby Show" star Lisa Bonet and musician Lenny Kravitz, has steadily made a name for herself in Hollywood over the past decade. She's played supporting roles in big action franchises "X-Men" and "Divergent," and last year landed a major gig opposite Reese Witherspoon and Nicole Kidman on HBO's "Big Little Lies." She recently wrapped the second season of the Emmy-winning program and is working on a television adaption of "High Fidelity" for Disney's new streaming service, in which she will play the lead.
In other words: Why are we still bringing up her parents?
"I feel like I've proven I'm here to stay, and I've worked hard to be here," she says. "For a very long time, I felt like I had to avoid talking about them because I wanted people to see me as an individual. It's nice that I don't feel like I have to stray away from that now, because it's nice to talk about them. I love them."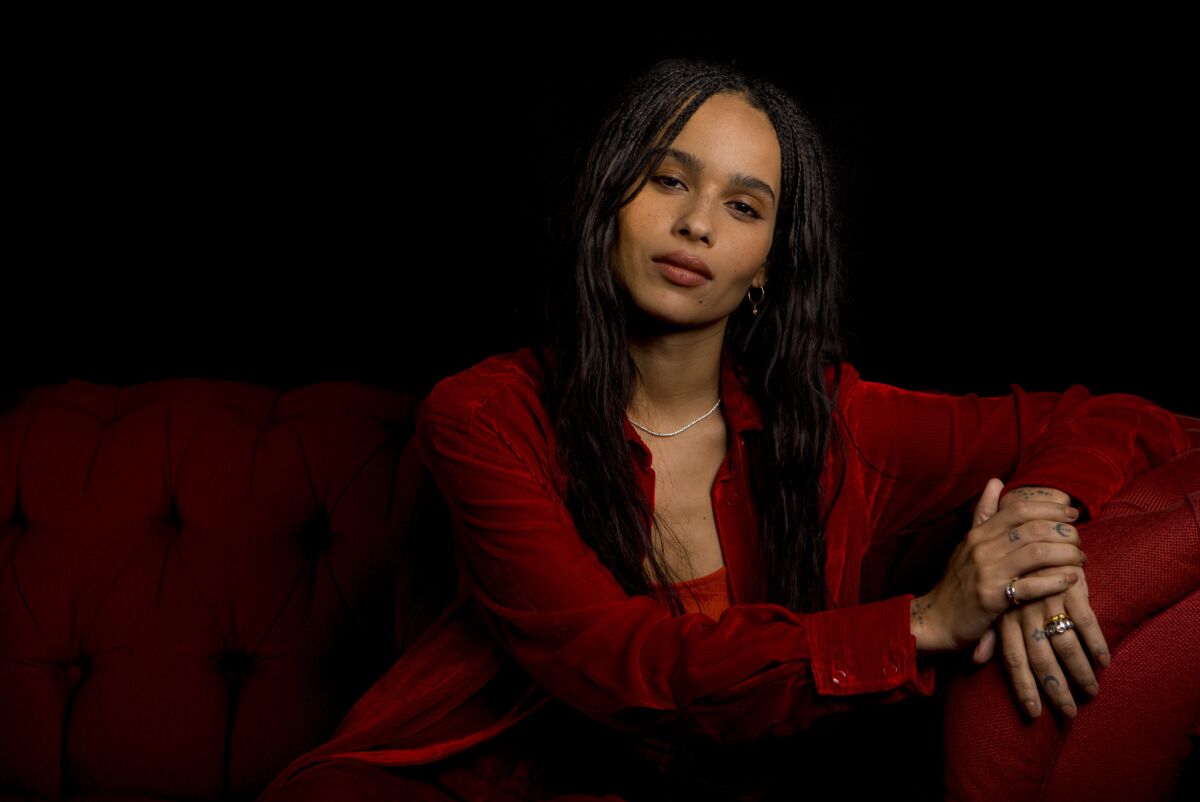 I wouldn't work with Woody Allen, but I also don't think Woody Allen would want to have me ... because he doesn't put people of color in his films.
— Zoe Kravitz
How important was it to you that as Leta Lestrange you have the biggest role for a person of color in the history of the "Harry Potter" franchise?
I thought it was really important. And this takes places in the 1920s, so what was it like to be a person of color in this world at this time? She might have been one of the only children of color in Hogwarts at that time. She's an outcast and whether it's spoken about or not, I associate that, of course, partly with what she looks like.
I think they were mostly only auditioning women of color for this role. I know it was an important thing for Jo. She was very aware of what she was doing.
This is the next big action franchise you've done after the "Divergent" series. Does it feel different?
I think these movies are better. So that makes a difference. What's so great is I don't have to pretend that it's good. What Jo does is she's created this fantastical world, but her characters really are based in truth and they're interesting and they're complicated. She's not just trying to razzle-dazzle the audience with special effects. There's a message and there's humanity. It's great, because I'm not just being told where to stand.
Some fans see the villainous Grindelwald — who is played by Johnny Depp — as a metaphor for President Trump. Do you buy that?
I think it could be Trump. I think it could be Hitler. … I think this film is incredibly timely and relevant, and what's so interesting to me about Grindelwald and how Johnny plays him is there's something seductive about what he's saying. It's not just, 'OK, that's the bad guy.' You want to lean in and listen to him, and everyone you're meeting in the film has to make a choice about who they are and what they believe in. I think we are in that time right now in the world where people need to make a choice. Show up, vote, speak to your family members about white supremacy. I hope that people will leave the film feeling encouraged to make the decisions to take that leap.
You campaigned for Bernie Sanders in 2016. Do you consider yourself a political activist?
I don't really think I'm an activist. I think there are real activists out there who dedicate their lives and are out there on the ground. I try to use my platform to talk about the things that I care about, but I don't want to act like posting things on Instagram makes me an activist. …
I don't know why I wouldn't [share my beliefs]. I guess the reason to not do that is to appeal to everybody, but I don't have that desire. That's not what I'm here for. I'm not here to be liked by everybody. I'm not here to be a poster child for a pleasant woman.
You just finished filming the second season of "Big Little Lies." Did you have more input on your character this time around?
The one thing that didn't make it into the show, which I wanted to talk about more, was being a woman of color living in a white community. The fact that no one mentions she's black or gossips about a white guy being married to someone black — I wanted to explore that a little bit more, but no one listened to me. The powers that be didn't understand why it was so important. I think some people can't relate to why those details matter, and so they just don't get it.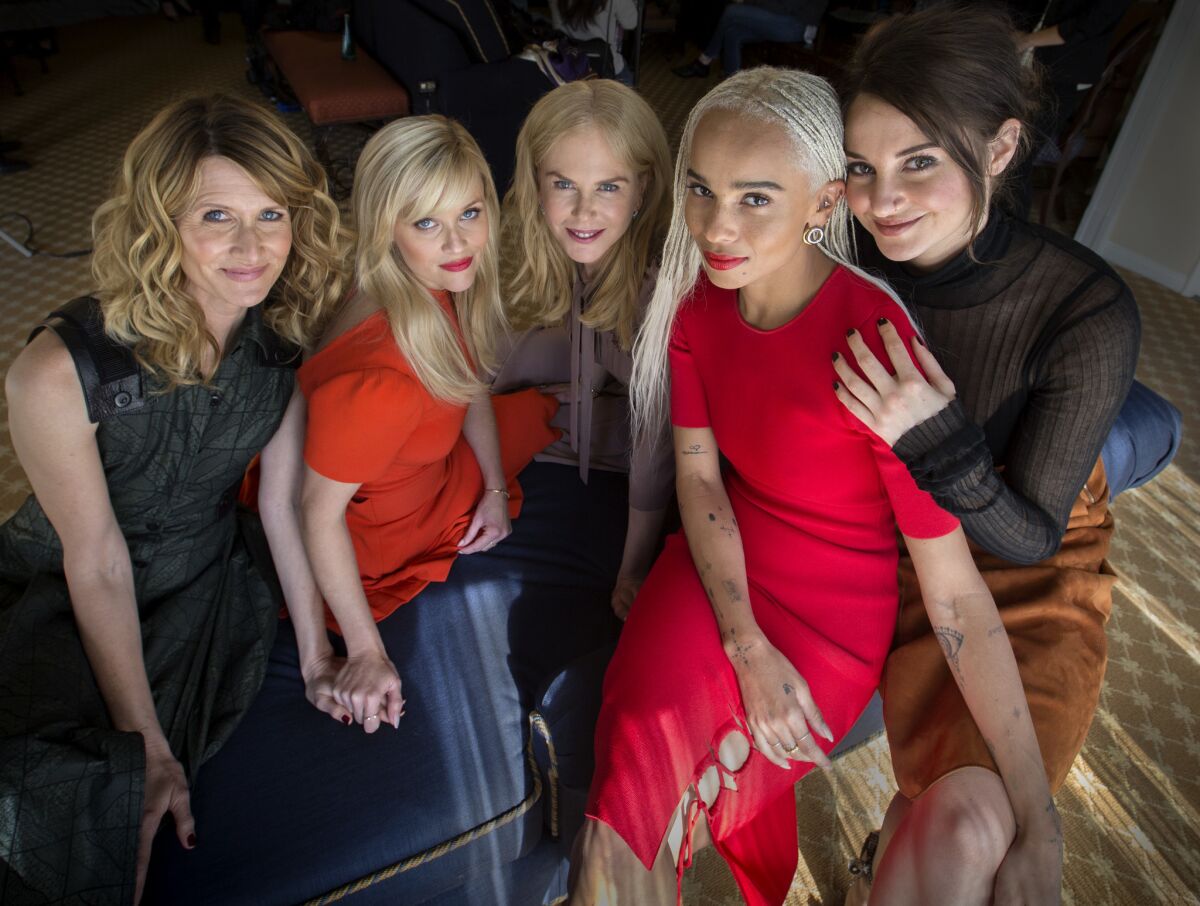 There are real activists out there...I don't want to act like posting things on Instagram makes me an activist.
— Zoe Kravitz
There's been a huge push for diversity in film across the industry over the past few years. Have you seen that reflected in the work you're offered?
Now people are so conscious about diversity, and I don't want a movie set to look like a United Colors of Benetton ad. You want it to look legitimate. You don't want it to look calculated, and you also don't want to feel like, "OK, we need an Asian guy here" — you don't want to feel like a token person or you're checking a box, so it is difficult to make it feel authentic and real. My biggest pet peeve is that most scripts put the nationality or the color of the person's skin — except for the Caucasian characters. So they'll put, like, "Jessica, 24, attitude," and two pages down you'll read "Simon, African American." And I'll be like, "So I am supposed to know that the story is about a white person and then we put people of color in certain places to create accents?" It's upsetting.
Did you have any feelings about being in a film with Depp?
Yeah, I was stoked. I'm a fan.
There was some backlash when he was cast in this film because his ex-wife, Amber Heard, accused him of domestic abuse — charges he has denied. Did that concern you?
I don't think that's any of my business. And I also believe in second chances for certain people, depending on what we're talking about. But I'm not the head of casting at Warner Bros. I'm here to do my job; he's here to do his job. I wouldn't work with Woody Allen, but I also don't think Woody Allen would want to have me in his films because he doesn't put people of color in his films and they're all set in New York City. The melting pot of the world, and there's no black people.
I think [Grindelwald] could be Trump. I think [he] could be Hitler. ... I think this film is incredibly timely and relevant.
— Zoe Kravitz
As an artist, how do you vet who you'll work with?
I think it's a case by case thing, and I think it should be a case by case thing. Forgiveness should be a part of this movement, depending again on who we're talking about. Someone like Harvey Weinstein, I think he's past the point of forgiveness.
Have you attended any Time's Up meetings?
Yes. It was cool to see people be active, and to sit down with people who I've seen in a room at a party and never had an actual conversation with. … It's hard to figure out, "OK, is this just a place for us to vent, or are we going to do something here?" But every big movement does start with conversation. And I was there to listen, observe and say something if I felt that I needed to. It's just nice to check in with people who share the same experiences as you — so you don't feel alone. I think a lot of women felt like they were the only person experiencing this thing.
You recently revealed you were sexually harassed by a director on set when you were around 19. Why did you choose not to disclose the filmmaker's name?
It's not gonna do anything for me. That person knows who they are, I would hope. I just don't feel the need. They have a family. The greatest thing about this movement is we're talking about it, so I hope that other young actresses know they have the support and they can say "no." If this movement had been going on then, I would have had the strength to be vocal, call my agent — do all the things I didn't do. I hope that people hear these stories, even if they don't know who we're talking about specifically, and know that they have a support system.
You recently posed nude on the cover of Rolling Stone as an homage to a cover your mother did in 1988. You've talked about how you struggled with eating disorders as a teenager. How did you learn to love your body?
I've been trying to take care of myself and eat when I want to eat and work out and not obsess about my weight. We also live in a time when we see a lot of examples of fake boobs, fake butts, fake everything — and this is what I look like. It's nice to be comfortable in my own skin. At some point, I just realized that [eating disorders] were taking a toll on my physical body. And it takes a lot of energy, that self-hatred. I would physically get tired or get sick. I could be putting this energy into something so much better than hating myself. The truth is, I do have my health, and I should embrace that.
You've played many supporting roles, are you itching to be cast as the lead in a movie?
It's gonna happen when it's supposed to happen. I feel myself growing as an actor every job I do. If I think about where I was 10 years ago, I don't think I was ready to carry a film then. I think I'm getting to that place, and it'll be exciting when it does happen. Feeling comfortable in my own skin is going to help me carry my own film, and it's been a journey to get to that place.
ALSO
At 21, Bella Thorne has 4 movies out, 18 million Instagram followers, 19 cats and the will to survive
Actress Sarah Scott reported sexual misconduct on a Hollywood set and found a difficult path to a resolution
How did Donald Trump become president? A slew of new documentaries tackle the question
Johnny Depp surprises fans, and Zoe Kravitz calls for Trump's impeachment at 'Fantastic Beasts' Comic-Con panel
Follow me on Twitter @AmyKinLA
---
Get our L.A. Goes Out newsletter, with the week's best events, to help you explore and experience our city.
You may occasionally receive promotional content from the Los Angeles Times.