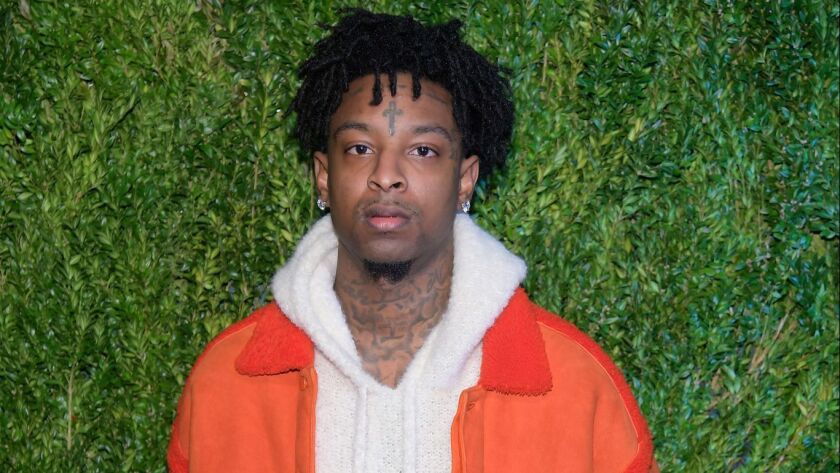 A lawyer for 21 Savage released a statement Monday afternoon in the wake of the rapper's arrest and detainment by U.S. Immigration and Customs Enforcement officials on Sunday.
According to lawyer Charles H. Kuck, ICE refuses to release Savage, born Sha Yaa Bin Abraham-Joseph, on bond of any amount, even though, Kuck said, the performer has a pending U-visa application, which is set aside for victims of crime, and has relief from removal available to him.
"ICE has not charged Mr. Abraham-Joseph with any crime," Kuck said in a statement. "As a minor, his family overstayed their work visas, and he, like almost 2 million other children, was left without legal status through no fault of his own. This is a civil law violation, and the continued detention of Mr. Abraham-Joseph serves no other purpose than to unnecessarily punish him and try to intimidate him into giving up his right to fight to remain in the United States."
Savage, who has lived in Atlanta since he was about 12, has three children who are U.S. citizens. However, in a statement released Sunday when he was detained, ICE officials are saying the rapper is a U.K. citizen.
"Mr. Abraham-Joseph is presently in ICE custody in Georgia and has been placed into removal proceedings before the federal immigration courts," ICE said in a statement. "ICE will now await the outcome of his case before a federal immigration judge to determine future actions."
But, Kuck said, "We and he will fight for his release, for his family and his right to remain in our country."
The 26-year-old rapper is currently being held "based on incorrect information about prior criminal charges" but has never hid his immigration status from the U.S. government, Kuck alleges.
Fans and some fellow celebrities on Twitter were upset about Savage's arrest.
A coalition was launched Sunday in support of Savage. The organization Black Lives Matter drafted a #Free21Savage petition to stop his deportation. The effort was joined by several other immigrant rights and civil rights organizations, including UndocuBlack, Color Of Change and Define American.
"The hundreds of ICE assaults and detention of black immigrants is an endemic in the United States and is too often carried out with the assistance of local law enforcement," the petition reads. "The circumstances of Mr. Abraham-Joseph's detention stand as a testament to the consistent and historically underreported harassment and targeting of black immigrants. The U.S.'s violent history of criminalizing blackness intersects with its deadly legacy of detaining and deporting black and brown immigrants. This needs to stop today."
follow me on twitter @sonaiyak
---