The Emmys are 70 this year: We look back at the awards ceremony's history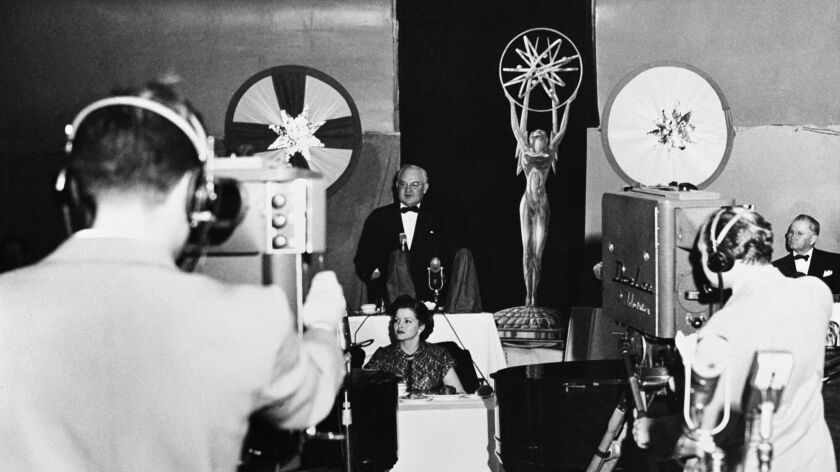 Talk about a long-running show. The Emmy Awards turn 70 this year and for the occasion we look back at some of the memorable moments and personalities over the years at the Emmys.
1949 The Ike, er, Immy, er, Emmy Awards are born After initially resisting the idea of awards, television academy founder Sid Cassyd realized their public-relations value. He suggested they be named for the iconoscope tube, but membershipdidn't like "Ike" because it was too reminiscent of Gen. Dwight D. Eisenhower. Academy president Harry Lubcke tossed out "Immy" to honor the image-orthicon camera – I mean, of course, right? As the statue represented the female, winged "muse of art uplifting the electron of science," according to Emmys.com, "Immy" was changed to the more feminine-sounding "Emmy."
1949 The first Emmy Awards are given out at the Hollywood Athletic Club. Only six awards were bestowed, each honoring Los Angeles-area shows. "Pantomime Quiz" was named most popular television program.
1951 Meet Betty White The enduring favorite received her first Primetime Emmy nomination, as lead actress, for "Life With Elizabeth." She first won 24 years later, as supporting actress in a comedy series, for "The Mary Tyler Moore Show." In six different decades, she has been nominated 21 times overall (with five wins), plus two more for Daytime Emmys (one win), and once for a Regional Emmy, which she won in 1952, as personality for "Life With Elizabeth."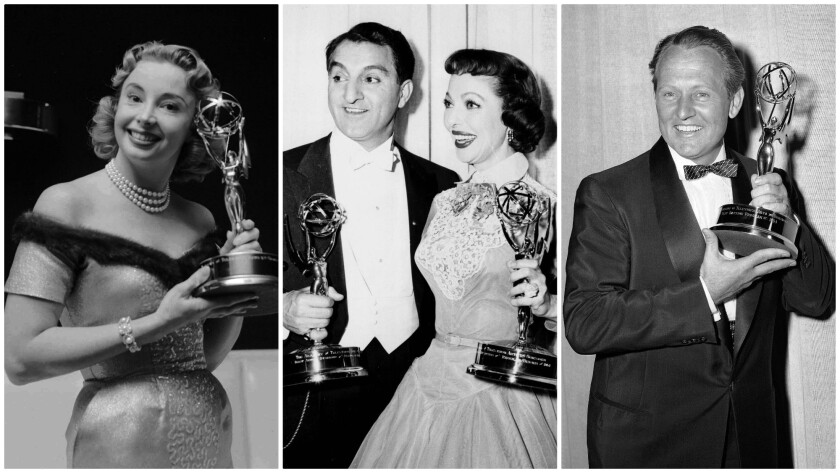 1955 Live from the Moulin Rouge, it's the Emmy Awards The first nationally televised ceremony was held at the Los Angeles nightclub and hosted by Steve Allen. It was broadcast on NBC. Major winners included "Dragnet" (mystery or intrigue series), "Disneyland" (variety series including musical varieties) and performers including Danny Thomas and Loretta Young. Perry Como and Dinah Shore were named as the top singers."
1956 First men (and woman) Harry Belafonte and Sammy Davis, Jr. became the first African Americans to be nominated for Primetime Emmys. Belafonte became the first winner in 1960. Ethel Waters was the first African American woman to win, in 1962. Hayma "Screech" Washington, the African American with the most wins (seven, for producing "The Amazing Race"), was elected head of the television academy in 2016.
1972 Cloris supreme Cloris Leachman received her first nomination, as a supporting actress, on "The Mary Tyler Moore Show." She has gone on to pick up a total of 22 noms and a record eight wins for acting.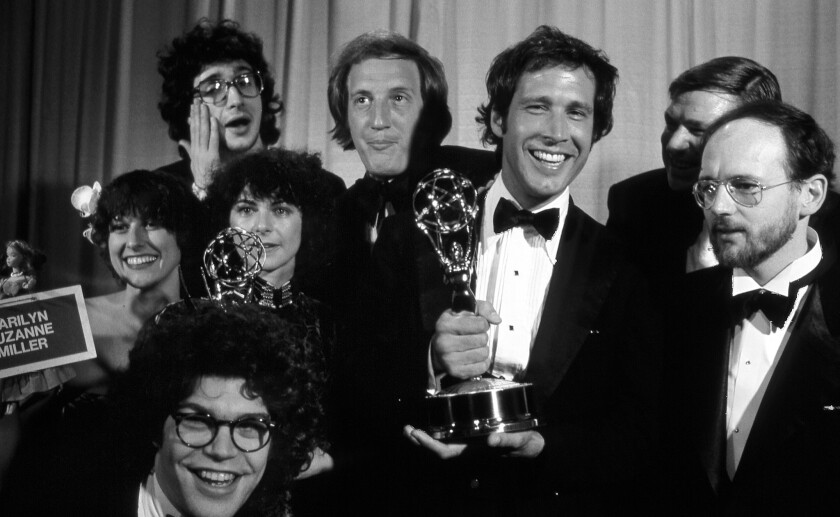 1976 Extremely ready for prime time "Saturday Night Live" collected numerous awards for its freshman season, including for variety, music or comedy Series. After a relative drought through the 1980s and the '90s, it roared back to dominance in the 2010s. It's now the most-awarded program in Emmys history, with 61 wins (according to Emmys.com).
FULL COVERAGE: 2018 Emmy Awards »
1986 Peak performance The ceremony attracted its high-water mark audience: 35.8 million viewers, according to statistics from Nielsen. Shelley Long and David Letterman were the co-hosts; among the big winners were "The Golden Girls" and "Cagney & Lacey."
1999 HBO hits the high note HBO's "The Sopranos" became the first cable-network series to get a best drama nomination and earned more noms overall (16) than any other show. Very soon, HBO would begin a 17-year streak as the most-nominated network.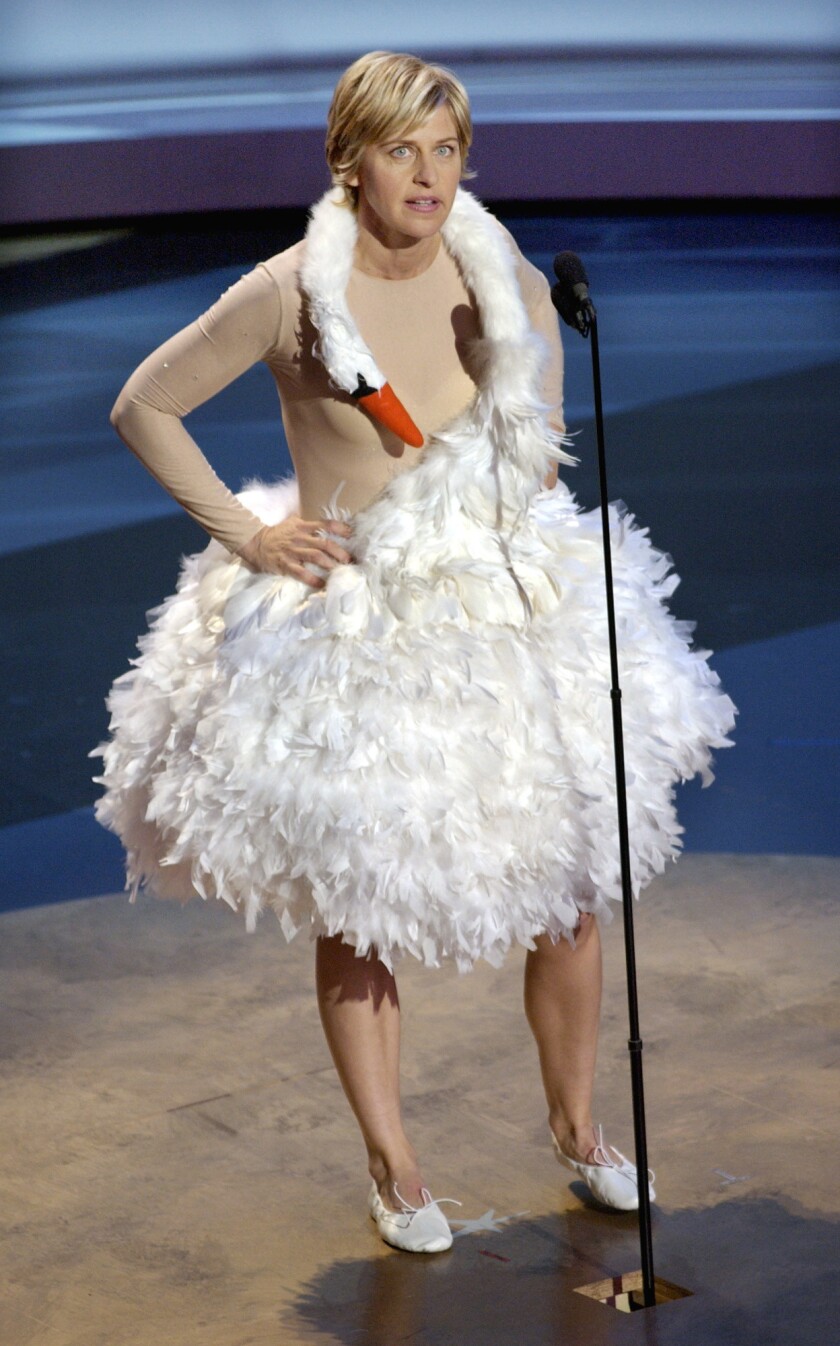 2001 A memorable post-9/11 ceremony The ceremony was cancelled twice, finally airing Nov. 4. Host Ellen DeGeneres was introduced by Walter Cronkite via recorded message. DeGeneres got a lot of mileage out of the awkwardness of the industry throwing a party for itself at that time, with lines such as, "[the terrorists] can't take away our creativity, our striving for excellence, our joy. Only network executives can do that." She added, "I'm in a unique position as host because, think about it: What would bug the Taliban more than seeing a gay woman in a suit surrounded by Jews?"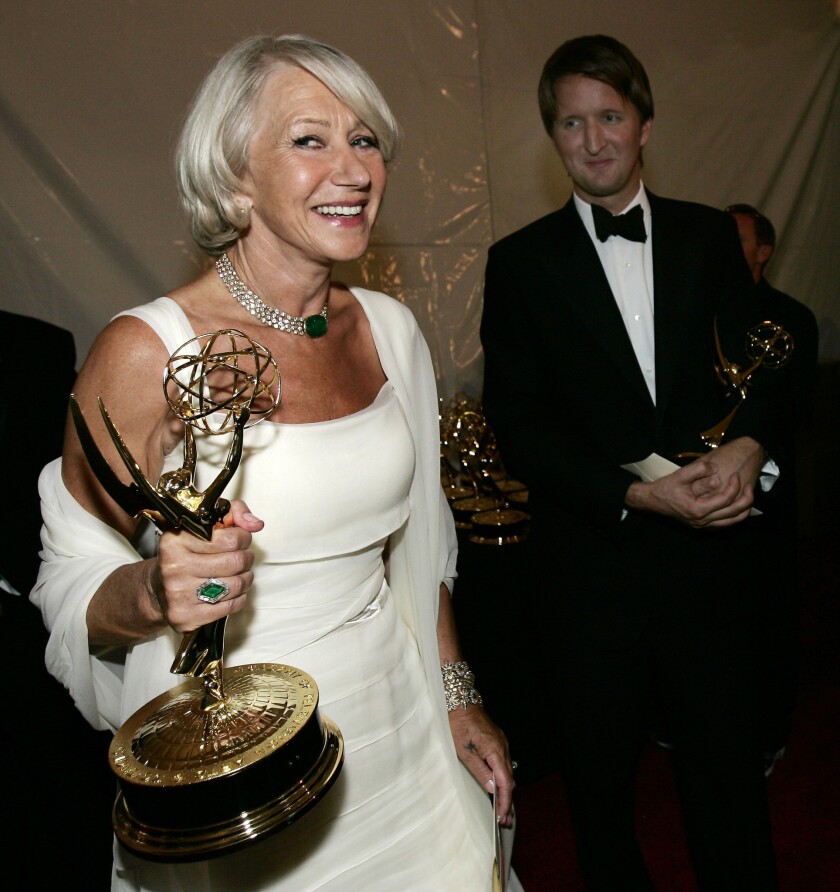 2006 She's Helen Mirren; she can say what she likes The everything-winning British Dame accepted her third Emmy (out of four, this one for "Elizabeth I") by using language that would get most Yanks, well, yanked. Multiple presenters were so tickled, they revived her words later in the broadcast.
2006 When fake news was fun Jon Stewart and Stephen Colbert presented a reality-TV award in character as, well, Jon Stewart and Stephen Colbert. No matter how much fake outrage was part of their shtick, the truth behind it was bound to come out by the end.
2008 Five is definitely a crowd For some reason, the academy chose five unscripted television hosts (all nominees in the reality-TV category) for the ceremony: Tom Bergeron, Heidi Klum, Howie Mandel, Ryan Seacrest, and Jeff Probst. Reality set in as the show scored its then-lowest viewership total (12.2 million) and was excoriated by critics. : BTW some guy named Neil Patrick Harris co-hosted the (non-broadcast) Creative Arts Emmys days before.
2011 Solidarity and parody live All the nominees for lead actress in a comedy lampooned the pageantry and competition aspects of the show by uniting on stage like Miss America finalists. It was an impressive bit by an even more impressive group of nominees.
2011 Winter is here "Game of Thrones" began its reign of terror with four nominations and one win (for Peter Dinklage's supporting work). It has twice won a record 12 awards in a single season, and tied the Martin Scorsese-directed "Boardwalk Empire" pilot for most awards won by a single episode (six, for "Battle of the Bastards," 2016). The show is the most-nominated program this year, with 22 nods.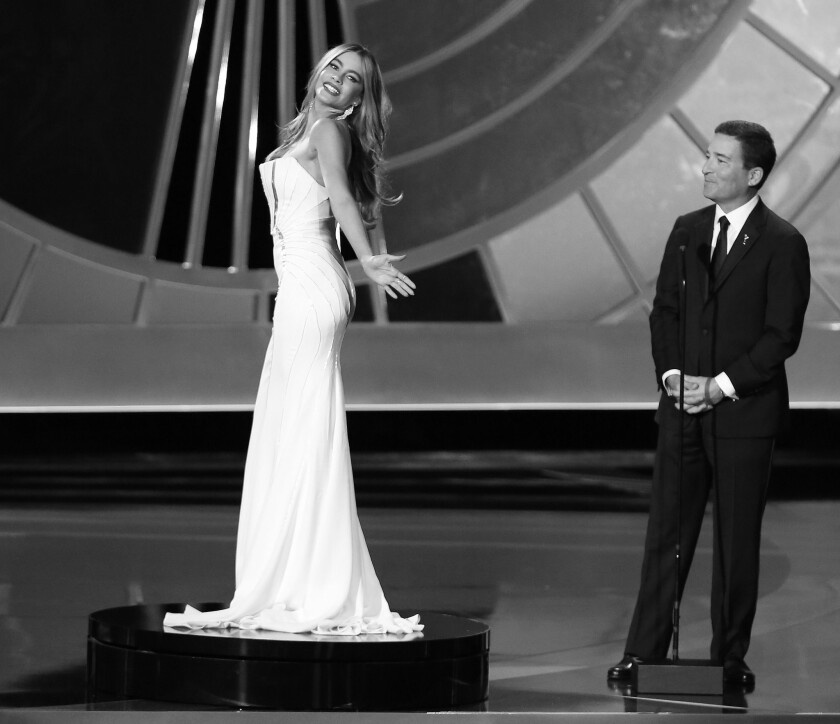 2014 A diversity speech during blatant objectification Someone thought it would be a good idea for television academy chairman and CEO Bruce Rosenblum to talk about the importance of diversity in television while putting Sofia Vergara on a lazy Susan for the world to ogle beside him. Seriously.
2016 A title not enthusiastically won The 68th Annual Primetime Awards fell to only 11.3 million viewers, its lowest recorded audience. The following year showed little improvement: 11.4 million viewers.
BTW Primetime winners, you can leave your checkbooks at home For Daytime Emmy categories, there is one statuette awarded gratis per category, according to a Daytime Emmy spokesperson. Additional winners in each category are charged for extra statuettes.
---
Inside the business of entertainment
The Wide Shot brings you news, analysis and insights on everything from streaming wars to production — and what it all means for the future.
You may occasionally receive promotional content from the Los Angeles Times.