Georgia governor postpones L.A. visit amid Hollywood clash over abortion law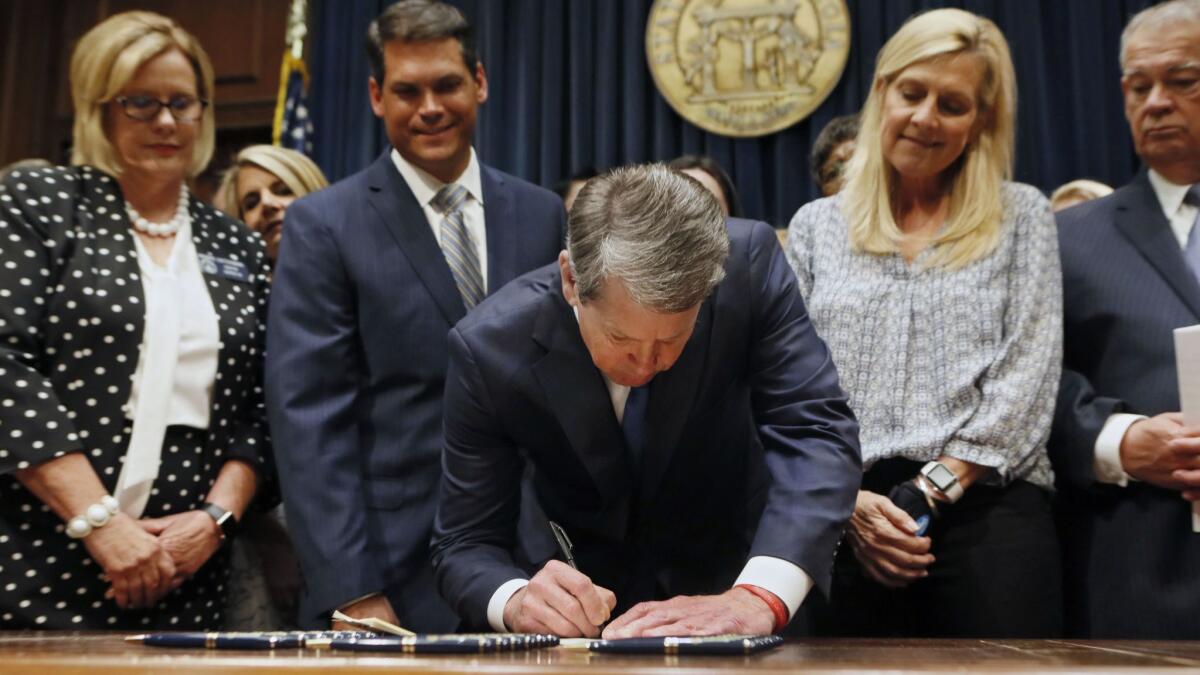 Georgia Gov. Brian Kemp has postponed a trip to Los Angeles next week amid mounting criticism over the state's controversial abortion bill that he signed into law last week.
But Kemp has plans for a later visit. "We have confirmed a date to go out to L.A. this fall," Kemp's spokesman, Cody Hall, said in a statement to The Times on Tuesday. At next week's visit in L.A., Kemp had planned to tout his state's ties to Hollywood productions.
"In the meantime, the Governor will be touring production studios in GA to meet with employees and reaffirm his commitment to the film industry in our state," Hall said.
Dear Hollywood: Georgia's new abortion law means you have to stop shooting there. Now »
The Republican governor has come under fire for HB 481, the "heartbeat" law criminalizing abortions in the state once a fetal heartbeat is detected (usually at about six weeks).
In response, Hollywood players have called for a boycott of Georgia's booming production industry, which is the top filming location in the United States and has hosted films and TV shows that include "The Walking Dead," "Ozark" and "Avengers" films. But the Motion Picture Assn. of America, the industry's trade group, has said only that it is monitoring the situation.
Georgia abortion law: All the films and TV shows that shoot in the state »
Female film workers in Georgia this week urged Hollywood not to boycott their state because doing so would threaten their livelihoods.
Meanwhile, Stacey Abrams, who ran against Kemp in November's contested gubernatorial race, took a different approach to the boycotts Tuesday, launching a campaign urging supporters to donate to Georgia groups fighting for access to safe, legal abortions.
"On May 7, Gov. Brian Kemp signed HB 481, known as the forced pregnancy bill, that will ultimately ban abortion in a state that has the highest maternal mortality rate in the nation," Abrams' advocacy group, Fair Fight, said in a statement.
Fair Fight is raising money this month for Georgia organizations that have been fighting and will continue to fight for reproductive rights, and proceeds will be divided equally among the organizations.
Times staff writer Jenny Jarvie contributed to this report.
Follow me: @NardineSaad
Get the Indie Focus newsletter, Mark Olsen's weekly guide to the world of cinema.
You may occasionally receive promotional content from the Los Angeles Times.