Yvonne Orji on dating, virginity and playing sexually liberated Molly on 'Insecure'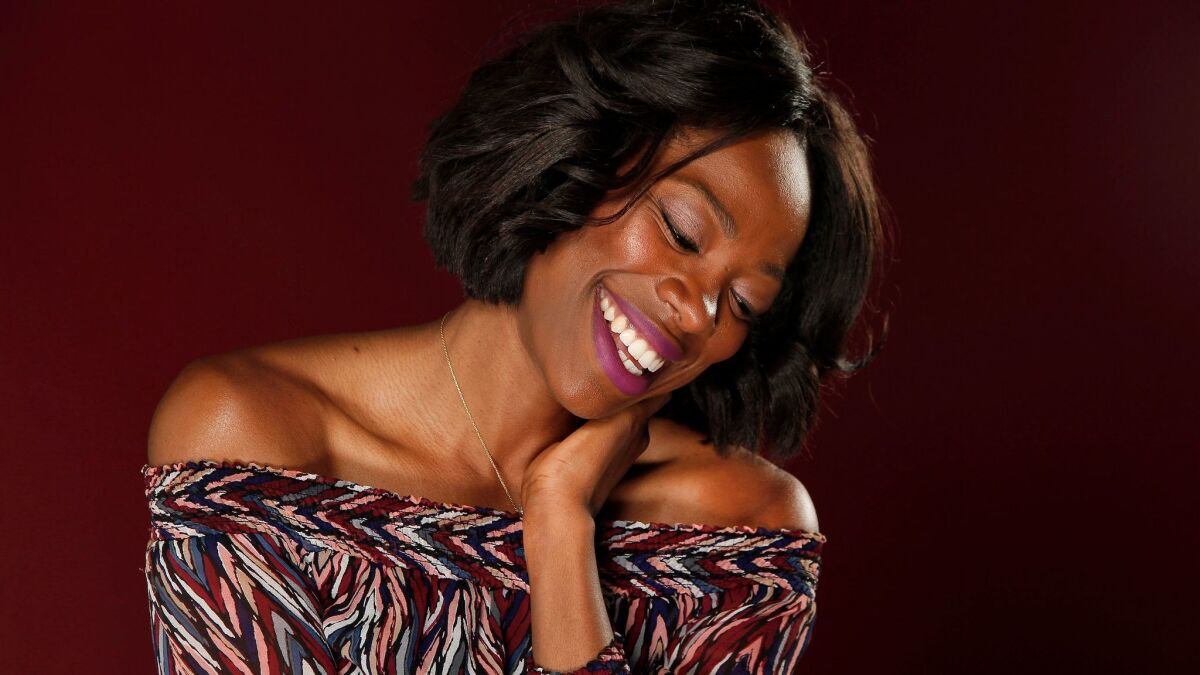 Yvonne Orji is serious about dating.
"I'm not really looking for anything subpar or shallow," she explained.
This past February, the 33-year-old actress and comedian headlined a TEDx talk in Delaware about her religious upbringing and decision to stay celibate until marriage. But in her professional life, Orji plays the sexually liberated Molly on HBO's "Insecure," a high-powered partner at a downtown L.A. law firm who just can't seem to get her dating life to excel the way her career has.
"God bless her, she does a lot of good things," Orji said of her character. "But she does a lot of just, wrong. She can't help it because it's coming from a genuine place."
Black while funny and female: 18 comedic actresses on working in Hollywood »
The show, whose second season began this month, includes graphic sex scenes (which she had to practice for, the actress admitted in a Breakfast Club interview).
"It's funny because everyone is like, 'Well, you haven't had sex, so how do you know?' And it's like guys, we're acting. Also, I have directors screaming directions from the sidelines so, you know, I think we get the shots.'"
We caught up with Orji to talk virginity, dating and "Insecure."
Does it get annoying to constantly be asked about your virginity?
What's so funny is, I had a meeting with someone on Tuesday and he said, "So, you're the face of virginity!" And I was like, "Thank you?" Like, "I am a virgin, but there's other things about me." So it's not annoying because it's a thing that I am, but it's just like OK, well what else? I think what could be annoying is when some people are like, "In 2017 though?" Like, yes guys, in 2017. But I just thought that was hysterical to be called the face of virginity. Not for long, hopefully. Jesus, where he at?
What was it like doing the TEDx talk about dating?
I tried to just give the basic, common-sensical things that I think were established a long time ago in relationships and some way, somehow are no longer valued. Like, you know, respect [Laughs].
I remember talking to old-school African American grandpops and they're just like, "When I saw my wife, I looked up from across the street and I said 'That girl gon be my wife someday.' And we've been married 45 years." Like, what? That's all it took? Now it's like, you're at an event, you're dancing with somebody for two hours and they say, "Well, you know. Hopefully I'll see you around." Hopefully you'll see me around? You can also just take my number! And actually make plans to see me!
I think the talk was twofold: It was explaining to people why I waited and what worked for me, but then it's also saying hey girl, I get it. My 17-year-old self was not trying to be waiting, but I got bamboozled by Jesus. And so if this is not your testimony that's fine, but here's what you can wait for in a relationship that is still equally as important.
What's dating like in L.A.?
Ha! The end, put a period on it. You know, I hear it works really well for some people, and I'm so happy for those folks [Laughs]. I will be very honest. I was so focused on advancing in my career that I didn't have enough emotional capacity for dating. But now, I'm actually at a point where life is good. Where I don't have to worry about … like I used to do foodie calls. I know it's bad. A foodie call is when you're not necessarily interested in the guy, but you're also very interested in eating that night and times are hard. And so against your better judgment you're just like, "You know what, I will go out with you." It's a foodie call. It's very different from a booty call because it really just ends after dinner. And so I would go on these dates that I knew weren't going anywhere. One time I remember going on a foodie call and the conversation was so bad that I was like, "You know what? I'm not that hungry. I'm sure I could get tuna for a dollar somewhere."
Tell me about portraying such a sexually liberated character.
It's fun living vicariously through Molly. She's a beautiful mess. She just wants this one thing so bad and it's elusive to her how to go about it. Which is fair. You have these women of color who are crushing it, killing it at work. They're CEOs and they're professionals and they know how to get ahead in that realm. Like, "OK, if I stay later, if I crush my cases, if I do this, I'll get a promotion." There's a trajectory for that. But then it's like, "OK, well, if I'm a caring girlfriend, if I get my body right, if I do all the things on the outside and on the inside then that should lead to a relationship, right?" But no, when it comes to matters of the heart it's not as logical and it's not as linear. And so I think that's very frustrating for her.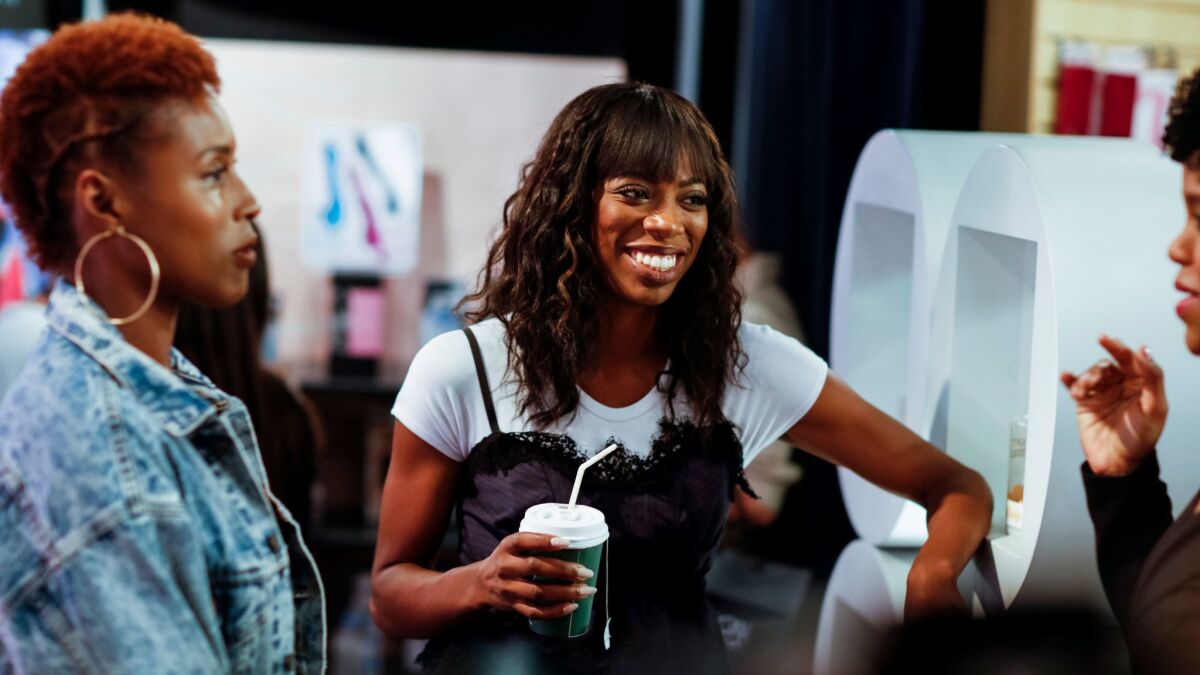 What's it like working with Issa Rae and what have you learned from her?
Oh, she's a delight. Issa … she's exactly who you believe she is and probably even better. She's super gracious, super nice, it's like a treat. First season, I was like, 'Does HBO know they're paying us to have fun?' Like, we get to be friends and they cut us a check for that? That's great!
Why do black shows like "Insecure" seem to resonate so well right now?
I think that it's great because people from all cultures are kind of receiving the material. "black-ish," our show, "Atlanta," … there was this study that came out that said these shows are being watched by non-people of color at an equal rate. Which is like, great! Because we've watched shows that didn't have us in them for so long. And the same way that I know what Shabbat is by watching "Curb your Enthusiasm," you can know what Juneteenth is by watching "Atlanta." I think that makes for better conversations too. In the workplace, in life and among friends.
I also just think it makes for really interesting content. Appointment TV is a thing again. I look forward to Wednesdays because "Underground" is on and then "Shots Fired" and then in the summertime you're like "oh, 'Power' is coming back on," and now "Insecure." Then cut to the fall and you have "Atlanta," so you always have stuff to look forward to. But at the same time, who doesn't like "House of Cards" or who doesn't like "Game of Thrones"? Those shows aren't necessarily populated by people of color, but they're good, fun content that you can watch. But now there's good, fun content that you can watch where the people on-screen also kind of look like us.
What upcoming projects or plans do you have outside the show?
I still want to do stand-up. I'm also writing. I have a show called "First Gen" that David Oyelowo is executive producing. We released a trailer this time two years ago and it was really the catalyst to where my life is right now. I was going through a really dark time in 2014 and depression was about to set in and it was like, "Am I about to go back to Laurel, Maryland? Is that it? Is this where the end of the road is?" And I remember that I had started kind of working on this show loosely based on my life about a Nigerian American girl who drops out of med school to be a comedian — I ended up going and getting my master's degree in public health, but the plan was to go to med school — and I was like, "You know, we've never seen African represented as like a normalized thing." It's either like "Hotel Rwanda" or "Coming to America." Love both of those movies, but we're more than a caricature or war.
OVERTIME:
TV
"Chewing Gum" right now is hot, it's ridiculous. Michaela is such a twisted, beautiful, crazy, lovely mind. I just love that she's just so comfortable making a fool of herself.
MUSIC
Emeli Sandé, I know i'm totally late to her, I've had her album on repeat and [bursts into song]. She's phenomenal, but I just got put on to H.E.R. and then Khalid. I just love new, beautiful music. And who's the guy that sings "Permission"? Ro James.
FILM
"Get Out" is amazing but keeping it in the Key & Peele family, Keegan-Michael Key did this movie ["Don't Think Twice"] about improv that was an indie but was so beautiful. That's one of the ones that I really like. And there was another indie called "Meet the Patels." That was just really beautiful and that was like a couple years ago but those are things that stay in my mind like "Oh, God, really good content."
follow me on twitter @sonaiyak
ALSO
Yvonne Orji plans to put the immigrant struggle into a sitcom
Issa Rae is still young, gifted and complicated in HBO's 'Insecure'
About that last scene from the 'Insecure' Season 2 premiere — Issa Rae & Co. break it down
Get our L.A. Goes Out newsletter, with the week's best events, to help you explore and experience our city.
You may occasionally receive promotional content from the Los Angeles Times.