Donald and Kiefer Sutherland finally play father and son in western 'Forsaken'
As a young boy in an acting family, Kiefer Sutherland didn't realize how big a star his father, Donald, was in Hollywood.
The serious-minded actor, best known as tough-nosed agent Jack Bauer on the long-running series "24," was in his late teens when he finally got the opportunity see Donald Sutherland's '70s-era movies.
See more of Entertainment's top stories on Facebook >>
"Growing up, I couldn't watch my dad's films because they were restricted," said the 49-year-old Sutherland in a joint interview in Los Angeles with his dad this week. His dad's films were groundbreaking but meant for an adult audience.
His mother, Shirley Douglas, and Sutherland divorced in 1970. "Obviously, I would see him for Christmas or see him for the summer. But I didn't grow up with him. I grew up with my mom — the early years here and then in Canada."
Sutherland was staying at a family friend's house who had all the tapes of his father's films. And over the course of a weekend, he watched his dad in some of his seminal films such as 1976's "1900" and "Fellini's Casanova"; 1973's "Don't Look Now"; 1970's "MASH" and "Kelly's Heroes."
Watching those films were a revelation for the teenage Sutherland. "I knew he was a famous actor, but I didn't know how prolific he was. I didn't know how diverse all of those characters were."
Sutherland even called his father to apologize for not knowing his magnitude of his career.
"He was very sweet," recalled Kiefer of their conversation. "I kind of always thought that was the beginning of what I remember our relationship to be."
The two have wanted to work together for decades. Kiefer Sutherland has a blink-or-miss part in his father's 1983 comedy, "Max Dugan Returns," and the two starred in 1996's "A Time to Kill," but they never shared screen time.
Until now.
The Sutherlands play an estranged father and son in the western "Forsaken," which opens Friday in theaters as well as being available on video on demand.
Kiefer Sutherland's John Henry Clayton is former gunslinger who has given up his guns and hopes to mend fences with his estranged father, the Rev. Clayton. But John Henry may be forced to strap on his guns again because a violent gang is terrorizing ranchers into selling their land before the railroad arrives.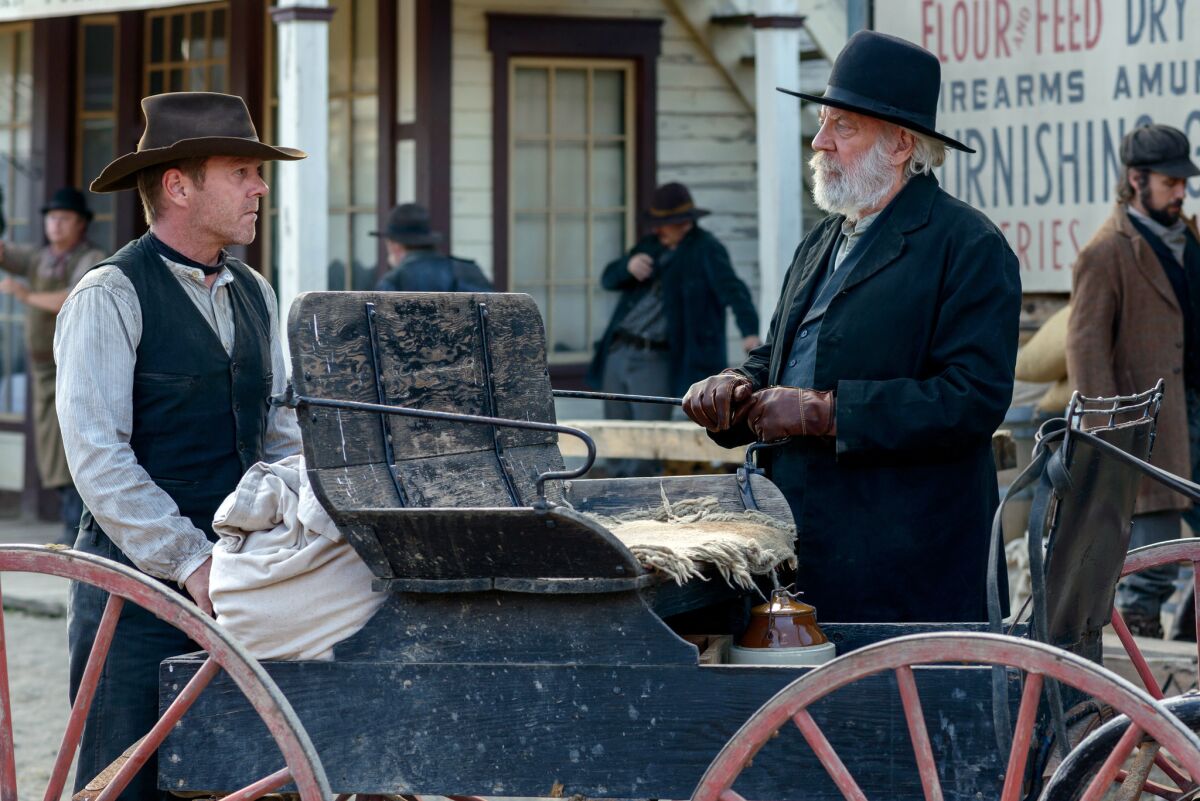 The film also reunites Kiefer Sutherland with director Jon Cassar, who worked on the first seven seasons of "24," and writer Brad Mirman, who also worked with him on his 2011 Web series, "The Confession."
It was Kiefer Sutherland who came up with the idea to turn the 1953 Western classic "Shane" on its ear. "I talked to Brad and Jon about it — what if you inverted 'Shane'? Instead of a gunslinger finding a little boy and being brought into a family, what if the gunslinger is coming back to his own family?"
Making "Forsaken" was a much more emotional experience for Kiefer Sutherland than he initially thought. "As much as I planned as an actor that this is what I want to do with the character, I was not expecting how powerful it was going to be when I looked into my father's eyes," he said, glancing over at Donald.
When it came time for John Henry to break down in his father's church, Kiefer Sutherland "knew what was going to happen. We did that in the very first take. That is not how I would normally work as an actor. I feel it out on the first take and kind of move up. So there was a lot of planning."
Donald Sutherland looked surprised at his son's revelation. "Did you plan?" he asked him.
"I did," said his son. "There was something about my dad being there that was a real trigger for me."
"I don't plan," Donald Sutherland said. "That's really interesting."
Kiefer Sutherland posed a question to his dad about his performance as the crazy platoon commander Oddball in "Kelly Heroes."
"There is no way in my opinion you could up with the diversity of character of Oddball without having thought about that and planned it," he said to his father.
"Hey," rejoined Donald Sutherland forcibly. "Not only did I not think about it, I had been in the hospital at Charing Cross [in London] with spinal meningitis, dying. They sent a wire to Shirley and said, 'Don't come, we'll send the body back.' I was in a coma."
A still fragile Sutherland eventually returned to the shoot in Yugoslavia. "I had no idea how this sound came out of Oddball's mouth," Sutherland said. "It wasn't anything I had thought or planned. Every time [director] Brian Hutton would say 'cut,' I would break into tears and I'd say is that all right?"
Donald Sutherland hasn't been more vulnerable on screen than in a scene in "Forsaken" where he breaks down uncontrollably in front of John Henry.
"When I learned the lines, the character started to weep," he noted. "It was his discovery of his love for his son."
His son recalled that "you asked Jon and me, 'Is there a point where you think it would be too much?' and Jon said 'no.'"
It was around the same time that Kiefer Sutherland was discovering his father's films that Donald Sutherland learned just how talented his son was, recalling a time Kiefer was visiting him at his house in Brentwood.
"He came to my bedroom and said, 'I have an audition that I have to do tomorrow,'" Donald Sutherland said. "'Do you mind if I do it for you?' I say, 'Great. Do it.' He is at the end of the bed and he does it. He's fantastic. He says, 'That's the way they want me to do it. Could I do it for you the way I want to do it?'"
Donald Sutherland begun to breathe heavily and was struggling to hold back the tears from the memory.
"I said, 'Yeah, OK.' And he did it. It was breathtaking. It was true. It was pure. It was like an epiphany. I couldn't breathe."
He looked over at his son. "I can't breathe."
Neither remember what the audition was for. "But it was moving as you can get," Donald Sutherland said. "It was wonderful."
MORE:
Review: Kiefer and Donald Sutherland shine in 'Forsaken,' a remedial western
Q&A: Kiefer Sutherland on his '24' hours of fame and its future
Review: Just in time, Jack's back with '24: Live Another Day'
In '24: Live Another Day,' things are even darker for Jack Bauer
Home of the Day: Donald Sutherland's onetime beachfront spot in Santa Monica
---
Get our L.A. Goes Out newsletter, with the week's best events, to help you explore and experience our city.
You may occasionally receive promotional content from the Los Angeles Times.