An MTV pioneer looks to remake media — and himself — for the YouTube generation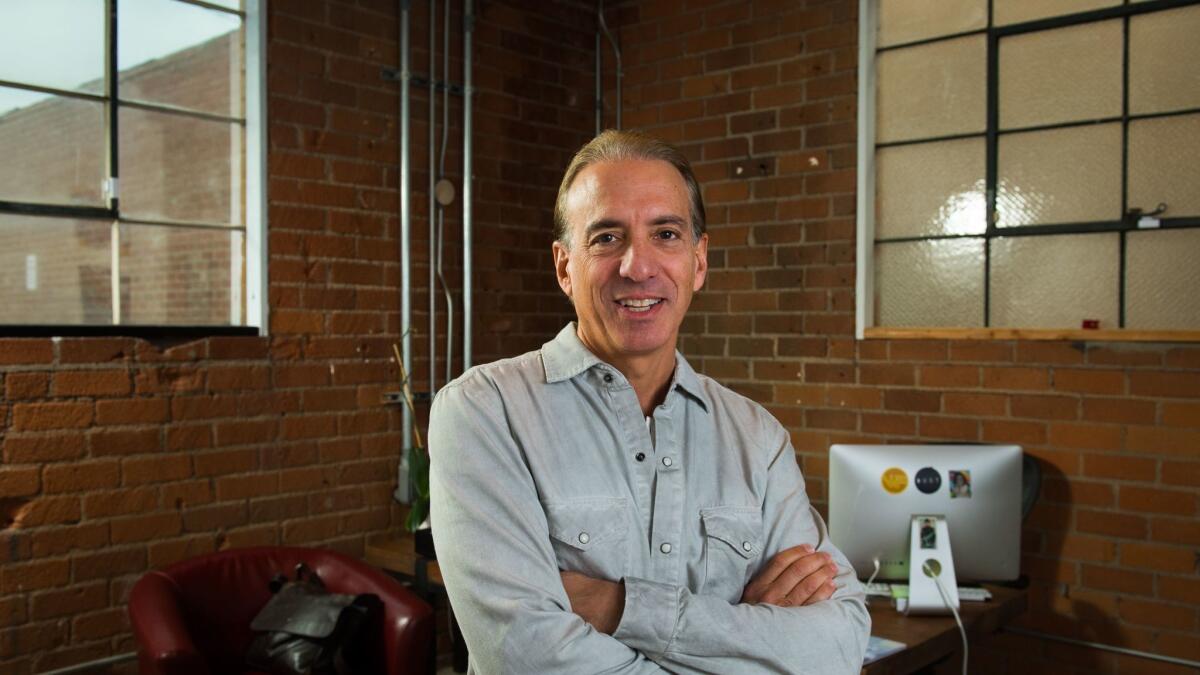 The former MTV executive Van Toffler walked through the West Los Angeles offices of Gunpowder & Sky, the digital startup he co-founded, allowing his eyes to linger on a pet dog, beanbag chairs and the millennial coders.
"It's nice to be back making stuff again," he said with a look of palpable contentment.
For Toffler, who rose from 1980s pioneer at an all-music channel to become an executive at an increasingly tumultuous Viacom, the new role is a respite — a chance to return to tossing edgy, sometimes puerile content at the wall to see what sticks.
As experts try to decode digital content's new formats and slippery demographics, Gunpowder & Sky offers an early look at how a full-scale studio might operate in a post-legacy age.
"I think great artists don't need the machine the way they used to. And consumers don't care about getting it from that machine the way they used to," Toffler said, referring to Hollywood's traditional development and distribution system. "They just want the content and direct connection."
Such anti-conglomerate boldness is backed by a vast, if dizzying, array of initiatives. If it's not always clear how they all work (or work together), that's OK — it's not always clear to the people behind them either.
Apart from the relatively cheap cost of its content, Gunpowder & Sky doesn't really have a niche. Instead, what it has is a series of chips on the table — from distribution to production, viral videos to feature films, comedy to horror — that it hopes will maximize its returns and appeal to a new generation of consumers.
Gunpowder is the latest among several digital ventures attempting to navigate the future of entertainment amid rapidly changing consumer habits. Companies like WndrCo, Jeffrey Katzenberg's new venture that has raised more than $600 million, are pursuing a similar model. And giants like Walt Disney Co. and Google/YouTube are continually expanding in new digital directions.
Still, there aren't many young companies with the range of Gunpowder. Toffler and Floris Bauer, a veteran of international TV distributor Endemol, founded G&S about a year ago with backing from Otter Media, the joint venture of the Chernin Group and AT&T, and Toffler's own money. Since then, they have worked their way up to about 40 staffers and quietly created, financed or acquired a range of players.
Under the Gunpowder umbrella are now independent digital content outfits — including Shareability and Cut.com — that G&S either backs or helps produce and distribute.
Then there are in-house productions such as "Drawn & Recorded," an animated series about music myths, narrated by songwriter and record producer T Bone Burnett, that debuted last year on Spotify, and a slate that includes a talk show involving alcohol and stoners reviewing kaleidoscopes.
There are also movies, both a variety of low-budget titles (they include "Hounds of Love," an abduction-rape drama that premiered to raves at the South by Southwest Festival) and a library that comes from FilmBuff, the indie-film digital distributor that Gunpowder acquired in the fall.
There's even a consumer-oriented science-fiction portal, Dust, which streams movies and TV shows.
Underlying Gunpowder & Sky is a bedrock belief: that a digital player can maneuver into spaces traditional players have left vacant. And, maybe even more important, that it can do so with greater efficiency, targeting people in a way conglomerate marketing departments only dream of.
"You can spend a lot of money not knowing who you're reaching with a show. Or you can spend 20 bucks and know exactly whether the people in Silver Lake that go to ice cream shops liked it," said Bauer, as he sat with Toffler in the exposed-brick conference room of the company's headquarters on a stretch of digital outfits north of the 10 Freeway.
Bauer said there is personalized information the company uses to fine-tune its targeting — responses given in surveys, preferences expressed on social-media — and that they're getting better at it all the time. "The cost for subscribers is just going to keep going down," he said.
"See, I talk in big picture and Floris says how it's going to get done," Toffler chimed in.
A lawyer by training, Toffler joined MTV in 1987 and, bolstered by his strong talent relationships, helped guide such landmark TV shows as "Beavis and Butt-head" and "The Real World." He left the company two years ago, frustrated by the increasing demand he make short-term revenue cases to his bosses. Toffler says he doesn't have such concerns at Gunpowder. He declined to reveal the company's finances but said he expects the company will soon be profitable.
With slick hair, sharp-casual dress a healthy tan — perhaps a function of his relocation from New York to Los Angeles as Gunpowder has grown — Toffler remains a breezy, this-isn't-that-complicated presence.
"We can all get a little lost in theory," said Cut.com co-founder Michael Gaston. "I sometimes feel like I'm in a meeting and I'm basically sharing a 10-page white paper on what's happening. And Van will repeat it back in one sentence."
Gunpowder & Sky (it derives its name from the Aimee Mann song "4th of July") came about because Toffler, 57, noticed that youth culture was evolving differently from hi early entertainment days — and no one was exploiting those differences. After raising an undisclosed sum from Otter and putting in some of his own money, he set out to create the kind of brand MTV was in the 1980s—influential, hip and running on the fuel of inexpensive content.
"It hit me walking around the streets of Manhattan one day," Toffler recalled. "'There's no central currency for youth culture'. When 'TRL' was on," he added, alluding to MTV's vintage live-music staple, "you knew exactly what the big band or moment was. Now people pass around bits of comedy and music and there's no one place it all is collected or distributed." Gunpowder was born shortly after.
Of course, this is a much more competitive environment than those early days of cable. The sheer number of producers has multiplied. And the ways consumers — particularly teens and people in their 20s — watch that content is a lot less straightforward. Simply putting something cool or catchy out there and hoping it takes off is a notion as retrograde as cable boxes.
"The problem now isn't distribution — it's curation," Burnett said. "It's 'what do you pay attention to?'"
The appeal of the content — at least some of it — is hard to deny.
"Drawn & Recorded," for example, was the most successful original show for Spotify. And many of its videos do go viral. Shareability, an ad-oriented service, is known for such viral videos as a Cristiano Ronaldo-in-disguise segment that garnered 20 million views on YouTube.
But separating wheat from chaff isn't easy: unlike traditional Hollywood and its hierarchy of established creators, it's often hard to know who or what to invest in until it's too late. And even if one commissions the right viral content, monetizing it is tricky, sinceconsumers don't often want to pay for it. (The Ronaldo video, forinstance, was part of an ad campaign for ROC headphones.)
That's one reason Gunpowder is also betting on more traditional longform material. At Sundance they surprised the tight-knit world of independent film by jumping into a competitive market and paying a reported seven figures for "The Little Hours," a comedic tale set at a dysfunctional convent in medieval Italy. Though the company's specialty is short form, the addition of FilmBuff—as well as Toffler's MTV experience with films like "Napoleon Dynamite" and"Election"—suggest features will be a key part of their plans as well.
Gunpowder holds an advantage that others don't have: unlike other startups, they have both deep pockets and a full distribution platform thanks to FilmBuff.
"Traditional studios have the resources and not the vision," said Tim Staples, who heads Shareability, in which Gunpowder has invested. "And startups have the potential but not the resources. Gunpowder & Sky has both."
The company's investors feel equally confident. "I think they've exceeded our expectations, not just in the creators they've attracted but financially," said Jesse Jacobs, president of the Chernin Group. "But they're a 13-month old studio. We're not going to impose too [many expectations] too fast."
So can a full-service studio like Gunpowder & Sky thrive in a world designed for the lean-and-mean? And can they make it when, as a financier, distributor and original production studio all at once,their in-house efforts are often competing with their outside partners?
Luring professional talent isn't easy either; for all the talk about not needing the machine, most major creators still like to be a part of it given the money and support it brings.Toffler says he remained unworried about this. "We might not get Drake now. But we'll get the next Drake."
Toffler said he remains generally not bothered by a lack of a template. "I don't want us to imitate others," he said. "I don't even want us to imitate ourselves."
He continued. "You know that [idea] about the long road in the middle?," Toffler said, the evangelism of his years of selling bosses on new ideas coming through. "We want to take the side of the road, where there are ditches and you trip but there are a lot more interesting characters. Even when you fail, you fail loudly."
See the most-read stories in Entertainment this hour »
Twitter: @ZeitchikLAT
Get our L.A. Goes Out newsletter, with the week's best events, to help you explore and experience our city.
You may occasionally receive promotional content from the Los Angeles Times.