Nora Ephron's 'Cookbook' showcases passion for food, prose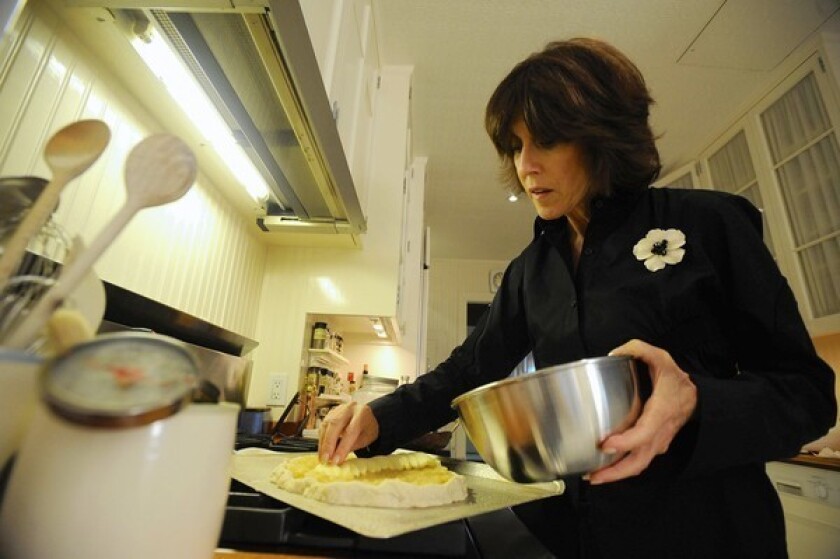 Nora Ephron had many passions, most publicly her writing and filmmaking. But the author, screenwriter and director, who died Tuesday at age 71, also had great enthusiasm in her largely private work in her Manhattan kitchen. And she left behind a self-published cookbook, by turns droll and earnest, memorializing the zeal.
"Julie & Julia," Ephron's last film, focused on the life of chef Julia Child, and in some ways reflected the filmmaker's own love of food preparation. "The truth is that most marriages have food as a major player in them, and certainly mine does," she said in an interview with The Times before the film's 2009 release.
Simply titled "Nora's Cookbook" and bound with white spiral wire, the recipe collection runs 174 pages and blends Ephron's wry observations about throwing a great dinner party and using clarified butter with relatively simple recipes for dishes like chicken salad, monkey bread and pot roast. "I have the book and use it all the time," said producer Scott Rudin, who collaborated with Ephron on "Julie & Julia."
PHOTOS: Stars react to the death of Nora Ephron
In the book (which Ephron compiled for friends several years ago and is not for sale), the "Sleepless in Seattle" filmmaker apologizes for several inclusions that bring to mind dishes from Peg Bracken's "The I Hate to Cook Book." Introducing a recipe for cherry cola mold, Ephron writes, "There is no excuse for serving this, unless you are obsessed with jello." She insists that homemade pastry dough is a waste of time: "Don't ever make piecrust. Just buy it." Other recipes call for B&M canned beans, Heinz chili sauce and way too much mayonnaise.
Some introductions read like legal disclaimers, revealing the author's ambitions (or lack thereof). For a complicated recipe for chocolate buttercream icing, Ephron writes: "I have never made it and I never will. But I have eaten it and it's great."
Ephron traveled in circles populated with literary luminaries, and a number of recipes are credited to celebrity creators: "Ben Bradlee's Scrambled Eggs" explains how the former Washington Post editor uses low heat and doesn't beat his eggs until they start to set, while "Joan Didion's Mexican Chicken Thing" details the essayist's combination of poached chicken, onions, garlic and salsa. Other recipes mention show business landmarks, such as the coffee shop at the Beverly Hills Hotel and the since-closed Chasen's, whose chili recipe Ephron reprints.
OBIT: Nora Ephron dies at 71; writer of sharp-edged romances
While most cookbooks present cooking instructions with as much flair as an automobile repair manual, Ephron in her collection writes with the same creative energy that distinguished her essays, books and screenplays.
"Everyone loves fried chicken, Don't ever make it. Ever. Buy it from a place that makes good fried chicken," is essentially her recipe for the summertime entree. In dicing hot peppers, she suggests wearing gloves. "I use those medical gloves that fit very tightly and are disposable for all chopping — peppers, onions, garlic. etc. Very Lady Macbeth, I think." She suggests that paella is really easy, as long as you can cut a corner or two, purchasing ingredients that "are sort of already cooked. Like chicken. Or things that are already peeled. Like raw shrimp. Of course, if you're on a budget, you should cook them yourself, but then you'll have to use a recipe from someone else's cookbook."
Many of the recipes have titles that are amusing on their own: "The Breakfast Pancake Thing You Make in the Oven," "Cornbread Pudding Made of Horrible Ingredients," "Famous Potato Thing" and "Spaghetti With Sand." But it is in Ephron's longer cookbook essays that her true wit emerges.
In discussing how to host a dinner party, Ephron advises, "I am also a big believer in buying delicious things that you are either truthful about (because if people love what they're eating, they have a huge amount of respect for you for simply finding good food) or of course, passing them off as something you made." She has very specific guidance about how to seat people — and what size and shape the tables should be — particularly if you are entertaining in California, a place where you can't mix and match guests in a seating plan.
"In California, of course, they never break up couples at dinner for fear of what might happen if someone's husband were seated next to someone else's very young girlfriend," she writes. "But dinners with couples seated next to one another are always deadly dull, which is why there are almost no good dinner parties in the entire state of California."
Said producer Larry Mark, a frequent dinner guest and an owner of Ephron's cookbook: "She was one of the most extraordinary home entertainers of all time. And her dinners were never catered, ever." Even if she was serving hot dogs at a New York barbecue, Mark said, she would fly the wieners in from her favorite Los Angeles vendor.
In interviews and in her writings, Ephron says that her cooking was once much fussier, when she saw her kitchen work as more contest than comfort.
"... We all began to cook in a wildly neurotic and competitive way," she wrote in 2006's "I Feel Bad About My Neck." "We were looking for applause, we were constantly performing, we were desperate to be all things to all people. Was this the grand climax of the post-World War II domestic counterrevolution or the beginning of a pathological strain of post-feminist over-reaching? No one knew. We were too busy slicing and dicing."
But she had an epiphany when she came across the cookbooks of Michael Field, Craig Claiborne and Lee Bailey, who emphasized unfussy combinations of simple ingredients. And right in the middle of Ephron's cookbook is Bailey's recipe for spoon bread.
With so many cooking shows on television and cookbooks on store shelves, Ephron worried that food was becoming more fetish than activity. Her own recipes, she hoped, would put people back in the kitchen, actually preparing a meal. "No one," Ephron said with real lament, "seems to cook anymore."
More on Nora Ephron:
VIDEO: Nora Ephron's greatest hits

PHOTOS: Stars react to death of Nora Ephron

POLL: What are Ephron's best movie quotes?
---
The complete guide to home viewing
Get Screen Gab for weekly recommendations, analysis, interviews and irreverent discussion of the TV and streaming movies everyone's talking about.
You may occasionally receive promotional content from the Los Angeles Times.